How does logless VPN help with your streaming and gaming? Hacking attacks are happening all the time, and dangers like malware are everywhere. This puts your security at stake. Furthermore, your privacy is also endangered, like every website, app, or service on the internet is collecting your data. Not only them, but your internet provider does the same, not to mention the government. With that in mind, we present you with our top picks of Logless VPNs for Streaming and Gaming.
Editor's Choice
Our choice for best logess VPN is NordVPN, don't bother with other VPNs.
Get 77% off NordVPN here (drops the price down to $2.75 per month)
And while we are on the topic of governments and internet providers — censorship and geo-restrictions are covering most of the good stuff on the web as well. Just think how many times you wanted to watch a show that is available for free in the UK, or Australia but not in your own country. How many times did you want to play a game that was banned in your country?
There is a solution
However, there is a bright side in this vast sea of troubles. All of the issues mentioned above can be solved instantly, with a single, low-cost service, and that is VPN.
VPNs can hide your traffic with security protocols, make it unreadable with encryption, and let you bypass censorship and geo-restrictions with their huge server networks. All you need to do is get one and connect to a server in a foreign country — one that offers content or game that you are interested in, and you will be able to access it instantly.
However, not every VPN will do — and there are a lot of them. Some are slow; others have small server networks. Some have bad security features, which is certainly something you wish to avoid. But, there are also many good ones, that will let you stream and game to your heart's content, and they will barely impact your speed. But, most important of all is to choose a VPN that won't log your data and store it itself. That would certainly defeat the purpose of using such services in the first place.
Best Logless VPNs for Streaming and Gaming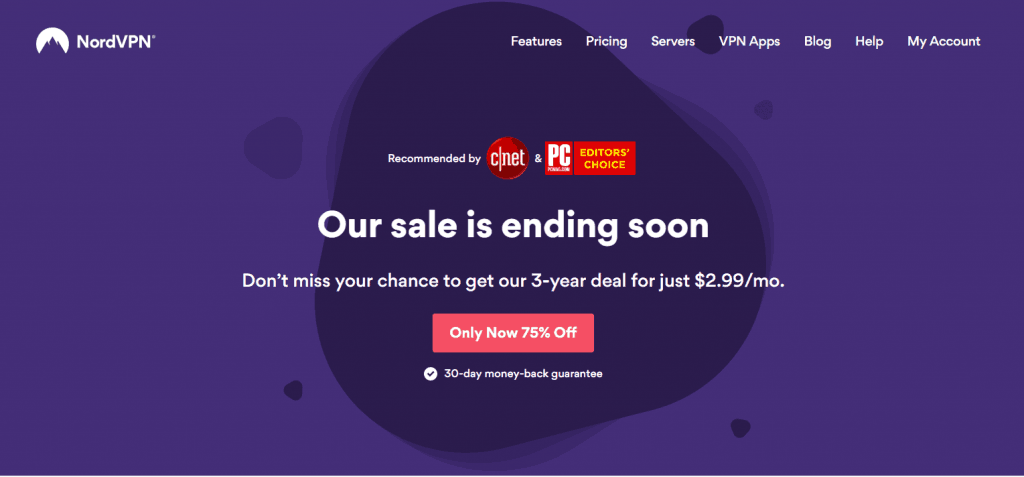 The first on our list is NordVPN — a service that keeps zero logs and offers excellent speeds. These are the most important criteria for the purpose of streaming and gaming online. NordVPN offers dedicated apps for numerous devices and systems, including Android, iOS, Windows, Mac, Linux, Android TV, and even browser extensions for Chrome and Firefox.
It allows you to protect up to six devices at once, although you can install it on as many devices as you wish. It features a major server network that contains 5,800 servers in 60 countries around the world, which puts it among the largest networks in the industry.
It also uses the strongest encryption out there — 256-bit AES encryption — which was never cracked. In addition, your traffic is hidden by the strongest of the known security protocols, OpenVPN. You can use this VPN for only 10.50 EUR per month if you choose a monthly subscription. However, if you go with the yearly plan, you will save 41%, and only pay 6.14 EUR per month. A two-year plan lets you save 66% and pay 3.50 EUR per month, while the three-year plan is the best one, with 2.62 EUR per month. With it, you can save as much as 75%. And, all of the plans come with a 30-day money-back guarantee, just in case you change your mind.
Download it now: here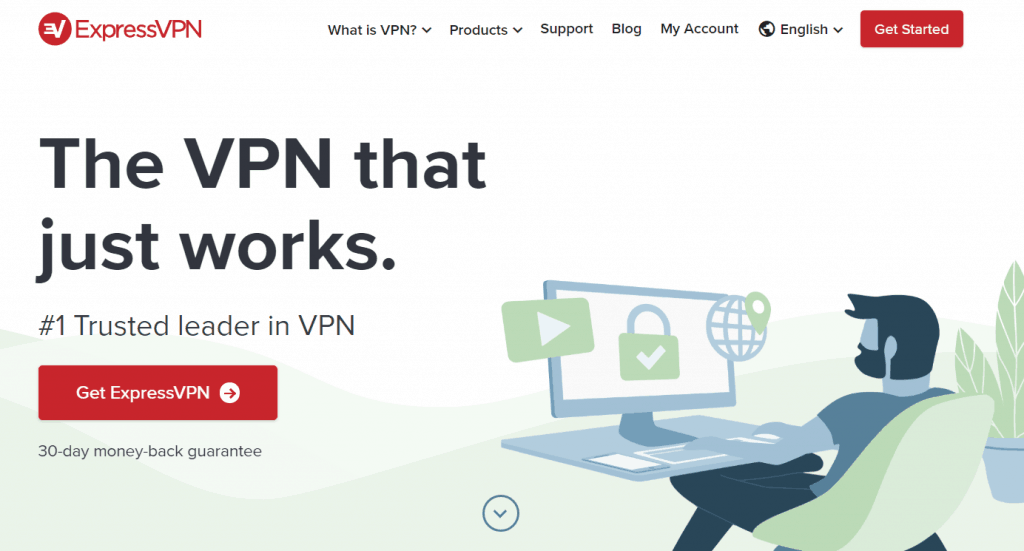 Next, we have ExpressVPN — a well-known, reputable, and trusted service that likely has the largest server network in the world of VPN, as far as the coverage goes. It covers 94 countries, and 160 locations in total, which amounts to over 3,000 servers.
ExpressVPN is also among the fastest VPNs in the industry, which lets it stay true to its name. It has apps for many different systems, including Windows, Linux, Mac, iOS, and Android, among other devices. It can also be used for securing routers and thus protecting your entire network and every device in your house at once.
There are no limits on the bandwidth, which makes it an excellent choice for safe gaming and streaming. It even has ultra-fast servers specially made for these activities. Naturally, it keeps no logs, and it uses all the strongest security features, such as 256-bit AES encryption and OpenVPN security protocol. It also has a 30-day money-back guarantee, just like NordVPN, and it is very easy to get and use.
Finally, when it comes to prices, it has a 1-month plan which costs $12.95 per month, a six-month plan that will cost you $9.99 per month, and a 12-month plan that amounts to $8.32 per month.
Download it now: here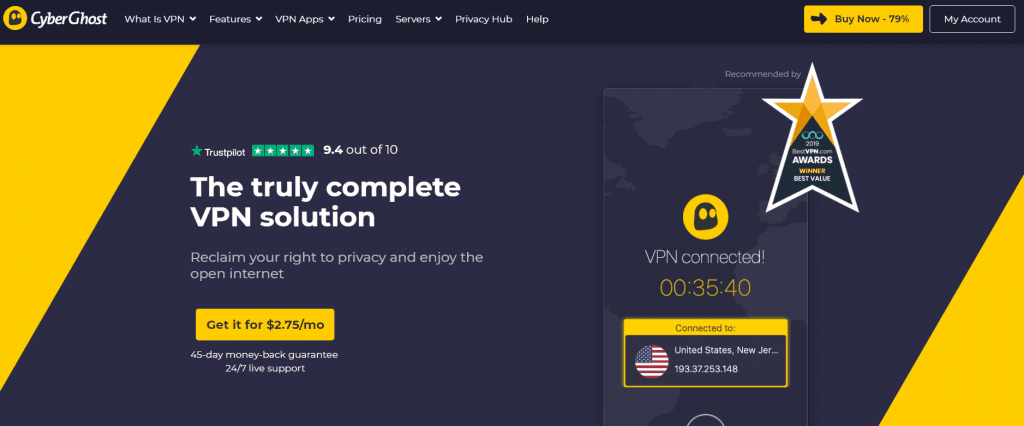 Then, we have CyberGhost — another VPN that keeps zero logs and provides you with all the great features that you must need. CyberGhost has 15 years of experience in online security practices, so you can be sure that it knows what it's doing. It lets you bypass censorship and geo-restrictions, it supports torrenting, and it can unblock streaming services.
You can use it for watching TV shows, movies, sporting events, or play region-locked games. It uses military-grade encryption, secure protocols, and it is even safe enough for you to secure your bank transactions with it.
Its server network is massive, amounting to 4,300 servers in 60+ countries. Its speeds are excellent, and thanks to its security — no one will ever know what you are doing. It works on numerous systems and devices, including Windows, Mac, iOS, Android, Fire TV, Linux, browsers, and more. It also features a 45-day money-back guarantee, which is more than most other VPNs, and definitely longer than average. Not to mention the fact that you can use it on seven devices at once.
But, don't worry, all of these great features do not cost a fortune. In fact, the prices are pretty similar to ExpressVPN, with 1-month subscription being around $12.99. 1-year plan costs $5.99 per month, while the two-year subscription costs only $3.69 per month. Finally, there is a three-year plan, that will cost you only $2.75 on a monthly basis.
Download it now: here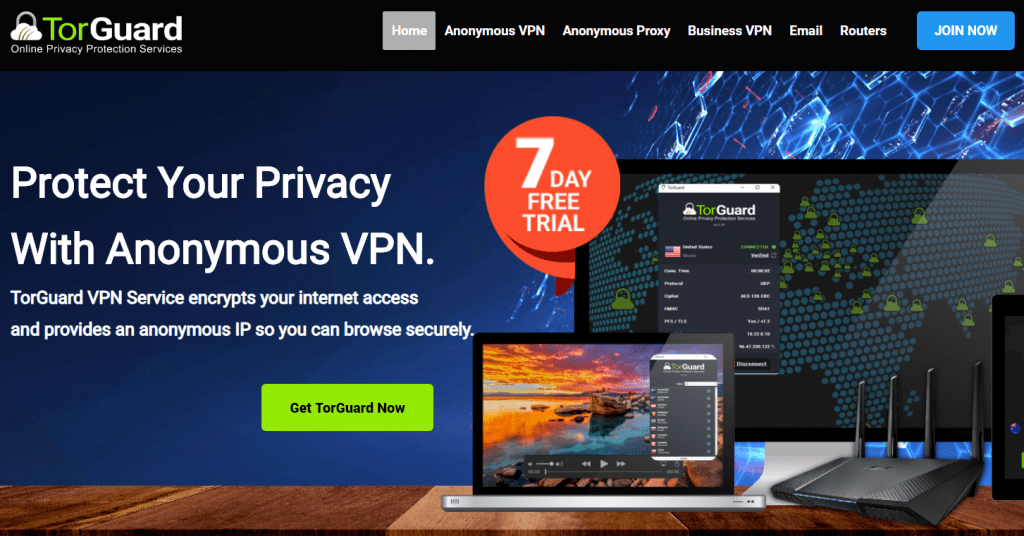 Finally, we have TorGuard, which is one of the most trusted VPN services in the industry. Despite the name, it doesn't use the Tor network in any way, but it offers just as much anonymity and protection to the user.
TorGuard has a major server network that contains over 3,000 servers in more than 50 countries around the world. It features unlimited speeds, unlimited bandwidth, and it lets you connect up to eight devices at the same time.
Naturally, it keeps zero logs regarding your online actions, and it protects them with multiple security protocols, including OpenVPN. It also uses 256-bit AES encryption, which contributes to your online security even more.
Another thing that TorGuard allows is a 7-day free trial, so you have an entire week to check it out and test its speeds and security features. You can use it on Windows, Mac, Linux, Android, iOS, as well as Wi-Fi routers.
Finally, it is time to talk about pricing. TorGuard offers several subscription plans, with the first one being monthly, and it costs only $9.99, which is the lowest monthly subscription price on this list. Then, you can choose its quarterly plan for $19.99, or its semi-annual plan for $29.99. The last one is the yearly plan, which only costs $59.99.
In other words, TorGuard offers excellent service, competitive prices, all the necessary features, it keeps no logs and has unlimited bandwidth and speeds.
Download it now: here
Best Logless VPNs for Streaming and Gaming Conclusion
The internet has changed our lives and made the entire world available to us. However, for all the benefits that we are getting from it, there are also just as many dangers and difficulties that you need to keep in mind.
Your privacy is not safe, and your security even less so. The internet was invented with the goal of allowing people worldwide to reach and anonymity. However, surveillance, censorship, and geo-restrictions deny us these benefits.
Fortunately, there is an easy way to bypass all of these dangers, and ensure your safety, anonymity, and privacy while online, and that is to use a VPN. Pick your VPN provider carefully, and you will be able to enjoy all the features and benefits of the free internet.