Cube PC cases are becoming surprisingly popular, and while we are still not sure if they should be called a new trend — the fact is that a lot of people has shown interest in them. If you yourself find them interesting and worthy of having, we have prepared a list that should help you choose the best one. Considering that they are becoming quite popular, getting one early on might be worth considering. With that in mind, here are our top picks.

* If you buy through links on our site, we may earn an affiliate commission. For more details, please visit our Privacy policy page.
Best Cube PC Cases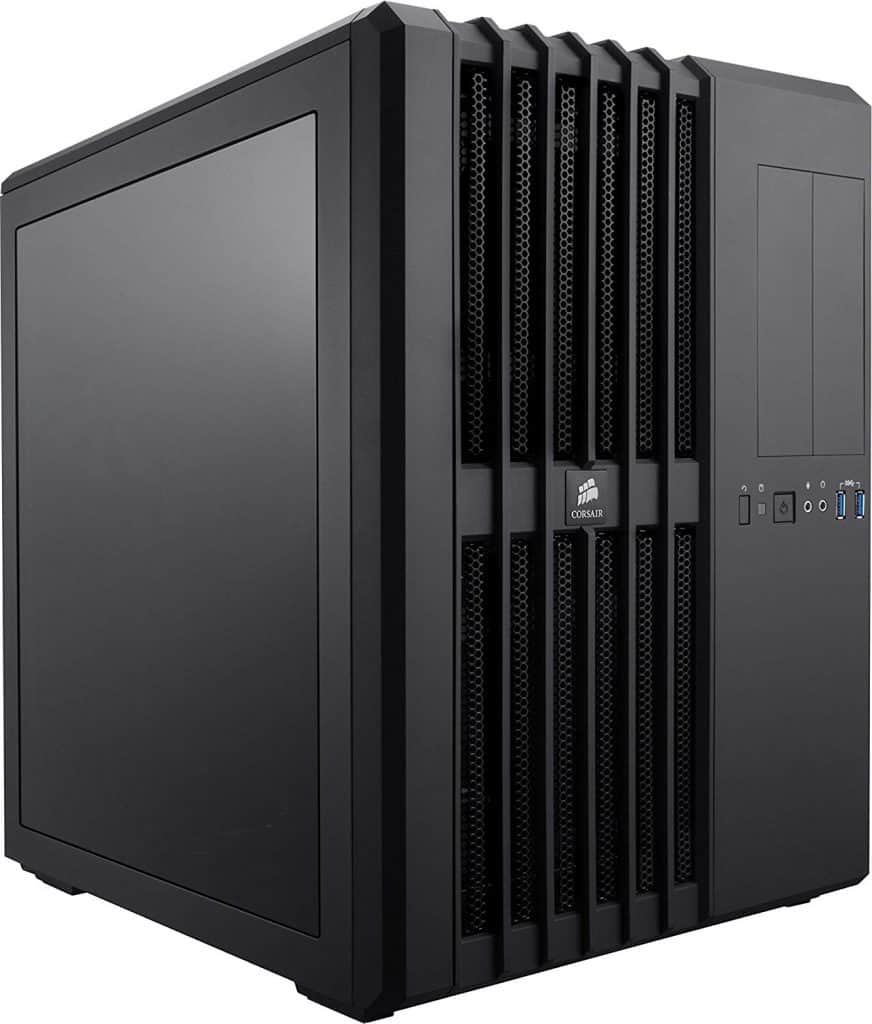 Next, we have a model made by Corsair, known as Carbide Air 540. We see this model as the main competitor to our first entry, and it is even significantly less expensive, but despite this, it ended up in second place on our list. However, do keep in mind that this model is almost as good as Thermaltake's solution.
It is large enough to hold CPU coolers as tall as 6.7 inches, and GPUs that are 12.6 inches long. Of course, there are plenty of other cases that can hold even longer GPUs, but there are also plenty of great GPUs that are shorter than 12.6 inches and will serve you just as well. In other words, you can easily go with this case and make your PC every bit as powerful as those other options.
Next, when it comes to motherboards, Air 540 can pretty much hold any model, including E-ATX boards. In terms of cooling, it uses Corsair Air Series AF140L fans, which you get pre-installed. In addition to the ones that come with the case itself, you can also add two more at the top of the case.
If you are concerned about cable management within Air 540 cases — don't be. There are plenty of features that address that issue, such as numerous cutouts featuring rubber grommets. With the cables being easily and properly handled, and your case filled with excellent, top-ranking hardware, you will likely want to show it off to your friends, and thanks to the full acrylic side panel — you can easily do it.
Further, its design prevents it from heating up, particularly the fact that this is also a dual-chamber case with a direct airflow path being included in its design. If that is not enough to convince you, keep in mind that it also supports three high-performance fans that will keep it nice and cool at all times. Best of all, the front dust filter will keep it from getting dirty too often.
In the end, Air 540 offers a lot. It is a good quality cubed-style case which comes at an incredibly low price. Its excellent features, combined with its low cost, likely making it one of the best deals you will find these days, and we definitely recommend trying it out.
Buy it now: here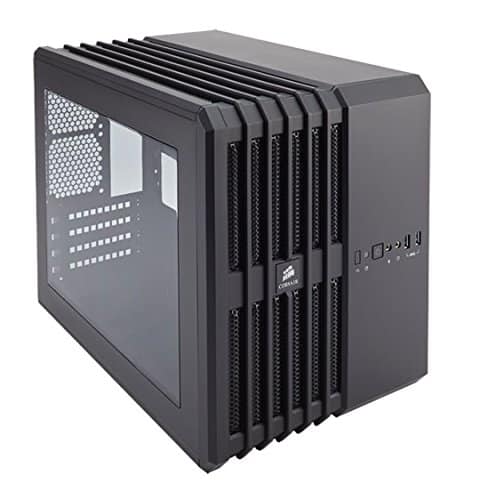 Another fairly good model made by Corsair is its AIR 240, which is a micro-ATX and Mini-ITX case with excellent airflow. This is a perfect solution for those who might be after a very modern and highly-functional computer case that is also quite small. Of course, it is cube-shaped, with a black exterior, and lots of excellent features.
What may surprise you at first is its somewhat unusual cooling interior design, which was optimized to provide excellent cooling via the fans. The designed airflow will definitely focus the most on the components that typically get the most heated, and you can also easily install a 240mm radiator for effective water cooling.
The heat and hot air will easily leave the case through numerous small holes, which can be found all over this case. However, its real value comes from the fact that this model — despite its size — actually has the ability to store full-sized hardware.
It is fairly easy to install and set up everything thanks to the side panel which you can remove without any problems. It also features a 3.5′ tool-less drive, as well as one 2.5′ drive. In other words, all you need is your hands, and you can easily modify it in a way that suits your needs. Best of all, you don't even need to take out the motherboard during the upgrading process, thanks to the CPU backplate cutout.
In the end, we like this model because it is very spacious, while it doesn't take up too much space itself. Its cooling features are superb, and it is excellent when it comes to cable management. There is pretty much nothing that we don't like here, apart from the fact that it only has a single dust filter.
Buy it now: here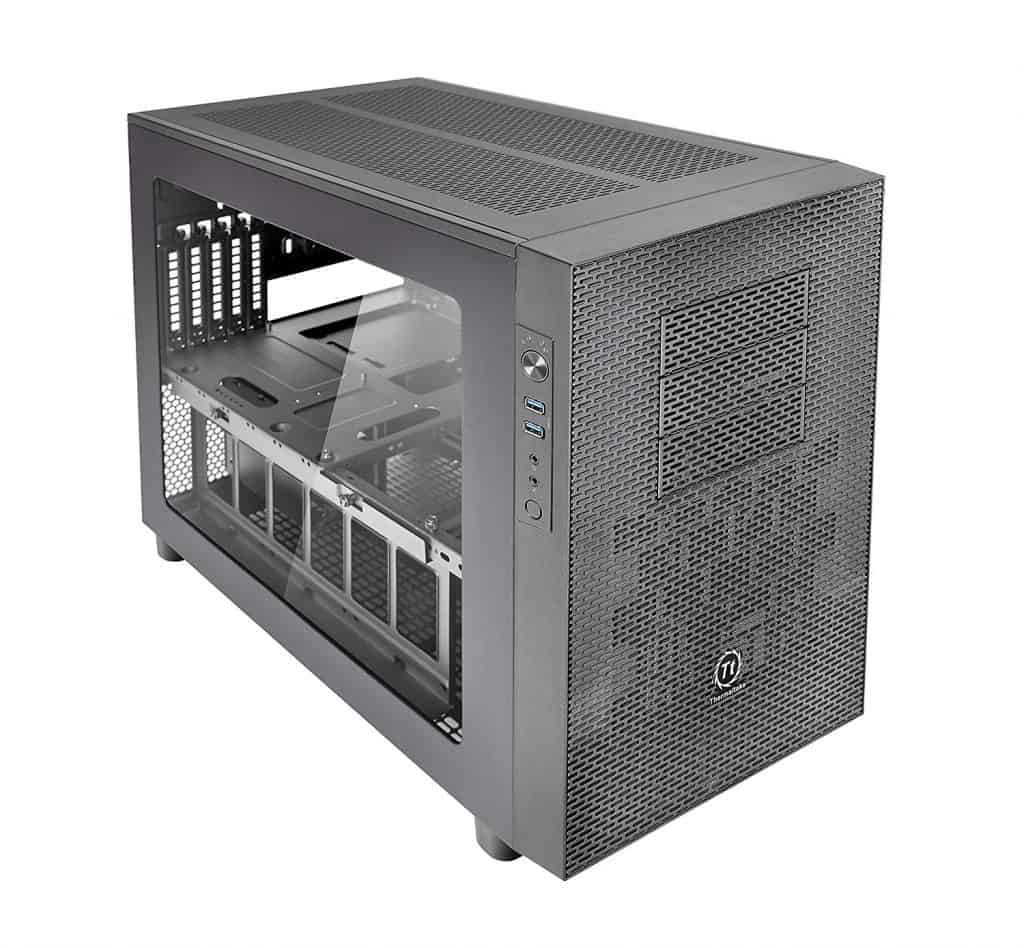 As our top pick, we have Thermaltake Core X1. This particular cube PC case is a mini-ITX, although it is larger than most mini-ITX solutions. It measures 16.80 x 11.00 x 18.50 inches. However, this only means that it is more spacious inside, which leads to better cooling, more storage space, and better cable management. In other words, too much space can't hurt when it comes to PC cases.
Not only that, but you should also keep in mind that this particular model supports liquid cooling. It is quite a solid build, with a lot of space inside, and support for full-sized graphics cards and power supplies.
It is a metal case with a meshed body, as well as a rather large plexiglass panel, held in place by thumbscrews, which makes them very easy to take off. Further, the panels also have magnetized dust filters, which will prevent your case from getting too dirty too soon.
When it comes to panels on the side, they can also easily be switched, and you can even remove the I/O tab which features the reset and power buttons, as well as LED and audio interface. As for the back panel, that one is fixed. However, it comes with vents for the power supply and fans.
The bottom itself features rubber feet, with plenty of room for good airflow, as well as two filters that are easy to remove and clean. You can even detach the bottom from the rest of the case, which can be very handy in some situations.
On the inside, we have a dual-chamber design, with components such as graphics card, RM, and even the motherboard positioned in a way that they can be viewed through a transparent panel on the side. Meanwhile, hard drives, the PSU, and cables are pushed down towards the bottom, in the second chamber.
Core X1 is also very good when it comes to cooling, with support for radiators (360mm) and fans (up to 200mm). As mentioned, you can fit in a Mini-ITX motherboard, and still have enough space for CPU cooler up to 7.87′. As for GPUs, the setup allows you to install as long a graphics card as 15.74 inches. Finally, we have drive bays, of which you can install several. All in all, we like this model a lot. It features a great build quality, plenty of room, magnetic filters, support for large GPUs, switchable side panels, great airflow, and more.
At the same time, its price remains rather sensible, which is why we believe that this model deserves the first spot. The only real downsides are the fact that the panels might feel a bit cheap, while the panel thumbscrews can easily be lost if you are not careful when taking off the panels.
Buy it now: here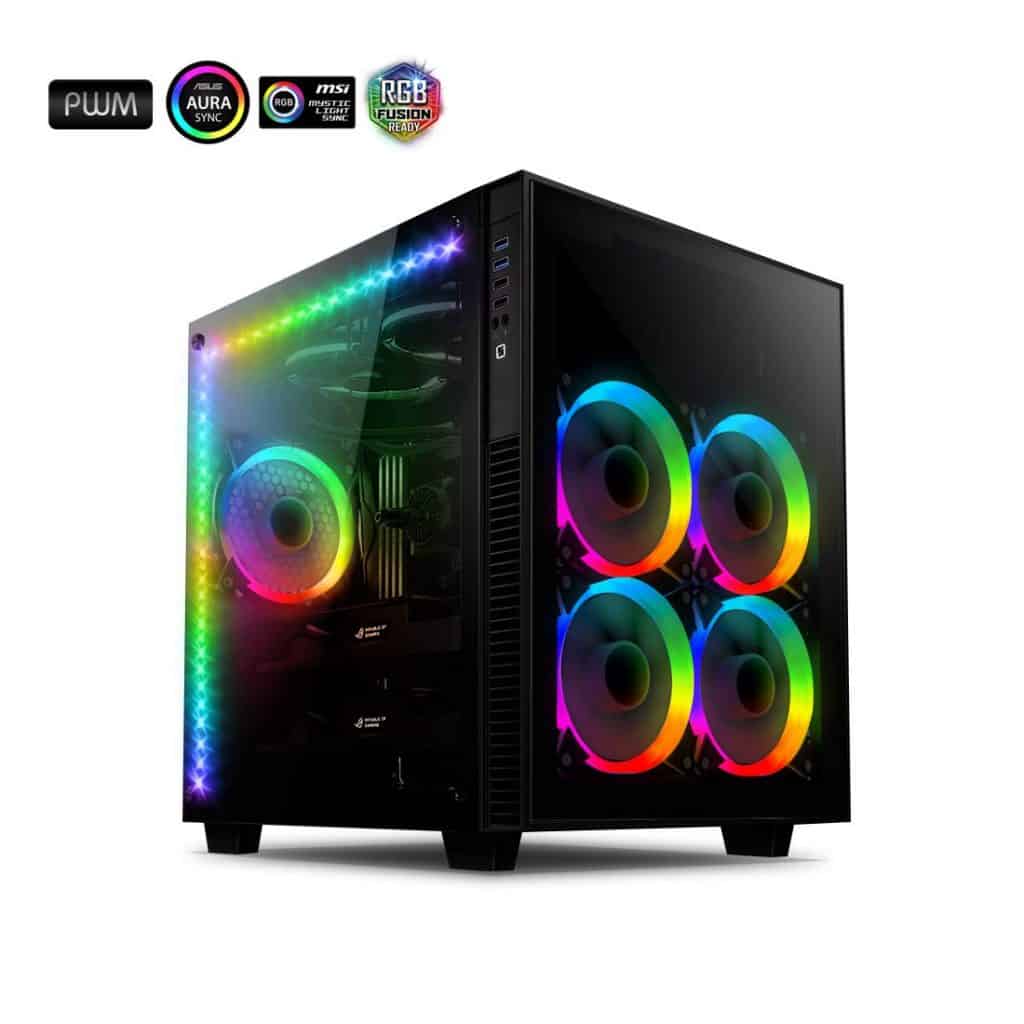 Now, if you are after an awesome-looking, flashy solution, we have a perfect case for you — anidees AI Crystal Cube. If you are a fan of shiny and flashy, you will soon see what we mean, and why this model may be one of the best-designed ones on our list.
The AI Crystal Cube is a cube-style case that is likely to win you over at first glance. It is also pretty expensive, so it might only be an option for some users, who are willing to pay extra to get it.
When it comes to design, it features tempered glass panels that are 5mm thick and are located on the sides and the front of the case. Further, this is also a very good cooling solution, which features 5 RGB fans. These two features are pretty much the key to understanding why this solution is so popular — a transparent case with shining fans are quite simple, but still quite capturing features.
The extra fans are pretty good at cooling, though, so it is not only their looks that we appreciate. Further, the Crystal Cube is also pretty spacious, and can also fit a GPU of 13.2 inches, as well as larger CPU coolers, this time going up to 6.7 inches, whereas our previous entry struggled with CPU coolers quite a bit.
You will even have enough room to fit in a 240mm radiator, as well as pretty much any motherboard, including E-ATX.
In the end, the price is not low, but it comes with all the space you need, as well as with excellent visuals that will always allow your PC to stand out and draw the views.
Buy it now: here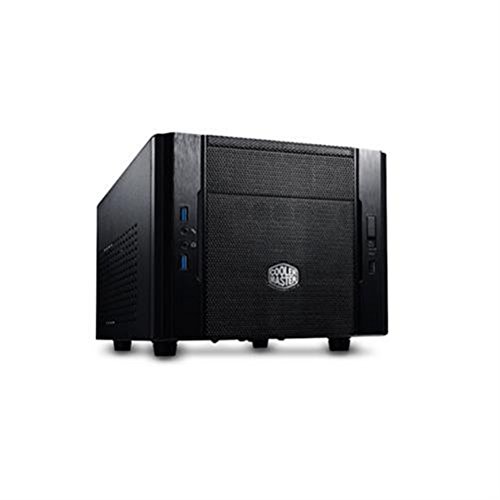 Another very popular, advanced, and affordable PC case shaped like a cube comes in the form of Cooler Master's Elite 130. While it may be a compact solution, it is also very sturdy. This is another mini-ITX cube case, that features a metal build and small measures (9.4 x 8.2 x 15.7 inches).
However, don't let it trick you — this model is fully capable of acting as a top gaming build, with the ability to fit a GPU as long as 13.5 inches. In other words, graphics cards such as Nvidia's GTX 1080 Ti can easily fit, and provide you with a very stylish and modern-looking cubical gaming PC.
First, let's discuss the outside. It has top and side panels which are all one piece, similarly to regular tower cases. The panels can offer good ventilation, although they do not come with filters that can stop dust. The top one has a meshed plate made of metal, although this one is not good as collecting dust either so that filtering might be a problem.
But, apart from that, you do have filters at the front panel, which is also easily removable. As for the bottoms, it features a set of rubber feet, which also allow air to circulate freely beneath the case, and provide better airflow and cooling.
Now, let's take a look under the hood. Going from the top, you will first see a PSU, which is not exactly what you would expect from a standard PC case. The compact form of the case limits the processor's cooler to one of only 2.55 inches in height, but you can still install quite a large graphics card, as mentioned earlier.
However, if you do go for a large GPU, you will not be able to use liquid cooling. Meanwhile, the drive cage lets you install your storage drives on top of it. Alternatively, you can do the same in the side drive bracket, which could come in handy for those who have a larger number of drives.
When it comes to cable management of this model, however, we were left a bit disappointed, as there is not a lot that can be talked about in that regard. You can, of course, route the cables along the sides, but this is not something that the case has predicted and came equipped for handling. Still, with a bit of maneuvering, you can easily make it all look well-arranged and planned, without disturbing the airflow or blocking the hardware access.
Obviously, with lots of large components and very limited space to put them in, cooling can be a bit of an issue. This case will come with 120mm fan on the front side, and you can install another one on the side if your drive brackets are free. Alternatively, as mentioned, a 120mm water cooling system can fit in the front, provided that your GPU is not the largest one that can fit into this case.
And, that's all there is to say about Elite 130. It is not a bad model, and it actually has quite a few great features. However, it has a serious lack of dust filters, and it can be a bit challenging to deal with the cables due to no cable management solutions.
Buy it now: here
6. Thermaltake Core X9
Finally, just like we started with a Thermaltake's model, we will also finish the list with one — and this time, it is its Core X9.
This is a pretty large cube-style case with the very solid build quality. To understand its size, imagine two full-sized towers cased put next to one another. While this sounds pretty huge — and it is — that only means that you will have more than enough space to put whatever you want into this case.
Obviously, it won't work well with small spaces, but it is not intended to, either. If you are interested in purchasing it — its full measures are 25.20 x 15.00 x 19.80 inches, so check if you have enough space before making this move.
The outside of the case is pretty similar to Core X1, featuring front meshed panel which is ventilated, as well as fully removable. The top panel can be removed as well, and it features two perforated areas, also quite large. They come with magnetized dust filters, which makes it easy to clean, and difficult for the case to get too dirty too quickly. In other words, dust filters and ventilation will be no concern at all when it comes to this case.
On the left side of the case, there is a plexiglass window, and both side panels can be easily removed. They feature four USB 3.0 ports, in addition to an I/O plate. As for the back panel, it comes with cutouts for PCI cards, of which you can put eight in total.
On the inside, however, we once again have a dual-chamber design. The top section can fit pretty much all components, while the bottom section features two drive bays, three hard drive caddies, and enough space for two power supplies.
As you have likely expected, pretty much any motherboard will fit here, as well as a large, 250mm CPU cooler. Finally, any GPU that you can think of can fit in this case, thanks to the 23.23-inch space that remains for it.
As for cooling, there is a massive 200mm front fan which comes pre-installed, as well as enough space for several more fans which you can combine as you like on the chassis. Liquid cooling is also an option, with enough space to fit in an equally large radiator, which can fit on any side apart from the left, where the glass panel is.
In other words, this is a massive case, but more than capable of holding any combination of components that you want, so you have absolute freedom when it comes to being creative with it.
Best Cube PC Cases Conclusion
And with that, we conclude our list. There are numerous cube-shaped cases out there, but these are the ones that we liked the most. On this list, you will find the most compact version that can still fit all of the necessary components, as well as the largest one, where you can take your pick and not worry about the consequences. There is also the flashiest option that we could find, and more. All there is to do now is to explore different solutions and take your pick.
* If you buy through links on our site, we may earn an affiliate commission. For more details, please visit our Privacy policy page.