The best way to enjoy gaming is to build the best gaming PC. At the same time, to enjoy the best visuals, you need the best available monitor. The solution we prefer is 4k 144hz monitor, but even so, there are quite a few of them to choose from. To help you decide and not have to go through all kinds of different distractions, we have compiled a list of some of the best offerings we could find. Here is what we came up with.


1. Asus ROG Swift PG27UQ
Our first solution is Asus ROG Swift PG27UQ, and while there is no denying that this is a very pricey option, it is also the best 4K 144Hz gaming monitor that you will find. It will serve as the top choice for most people, even though it comes at $1,750, which doesn't exactly make it a budget solution.
As many likely know, any 4K display that has a refresh rate beyond 60 Hz is a very valuable tool and a major win in itself. This, as well as other solutions on our list, will surpass this threshold significantly with 144 Hz, although PG27UQ only achieves this when overclocked.
Another thing that makes this one stand out from the rest is its full-array WLED backlight, which comes with zone dimming. That way, the HDR will be unbeatable. Even its response time is 1ms faster than Acer Predator X27, which is Asus ROG Swift's biggest competitor.
Other than that, PG27UQ comes with a screen size of 27 inches, and an aspect ratio of 16:9. Its response time is 4ms. Other than that, it features G-Sync, stunning images, over 90% DCI-P3 coverage, great build quality, and a very modern, stylish design. We expect you would be very pleased with this option.

2. Acer Predator X27
Next, we have PG27UQ's main competitor itself — Acer Predator X27. It is a monitor that offers a full-array backlight, including the zone dimming, same as our previous entry. HDR delivery is excellent, and as mentioned, not a lot os different between the two solutions, which is why they go shoulder-to-shoulder in the market.
Acer Predator X27 offers insane gaming specs, and the monitor can deliver completely tear-free gaming experience. This is something that is usually difficult to achieve at high framerates, but Acer Predator manages it without issues. While PG27UQ has a slightly faster response time, Predator X27 has an advantage in another area — its out-of-box color accuracy. It also comes with yet another addition in the form of an included light hood.
The size of its screen is 27 inches, with an aspect ratio being 16:9. The resolution is, of course, 4K, and the refresh rate reaches 144 Hz, although also with overclock. It provides extended color, excellent HDR, G-Sync, excellent quality, and a very interesting design. However, its major downside is that it lacks brightness adjustments in HDR mode. Well, that, and the fact that it is only slightly cheaper than the first one, coming in at $1650. Still, for those who can afford it, it will be more than satisfying, and we do recommend it as a great option.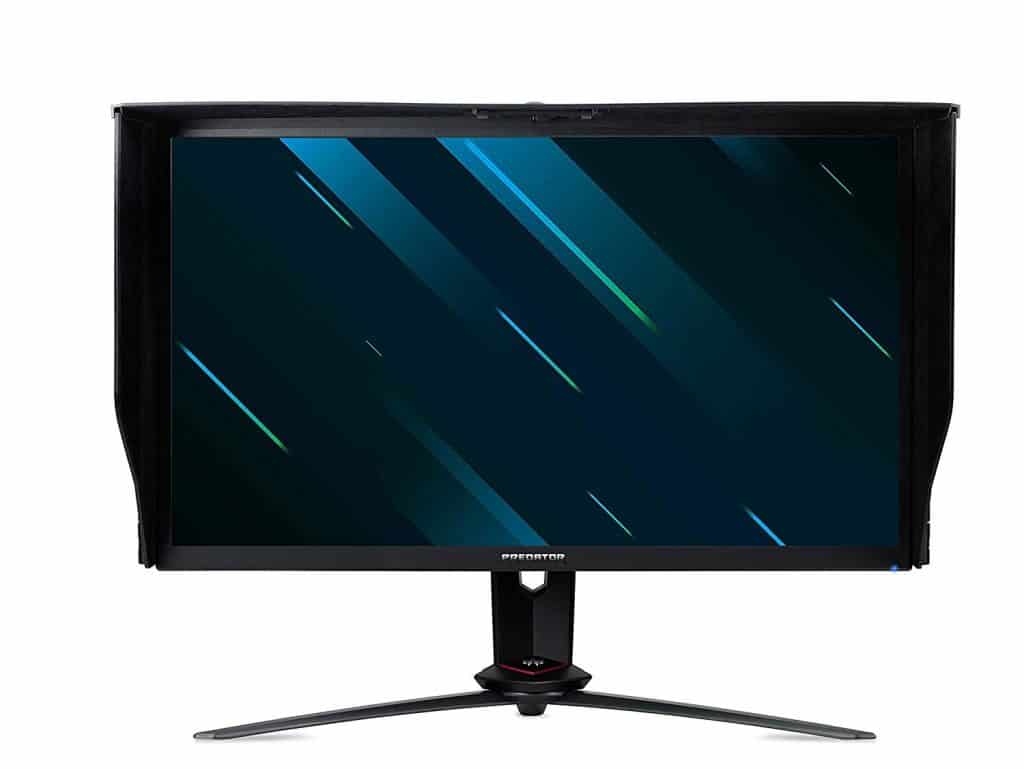 Next, we have Acer Predator XB273K, which is a close relative to X27. However, this model provides a very similar level of excellence, and its value is significantly lower, coming in at £1,199.99. The difference in performance is truly minor, and you will perhaps notice a slight reduction when it comes to HDR quality. Other than that, you can expect pretty much everything that Predator X27 had to offer, and, as mentioned, at a much lower price.
XB273K offers an excellent panel, with fantastic image quality. It features truly wonderful contrasts, colors, and it will add new depth to your games. Naturally, it is a 4K 144Hz option, and thanks to G-Sync, it can also offer an extremely stable picture, as well as smooth performance, even when it comes to fast games. Response time is 4ms, meaning that it will be able to perform excellently when you need speed, too.
Not to mention that it offers quite a solid range of different ports, regardless of the gear you already have. As for its screen size, it is 27-inch, with an aspect ratio of 16:9, like previous ones. Its value is quite efficient for such a high-spec monitor, and we are very pleased with it.

4. BenQ EL2870U
Switching to BenQ this time, we have its EL2870U, which almost lacks any competition when it comes to 4K solutions. 4K gaming is a serious business, and you require a huge amount of rendering power in order to get such high resolution, as well as a decent frame rate.
BenQ EL2870U will provide a solution to all of your needs. This 28-inch option will give you more than enough screen space to actually enjoy the full potential of 4K resolution. It should be noted, however, that this is not a 144Hz solution. Instead, it only offers a refresh rate of 60Hz. However, it is an excellent budget solution, and you can get it for only $300.
That way, you can get a quality 4K monitor that won't completely empty your wallet. It offers a TN monitor with one of the best quality pictures in regards to specs that we have seen in a while. It offers excellent tones and contrasts, and it will perform great in all kinds of environments.
While the refresh rate is not even near the previous solutions, 60Hz is usually fine for most people, and it is certainly great for this price. Additionally, while it lacks G-Sync, it does have FreeSync which will decently impact your experience and make it very smooth and enjoyable.
The response time is 1ms, which is great for a lot of players, and it gives it a decent edge. On top of that, it features BenQ's own eye-care technology to protect the user during long sessions in front of the monitor. This includes Low Blue Light Technology, Brightness Intelligence, as well as color temperature based on your surroundings. These additional features will mean a lot in the long run, so don't consider them just random gimmicks — they do work and matter.

5. BenQ PD3200U
Continuing with BenQ, we have PD3200U, which is also 4k, and also not 144Hz. Instead, this model comes with a 60Hz refresh rate as well, and an IPS panel type. It is a larger monitor with a 32-inch screen, and an aspect ratio of 16:9. However, it features a significantly faster response time of 4ms, which will make the experience that much faster and more enjoyable.
This is definitely a monitor worthy of consideration for any real gamer, but it also comes with a somewhat higher price of around $695. In truth, this model is not exactly aimed at gamers, but rather as a solution for designers, and content creators, hence the 60Hz refresh rate. However, it works great for gaming as well. The IPS panel is very clear, and the image quality is nothing short of fantastic, with 4K advancing it significantly.
The same eye-care technologies, such as Flicker-free elements and Low Blue Light are present as well, which will make it a lot more comfortable to watch the monitor even at night. It even has connectivity covered, with two HDMI 2.0 ports, mini DisplayPort, DisplayPort 1.2, dual USB 3.0 ports, as well as a 3.5mm audio port. An SD card slot is also present, which is a great bonus.
6. BENQ EX3501R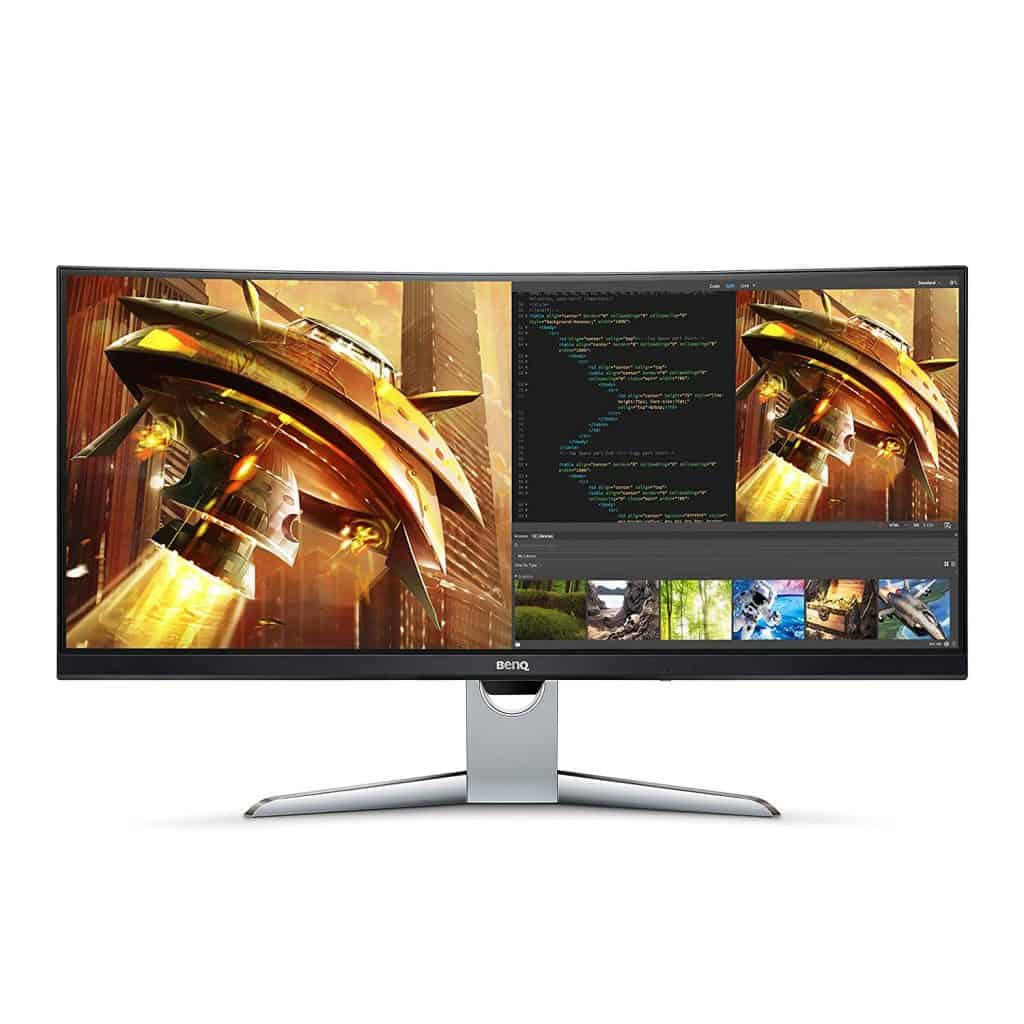 If you are a fan of huge monitors, BenQ has you covered with yet another product — its EX3501R model. It is a wonderful 35-inch screen with 4K resolution and a 1800R curvature. This is an excellent gaming monitor which is among the favorites of everyone looking for panoramic entertainment.
It features HDR technology, with amazing contrast and brightness levels, which truly bring out the details of any game you might be playing. Its refresh rate is higher than that of the previous BenQ models, but still not 144Hz. Instead, it sits at 100 Hz, which we still consider to be pretty great. The price tag is no joke, however, although it is nowhere near the heights of Acer and Asus models from earlier. Instead, it is at around $650, which is not too low, but also quite worth the product.
With USB-C, you can even enable SuperSpeed USB data transfers, as well as a 2K video delivery via one single cable. That can be quite convenient if you plan to use your monitor for gaming AND other activities, such as work.
The monitor is quite comfortable to watch thanks to the tilt and height adjustments, in addition to its Brightness Intelligence Plus technology. Further, the gameplay is very smooth thanks to the AMD Free Sync, and you won't have to deal with choppy tearing, broken frames, and other unpleasant distractions. With this monitor, you will be able to get fully immersed into whatever you are playing, and we don't expect you'll regret the purchase.

7. Philips BDM4350UC
Continuing with our theme of massive monitors, we have a huge 43-inch Philips BDM4350UC. It is a 4K solution with a 10-bit IPS panel, and it will easily serve any purpose. It also has an extremely fast 5ms response time, and a great many connections, including four USB 3.0 ports, two display ports, as well as two HDMI 2.0 ports that feature MHL and even audio in/out.
This is a rather notable feature, considering that Philips typically includes two seven-watt built-in speakers as well.
In addition to its massive size, this model also comes with an appropriate MultiView, which will allow you to split the screen in four completely separate displays featuring Full HD. The viewing angle is 178 degrees, which will let you see the monitor properly from pretty much any side, and still provide excellent colors which are great for gaming, as well as for watching movies, viewing photos, and more.
If you happen to need high color accuracy, this is a perfect model for you.

8. HP Z27
Finally, we have HP Z27 — an excellent solution that aims to completely redefine the meaning of extraordinary visuals. It offers beautiful, precise colors, as well as a very sharp and dynamic 4K resolution.
HP Z27 is a very sophisticated option which is aimed at professionals. It can easily blend into offices or homes, with slim three-sized bezels, as well as a matte black chassis. You can easily adjust its tilt, height, swivel, or pivot, in order to achieve the best possible viewing.
As mentioned, it is a 4K option with 350 cd/m2 brightness, as well as a static contrast ratio of 1300:1. It also has great connectivity, which will allow you to connect it to consoles or laptops with ease. It even offers up to 65 watts for charging different laptops while they are connected.
Now, this might not be the best monitor for hardcore gamers, since it has a response time if 8ms, which could impact your performance if playing games where speed is of the essence. It also lacks FreeSync, which is not that great. However, casual players should find it more than appropriate for enjoying their gaming sessions, and if you need it for work, it will serve your purposes excellently.
Conclusion
With that, we conclude our list. While not all of the listed models feature 144Hz response rate, many of them are still more than acceptable for casual gamers, and all of them are 4K, which will ensure beautiful visuals no matter what you need a monitor for.
We have created this list with a goal of offering something for everyone, and hopefully, you will find something that suits your needs and your budget alike.

We will receive sales commission if you purchase items using our links.
Learn More
.