Choosing the best airflow PC case can be crucial for the longevity of your PC, and protection of your hardware. With the tendency to overheat, your PC could suffer a lot if you use a PC case with bad design. Minor activities such as browsing the web should not be a problem, but if you enjoy playing games, or if your work requires using performance-heavy software, you might be in for a lot of trouble.

* If you buy through links on our site, we may earn an affiliate commission. For more details, please visit our Privacy policy page.
This is why we have come up with a lengthy list of the best airflow PC cases that will ensure that all your hardware remains nice and cool. So, if you are searching for a new PC case or are building a new PC from scratch — this is a great place to find what you need. Let's begin.
Best Airflow Case for PC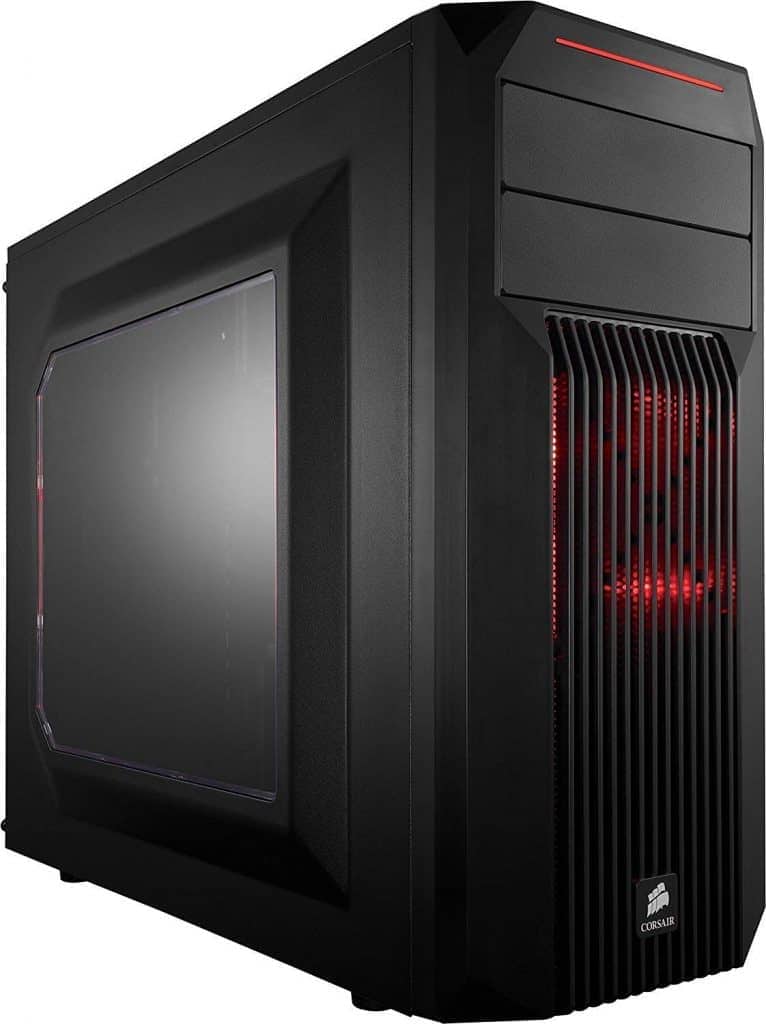 First, we have Corsair Carbide Series SPEC-02, which is easily one of the best cases by Corsair. The model is an upgrade to SPEC-01, and while the differences between the two are mostly minor — we still like them a lot. In terms of design and ventilation — the essential aspects for this list — it is pretty much the same, apart from having an additional slot for adding one more 120mm fan at the bottom, so that is already a significant improvement.
We like this model more than SPEC-04 or DELTA, because of airflow from the front of the case, as well. So, while this model is not the newest — it will cool your hardware better, which is why it made a list while the others did not.
It also can support two 120mm fans at the front, as well as one at the rear. Two more can be found at the top and one at the bottom, meaning that you will get six in total, which is more than enough to secure a steady airflow at all times.
One unfortunate fact is that the case will arrive with only two pre-installed fans, so the rest of them you have to add manually. The two in question include one at the front, which comes with RED LED, and the one at the rear, which does not feature LED. But, both fans are of exceptional quality, and will likely last you a long time, while doing a great job at cooling your PC.
The case itself has great ventilation at the front, as mentioned, which is something that many cases cannot offer. Instead, they stuff more fan slots and leave gaps for airflow at the top, bottom, or on the sides. Besides, you also get a dust filler on the front panel, although it lacks any at the bottom or top.
This model is also quite spacious, meaning that it can store long GPUs, and it lets you easily install HDDs, while also providing an excellent location for SDD bays. You should also have no issues with cable management — it is not impressive, but it is decent enough.
Buy it now: here
If you are after the best mid-tower solution, one of the best that you will find is Phanteks Enthoo Pro M. This particular case comes with a large number of great cooling features, roomy storage, and rather impressive quality. Not only that, but it looks professional, as well as stylish thanks to its design featuring tempered glass on the side of the case.
In other words, the model is not only excellent at keeping your PC cool, but also quite beautiful. On top of it all, it supports E-ATC-sized motherboards. As mentioned, it has quite a lot of room inside, so you can fill it with hardware and still have a well-ventilated case.
The ventilation is also increased further by a 120/140mm fan, which points at the rear, top, and front. Also, you can install an optical drive thanks to its 5.25-inch bay. The case also supports water-cooling if that is your preference, as well as additional fans if you wish to add more to it. Best of all, it is very affordable and will allow you quite excellent cable management.
Buy it now: here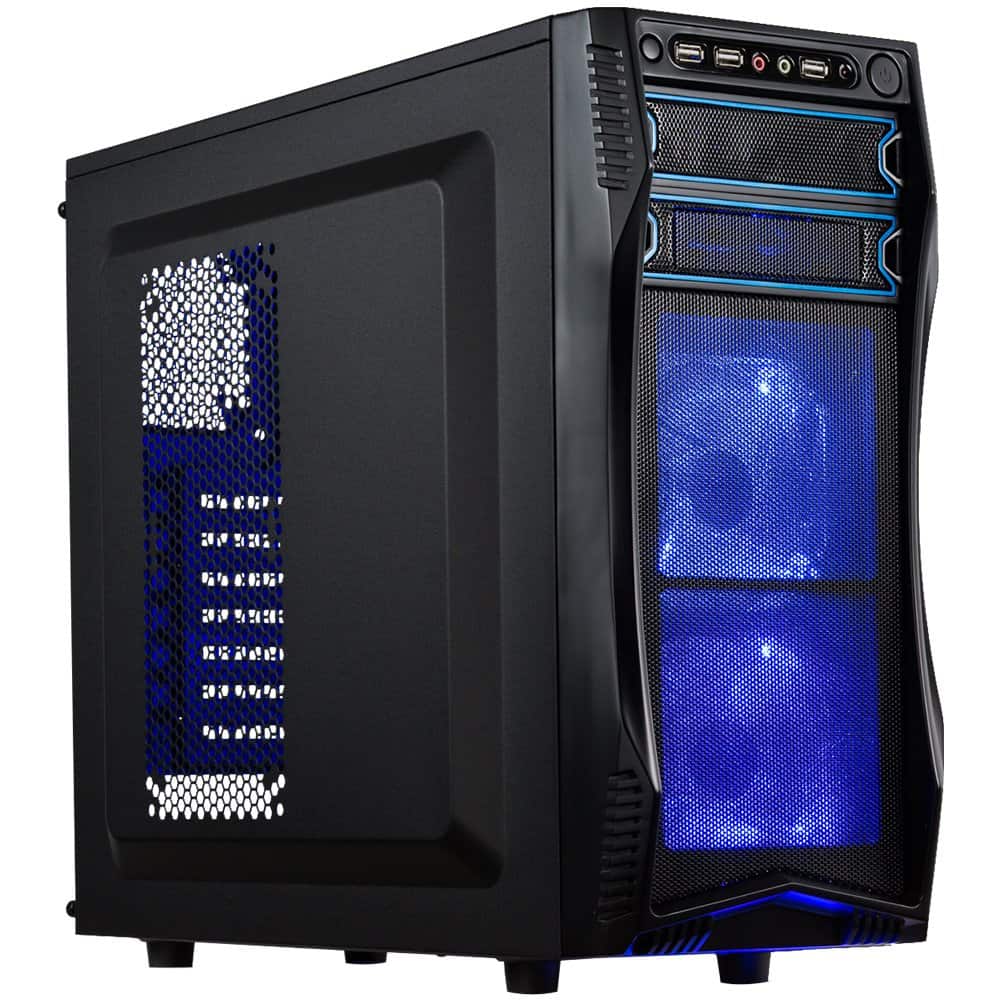 Now, if you are after a unique budget-friendly solution, you will want Rosewill Gaming Challenger S. This is a fantastic case that provides great airflow despite the low price, which is a consequence of the case's construction. The material used for making the case is not terrible, but it is also not that great either. As a result, the case ended up being relatively inexpensive, which works great for those who need a cheaper solution.
However, we also believe that it provides quite a few excellent features which make it worthy of our list. The first thing to point out is that it is an excellent choice in terms of compatibility. You can easily fit in a full ATX motherboard, as well as a long GPU. The case itself will arrive with 2x 5.25-inch ODD bays, as well as three 3.5-inch HDD bays, which is pretty good by itself. Next, there will also be enough space behind the motherboard tray for you to route cables and even space where you can install new coolers for your CPU. Best of all, you can replace them at any time without having to take out the motherboard.
Then, there is its side panel, which has a honeycomb mesh that allows proper ventilation, and you can even increase the airflow by installing up to two 120mm fans. Unfortunately, the case does not feature a transparent window panel, which would impact cooling even more, but that's okay, as it comes with two 120mm pre-installed fans, featuring BLUE LED. These two are at the front part, and another non-LED fan can be found at the rear.
We will admit that the fans aren't that great in terms of quality; in fact, they are rather basic. But, at least you don't have to buy new ones right away. If you wish to have back-up fans, however, you can add two more at the top. That way, you would have enough fans to keep your hardware cool in any situation, which is great if you live in a naturally hot region.
There are also dust filters at the top and the front, although there aren't any at the bottom, which you should keep in mind, as that means that dust can accumulate pretty quickly there.
Buy it now: here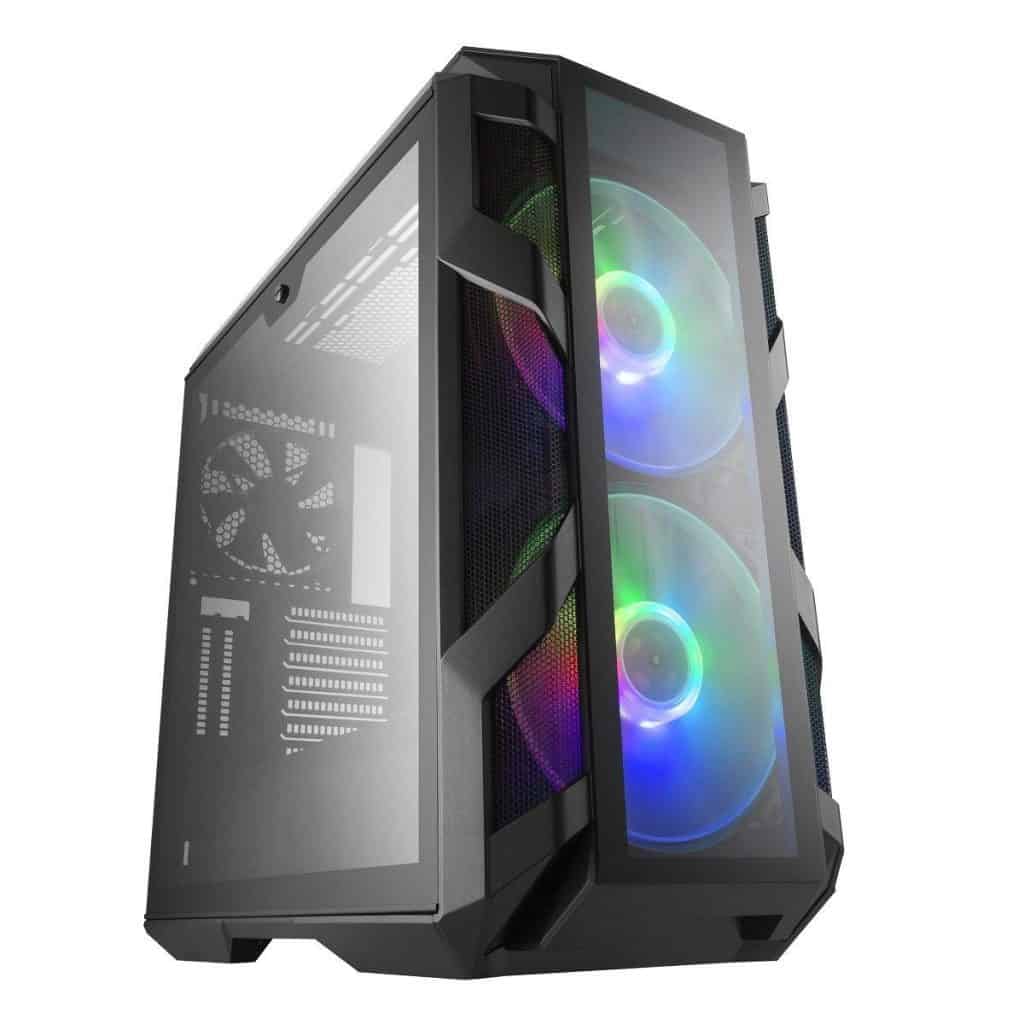 At the fourth spot, we have Cooler Master H500M, another excellent solution which is actually airflow oriented. With the airflow-focused cases once again becoming a trend, many have been quite excited to see what Cooler Master might come up with next. Of course, when they released their H500P, it came with quite a few design flaws, which were heavily criticized.
Luckily, the company already had plans also to release the H500M model, and we are glad to see that the feedback reached them in time. This is why we consider H500M a much better option, with excellent acoustic performance, stable build quality, excellent cooling system, and even an RGB controller that lets you have full control over the fans.
The case's design is pretty modern, too, with great lighting features that do not need to be supported by the motherboard. Connectivity is also pretty good, and it features two 200mm intake fans to improve the airflow. Simply put, it is a great case which did not show any significant concerns during testing or show any particular downsides.
Buy it now: here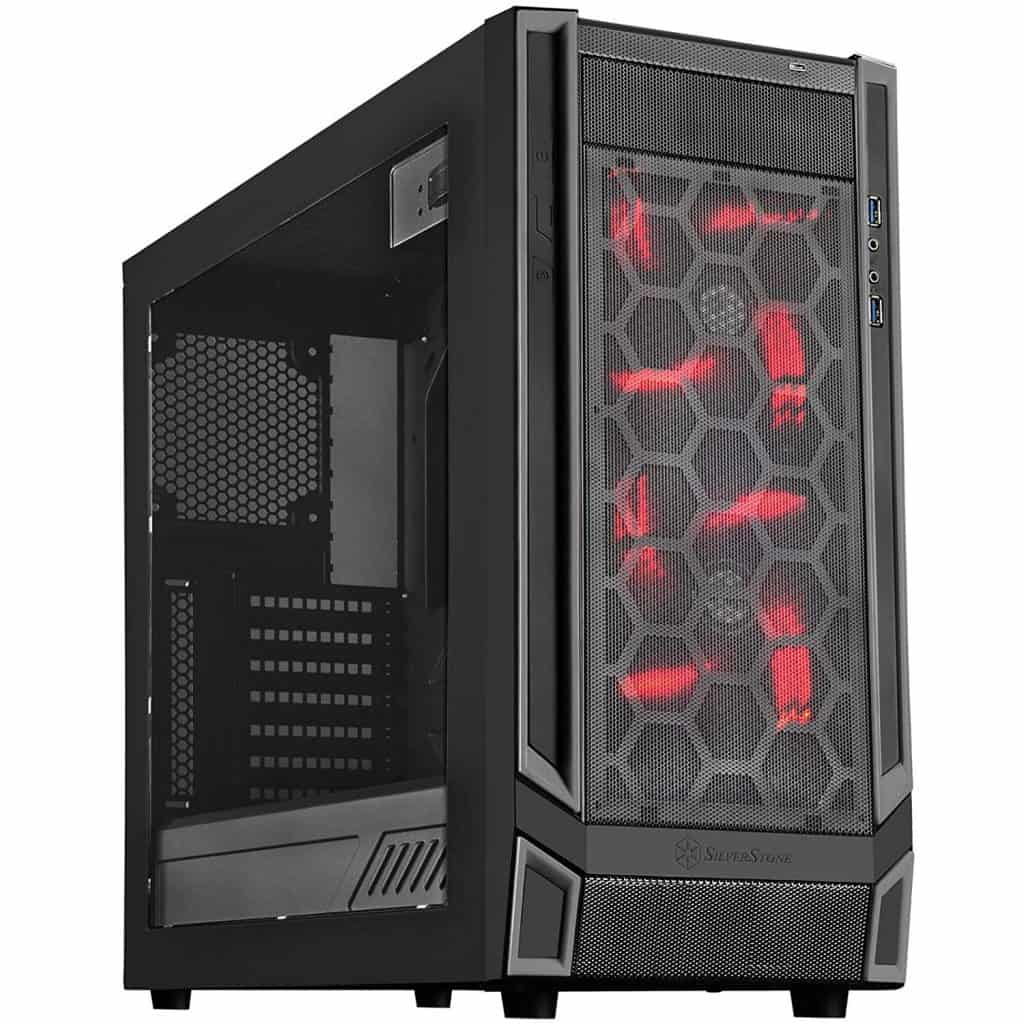 Another pretty inexpensive and still quite capable solution comes in the form of SilverStone Technology RL05BR-W. This is a Mini-ITX case that is becoming quite popular thanks to excellent performance, and more and more buyers are giving it quite a positive feedback, which is what caused even more people to try it out.
The case itself features 140mm fans that were pre-installed at the front of the case, which seems to serve it rather good, as it tends to drive a more considerable amount of cool air into the case. You can also add a 240/280mm radiator or two extra 120/140mm fans.
When it comes to the case's design, it is pretty modern and professional-looking, thanks to a meshed front panel. It also features a dust filter, and a separate one for the PSU, which is a nice touch. It is compatible with longer GPUs, and it lets you install two HDDs or SDDs. The only real drawback is that it will limit you to only four storage devices at max, one at a time.
Buy it now: here
Next, we have NZXT H700i, which is quite an excellent solution if you are looking for a great mid-tower PC case. This model was initially released in 2017, but it is still easily among the top solutions to this day. It is effortless to manage and build your PC in it, and it definitely deserves to be called a 'smart' case. The nickname itself comes due to the new smart hub, which is powered by the firm's CAM software.
The case will allow you to control both its fans, as well as RGB LED. Not only that, but it also features machine learning, which will always find the best balance between cooling and noise, so that you can have cool hardware and a quiet PC.
It comes with four pre-installed fans, as well as two RGB strips. However, it can easily support even more than that, depending on the fans' size. You can put two 140mm fans at the front, or use three 120mm ones, with Push/Pull. The same goes for the top panel, either two 140mm fans or three 120mm ones. As for the rear, it can store only one 120mm fan, but we believe it will be more than enough for keeping your PC cool.
It also supports pretty much all motherboards, including Mini-ITX, ATX, MicroATX, as well as EATX. You also should not worry at all about cable management, as it has four different cable routing channels, which also feature integrated cable tie-downs. All of this does make this model slightly more expensive, but we are sure that it will be worth every penny. The only real downsides are that its HDD space is a bit cramped and that it does not support Type-C USBs.
Buy it now: here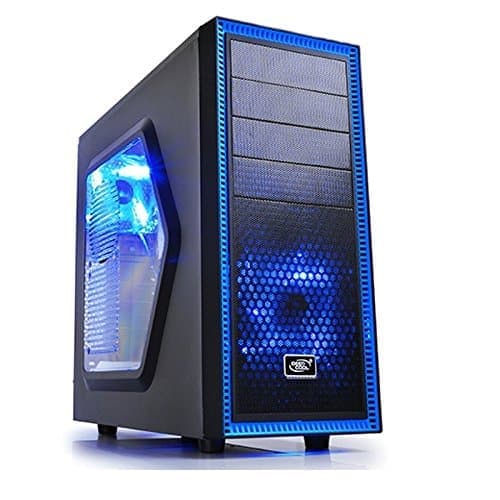 Then, we have a rather beautiful DeepCool TX Mid Tower Tesseract SW, which is pretty much in the same price range as the Corsair's Carbide Series Spec-02 model. We should note that this model is not as good as Cooler Master or Corsair in terms of quality. However, it looks beautiful, and it is an inexpensive option from a lesser-known company, which is why we believe it still deserves a place on the list.
Keep in mind that, when we say it is not as good quality as Corsair or Cooler Master — that does not mean that it is terrible. It is only not at that level. It is made of plastic and SPCC, which is usually used for budget solutions, but it can support pretty much all motherboards and essential components with no issues.
It provides excellent support for different storage devices, with a total of 7 drive bays, allowing you to install 3 SSDs and 4 HDDs without the need for any tools. It is all pretty much plug-and-play, which we liked a lot.
One drawback, however, is that the case is not very long, so the most extended graphics cards are unlikely to fit. You may find a way to get them in, although that might mess up your wiring and storage device installation. Still, 2 Fan GPUs can fit with no issues. Cable management is nothing impressive, but it is decent enough so that you won't have any problems.
Now, let's talk about cooling. Cooling is actually what gives it its real value in our eyes, and why this model made a list. Let's start by pointing out that it features a meshed front panel that provides pretty good ventilation, from top to bottom of the case. Next, it also features a 120mm BLUE LED fan, which comes pre-installed. Another one can be found at the rear, and while their quality is nothing extraordinary, you can see both of them thanks to the transparent side panel, on which you also have two additional slots for 120mm fans.
You can also put two more 120mm fans at the top, securing an excellent, balanced airflow at all times. You can't install a radiator there, however, but one should be able to fit at the rear. All in all, the model features a pretty well-balanced cooling system, with great airflow, beautiful design, and decent quality.
Buy it now: here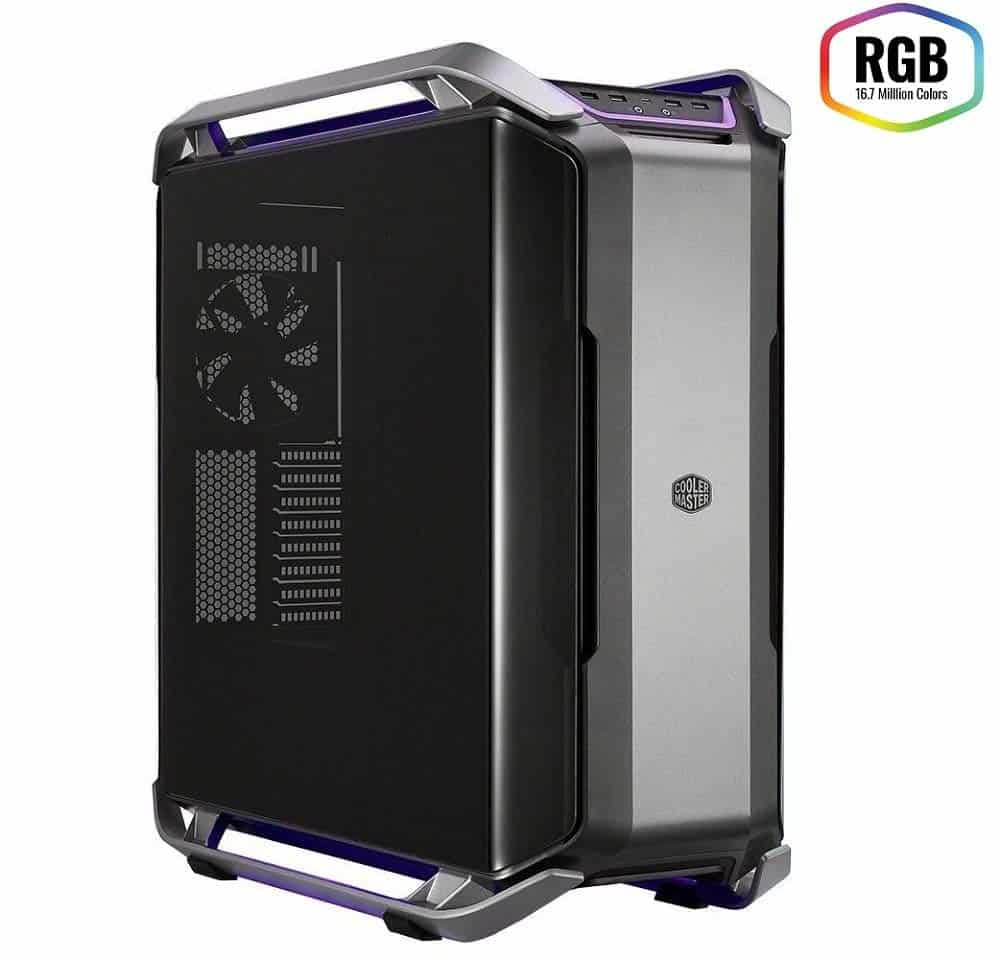 Finally, Cooler Master's solution was bound to reach the list sooner or later. So in third place, we have its Cosmos C700P model, which is pretty similar to the original Cosmos in a lot of ways, especially when it comes to the price tag and the overall quality.
However, we still believe that this solution is more than worth the money. The first thing you will notice is its design, which is rather beautiful, with a sleek color-scheme, and a curved glass panel. Even so, the design is far from being the only thing that is excellent about this model, its features are as good, if not better.
The first thing to point out is that this model will easily support even the high-end components, including oversized GPUs, as well as E-ATX motherboards. It also supports Mini-ITX, ATX, and Micro-ATX, so no matter which one you wish to use — they all fit with no issues. This is thanks to the fact that this is a full tower case, which has a large footprint, meaning that you will have plenty of space to spare.
The dimensions are 639 x 306 x 651mm, which doesn't make this case ideal for small spaces, but that is necessary for having a decent cooling system and a lot of space. Further, it also features understating RGB lighting, meaning that you won't be distracted while playing games or working. Other than that, it supports fans of all sizes, a radiator, several drive bays, and it features multiple I/O ports, including one for audio/mic, one USB 3.1 Gen 2 Type-C, as well as 4 USB 3.0 ports.
Buy it now: here
Best Airflow Case for PC Summary
If you wish to secure the top performance of your PC, you need to think of a good way to keep your hardware cool at all times. This is why you need the best case with multiple fan support, lots of space, and a reasonable price. Our list should satisfy all of those requirements, and all that remains is for you to check it out and take your pick.

* If you buy through links on our site, we may earn an affiliate commission. For more details, please visit our Privacy policy page.
We will receive sales commission if you purchase items using our links.
Learn More
.