If you thought that RGB fans were cool, just wait until you see our list of the best RGB motherboards that you can get in 2023. The list has quite a few of them, with different models being suited for different people's needs. So, if you are building a PC, and you are looking for a new motherboard — here are some of our flashy suggestions.

* If you buy through links on our site, we may earn an affiliate commission. For more details, please visit our Privacy policy page.
Best RGB Motherboard
Now, if you are interested in a motherboard with real RGB lighting, then Asus ROG Maximus XI Code Z390 is among the top options that you will find. It is often a go-to option for those who don't want to consider the pros and cons, and just want to get the best there is, regardless of the price.
If you wish the same, then you will definitely want to try out this model. It comes with pretty much every feature that you can think of, and a few that you can't. One reason why we liked it a lot is its RGB-lit shroud, which covers pretty much all corners of the circuitry of the board. In other words, it has so much light that it might be difficult for you to stop looking at it.
Of course, a pre-installed I/O shield comes as part of the package. The board itself is an ATX one, with support fo 4 DIMM sockets, and multiGMU support. It offers even more than that, so if you are after great compatibility, excellent lighting, and you don't care about the price — this is the board for you.
Buy it now: here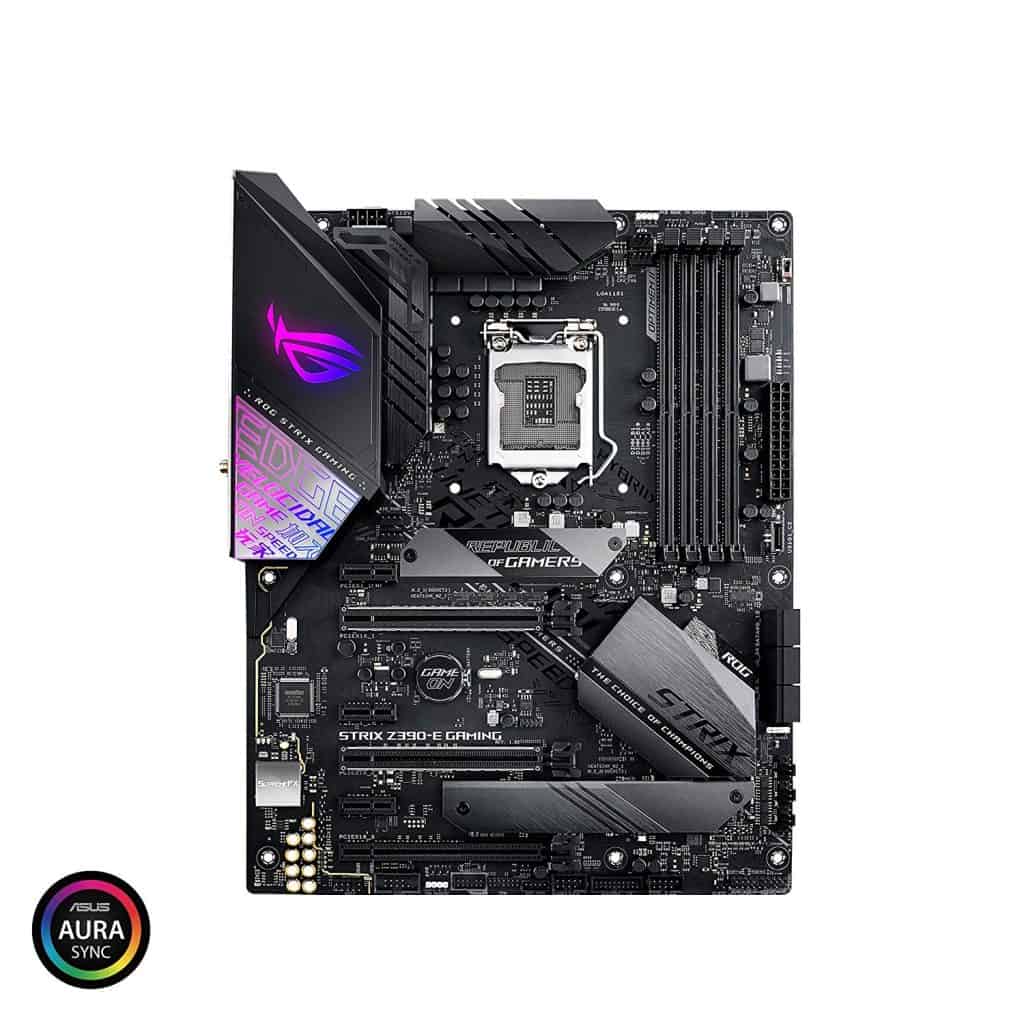 Next, we go to Asus' solution in the form of ROG Strix Z390-E. This solution will provide you with more than enough options, although it is almost as expensive as the previous two.
As before, let's talk about the onboard lighting first. I/O features the RGB ROG logo, as well as text, which is likely the first and only thing that you will see when it comes to onboard RGB. However, that is not such a bad thing, as it will leave you a more free room for RAM and RGB coolers that will make your PC build better in other ways.
Also, you have two 4-Pin RGB headers, as well as one addressable RGB header. As for the software itself, Asus provides some of the best that you can find, and AuraSync definitely fits that bill. Since most of the RGB components that you will find are likely to be compatible with this motherboard, that also means that you will be able to include it in most builds.
Of course, it is always better to be safe and check beforehand. We did say that MOST of them should work, but that is by no means a guarantee that all of them will. In other words, a bit of extra research can go a long way, since you don't want to spend an overly large amount of money on a board that doesn't work with the rest of the components or vice versa.
Buy it now: here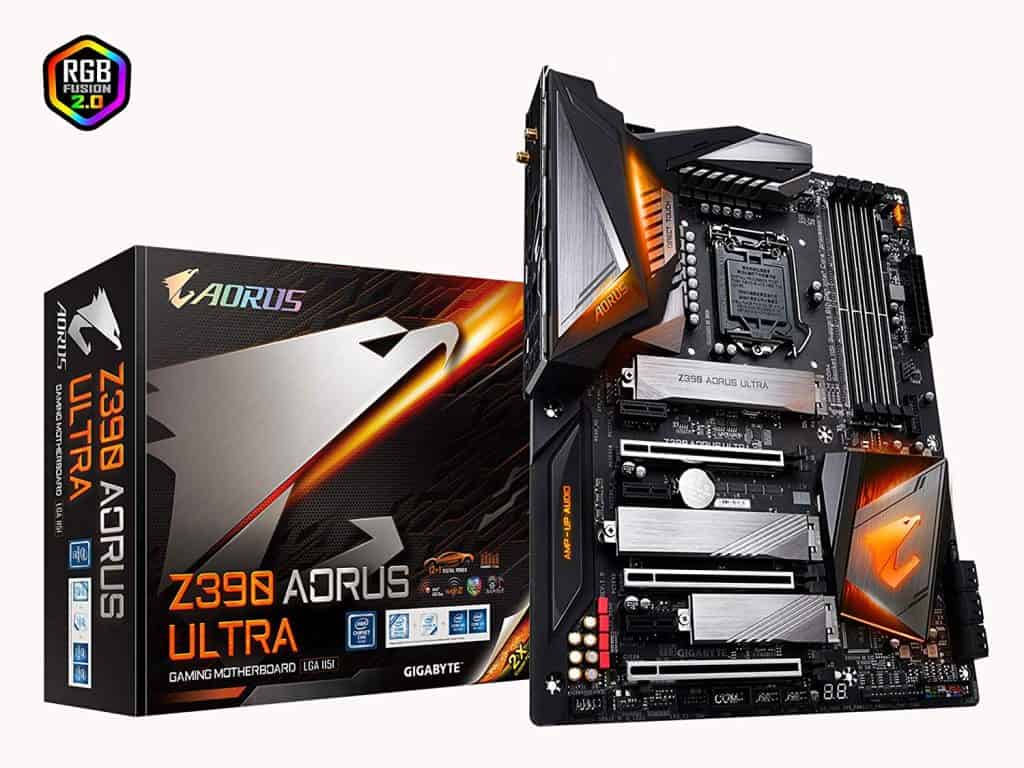 Another Z390 motherboard worthy of mentioning — this time from Gigabyte — is AORUS Ultra. This is another professional gaming motherboard that comes with an array of features and supports. It works great with the 8th and 9th Intel Core processors, and it also features 4 DIMMs, Dual Channel Non-ECC Unbuffered DDR4, Onboard Intel CNVi 802.11AC 2×2 wave 2 Wi-Fi, and more.
However, the most important aspect that we are interested in is how it performs as an RGB solution. We are quite happy to say that it satisfies the requirements perfectly, which is a good thing, considering that this is also as far away from a budget solution as you can get.
It comes with RGB lighting on its chipset, as well as the I/O shield. That way, the RGB lighting is effectively spread out, thus allowing for a more in-depth lighting solution. It looks really great if you like your PC lit up. However, that is not where the lighting ends. In addition to the onboard lighting, your typical header expectations are also likely to be met pretty well.
You get two RGB LED headers, both of which are fully addressable, as well as two standard RGB LED ones. It will work best with Gigabyte's own hardware, although you can add other as well, just make sure that it is compatible with the motherboard. And, as mentioned previously, pretty much everything you need from a proper motherboard is featured here, in addition to it being a top-quality RGB solution.
The only real drawbacks that we were able to identify are the high price, and limited support for components that were not made by Gigabyte, so don't think that the warning is there for no reason. Definitely check if your other components are compatible with this motherboard first.
Buy it now: here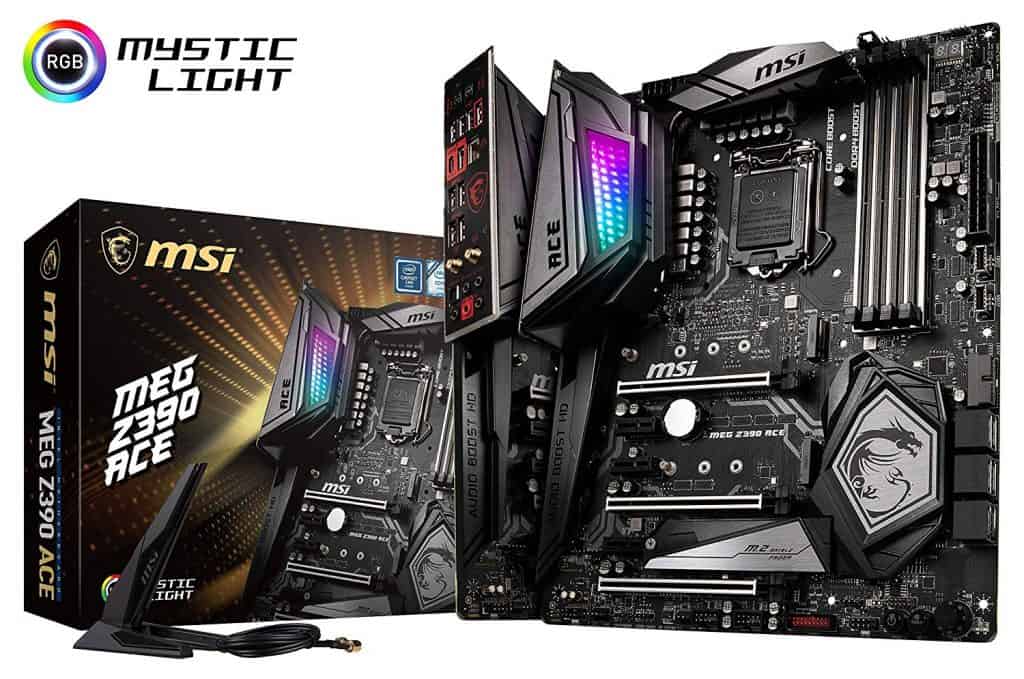 One of the best motherboards that you will find on this list is definitely MSI's MEG Z390 ACE. It comes with a great many features, as well as RGB aspects, which is a crucial factor for this list, so let's talk about that first.
The lighting on the motherboard is arranged on a single array of LEDs, which you can control on the I/O. It is known as Mystic Light Infinity array, and it offers pretty much all customization options that you can think of. There are even connectors that allow you access to other RGB lights, which don't have to be on the motherboard itself.
In total, there are four connectors for RGB LEDs, one of which is dedicated to LEDs by Corsair. Corsair is well-known when it comes to their RGB solutions, components, and alike, and they put lighting on anything, including liquid cooling and RAM. With that in mind, a connector that supports Corsair components will be greatly appreciated by anyone who likes their build properly lit up.
Apart from this connector, there are two 4-pin LED connectors, while the fourth one is a 4-pin Rainbow LED connector. In other words, you can connect pretty much any component with LEDs, and it should work just fine.
But, don't think that this motherboard is at the top of the list only because of the lighting options. Its underlying technology is excellent as well, as this is a fully-fledged Z390 motherboard that comes with a built-in Wi-Fi, USB 3.1 Gen 2, and more. It is quite costly, however, which is its biggest drawback, but if you can pay for it, you will be most satisfied with your choice.
Buy it now: here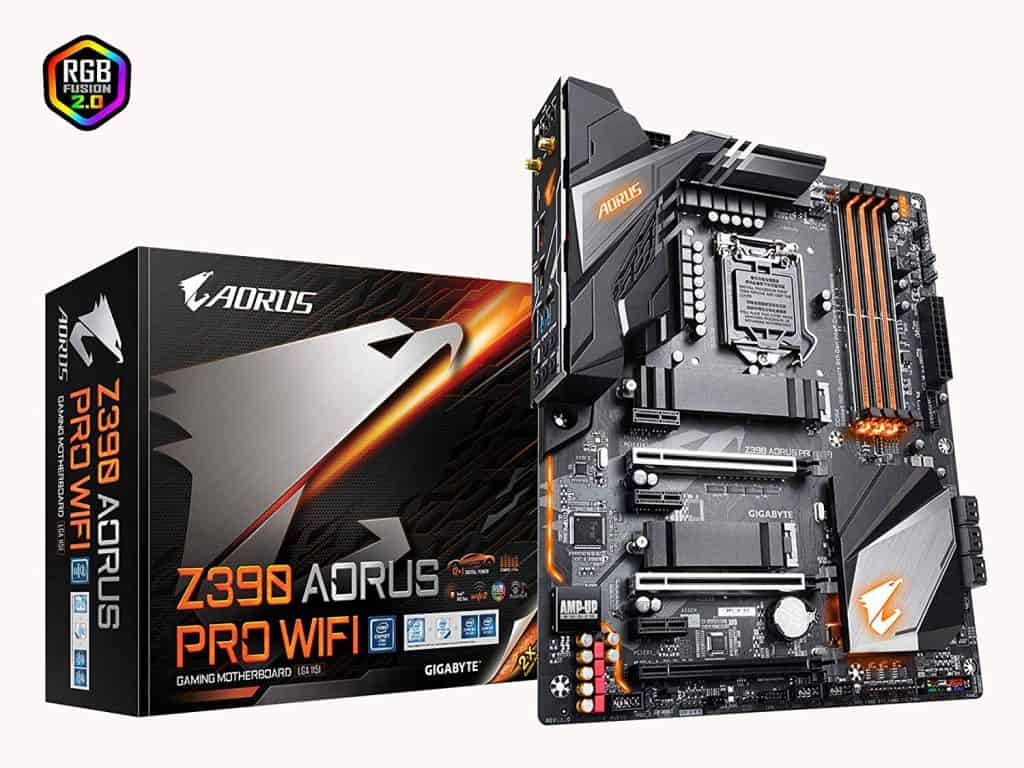 Next, we have a motherboard which is quite cheaper than any of our previous entries, and definitely cheaper than the last one. Still, it comes with enough RGB lighting to blind you, which is quite an achievement considering its excellent price and features.
The first thing to note about Z390 Aorus Pro Wifi is that it came at the time when Coffee Lake Refresh CPU emerged, and there was a need for compatible hardware. Intel came out with promises that they would work on becoming the best processor for gaming, and Z390 Aorus Gaming Pro Wifi came to be soon after that.
As the name suggests, it is a gaming-oriented motherboard, with gaming-oriented features, which includes lots of reinforced PCIe slots, as well as the amount of RGB lighting that would make every gamer proud, and their PC shiny and spectacular. We definitely believe that this motherboard is excellent in regard to its price, and after checking it out — we are sure that you will agree.
Buy it now: here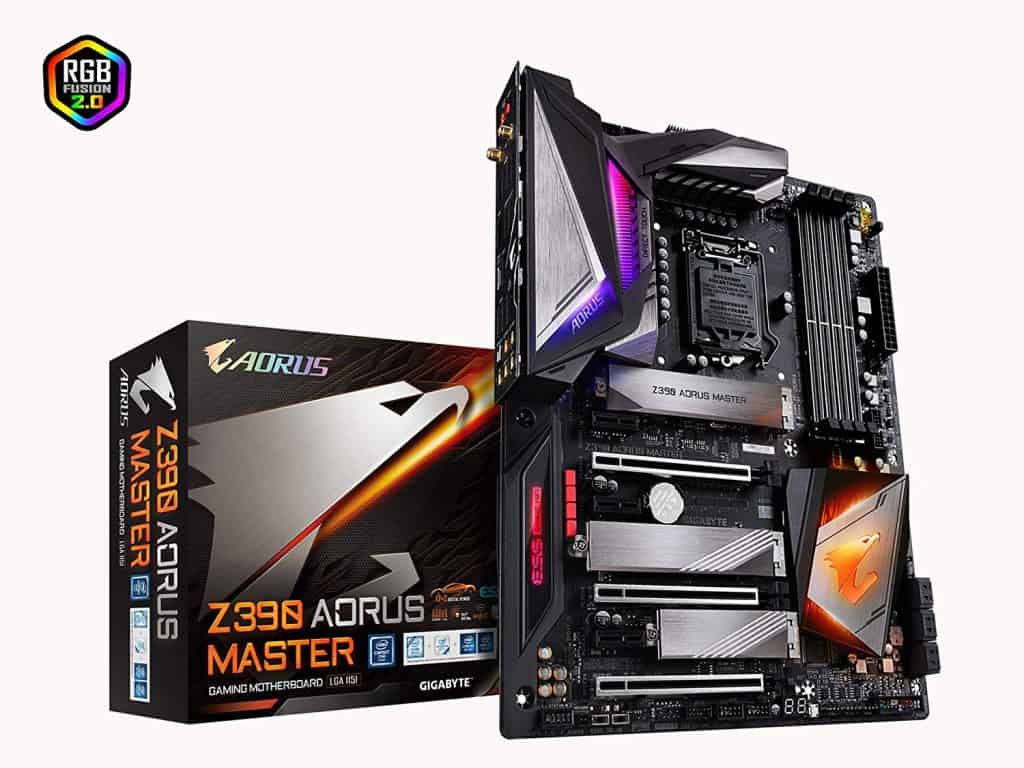 We talked about Gigabyte Z390 AORUS Ultra a little while back, and now — get ready for Gigabyte Z390 AORUS Master. This is one of the best and most fully-featured offerings. It is capable of supporting quite a lot of overclocking, and it is definitely among the best fits for gamers. It doesn't come cheap, as you may have expected, but it is well worth the money.
The board offers multi-zone integrated RGB LEDs, which can be found on the back of the panel cover. There are two RGBs, both of which are fully addressable. Apart from them, there are Digital LED and RGB LED connector pair, which can be found next to the OC button. The package will arrive with an RGB extension cable, as well.
This model does not focus that much on the RGB aspect itself, at least not as the others. However, it is a rather good motherboard with quite a number of features, in addition to the lighting aspect.
Buy it now: here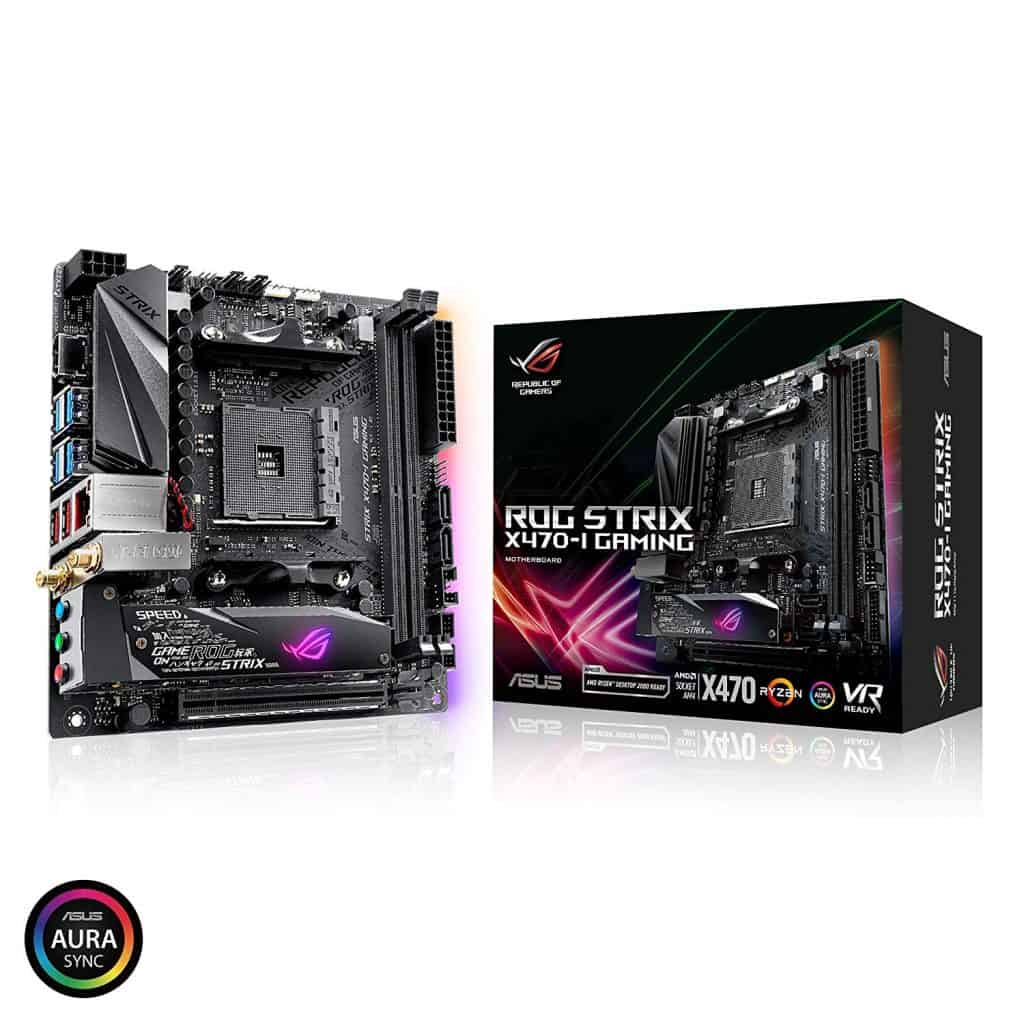 Now, if you are looking for the best Mini-ITX motherboard with its own lighting, then ASUS ROG Strix X470-I Gaming is the best one for you. It is pretty much the best option you have if you want the best RGB experience on ITX builds.
Its onboard lighting is pretty good, with an RGB-illuminated ROG logo, similar to the one we have seen before on other models. In addition, there is a rear glow on the back of the board, which will give your case a great look.
The rest of the lighting will depend on the lighting control or your peripherals since this model only features two RGB LED connectors. As mentioned, it is not the best of the best, but it is the best Mini-ITX board. While we are at it, it is noteworthy that you will get a fully-featured ITX motherboard by choosing this option. Of course, the form factor will bring some downsides, although experienced builders will likely be able to plan accordingly.
Buy it now: here
At the end of the list, we have MSI X470 Gaming Plus, which is another excellent budget solution for those who do not want to spend a lot of money but still have a pretty good and very flashy motherboard.
MSI X470 Gaming Plus is, as the name suggests, a gamer's budget choice, and it is not that surprising, given that AMD has always been known for budget builds. That is hardly going to change anytime soon, and we are okay with that.
So, MSI X470 Gaming Plus is a board that is marketed to gamers and gamers alone. It is filled with features, from front to back. It includes a pair of PCIe M.2 slots, quick performance tweaking buttons, and more. As for RGB, it is very flashy and highly customizable. Best of all, you can customize it from your phone. It is a great solution for any gamer who wishes to impress with a flashy case and lots of colors, and we definitely recommend it.
Buy it now: here
Best RGB Motherboard Conclusion
And that will be it for our list. Most of the Best RGB motherboard are often quite expensive, as they come with a stylish design and packed with features. However, we did manage to find a few pretty great budget solutions which we hope you would like.
At the end of it all, all of them are RGB solutions that will light up your PC case and impress everyone. You get a great level of control no matter which one of them you choose. As for compatibility, some are compatible with pretty much anything, while others can be
quite picky, so choose carefully and do your research before buying.

* If you buy through links on our site, we may earn an affiliate commission. For more details, please visit our Privacy policy page.