If you are building the best PC, and you want it to be stylish — you need the best RGB fans to accompany it. The case fans are crucial in order for your PC to remain nice and cool during long work, gaming, and even casual browsing sessions. After all, without the proper airflow, your CPU will get overheated, which can lead to damage and you can ruin your PC. However, why not make it look good at the same time? If you are interested in that, then RGB fans are the best option, and you can easily find efficient fans that will provide quite a light show. With that in mind, here are some of the top RGB fans in 2020 that we have found.

Best RGB Fans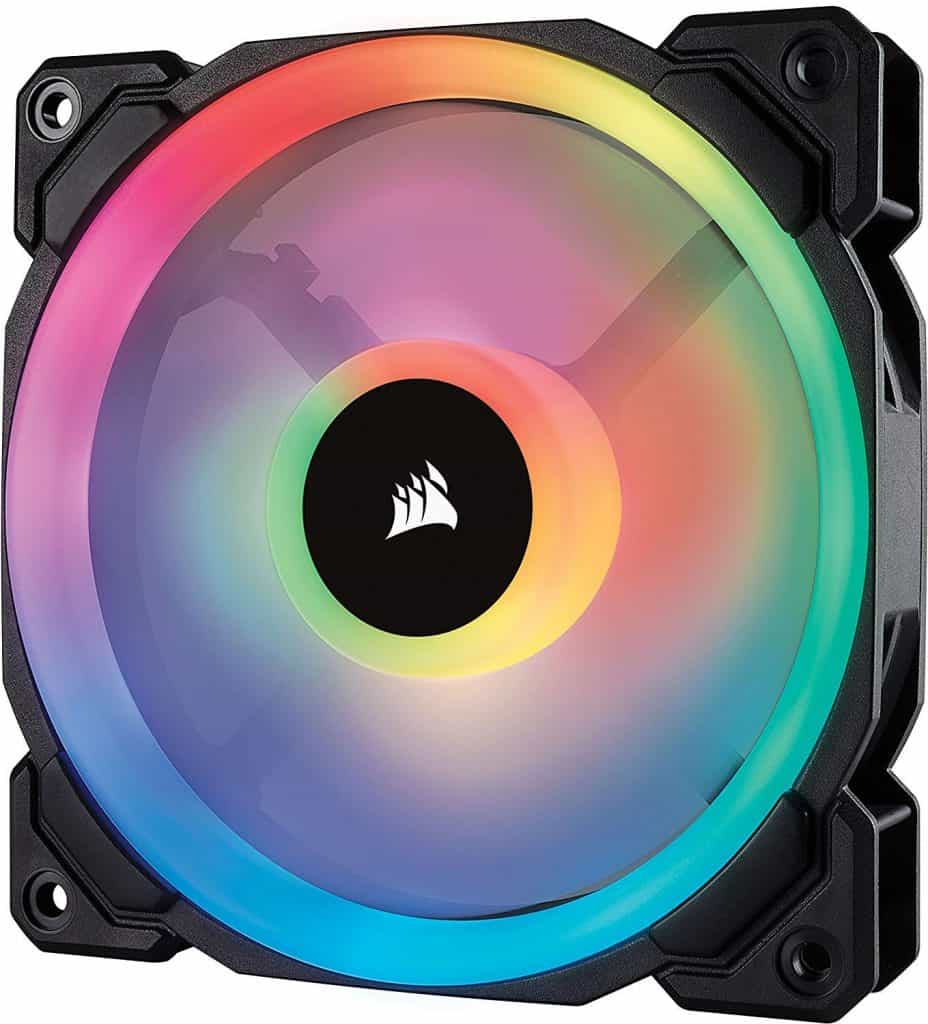 To start off, we have chosen a great model at a more than affordable price, which comes in the form of Corsair's LL Series LL120 RGB fans. This model offers very high performance but still remains low-noise. Its cooling is very efficient, and, as mentioned, the price is not as high as we have seen in most other great-quality solutions.
The fans come with 16 GRB LEDs, all of which are independent and featured in every blade. There are two different light loops, with four LEDs located in the fan's hub. The other 12 LEDs are surrounding the outer loop on the front side of the fan. It goes without saying that the aesthetics of the fan is excellent, and you will be very pleased with that as well.
Further, this is a PWM control fan, meaning that you can control its speed with ease. It can go from 600 RPM to 1500 RPM, as per need and your desire. We have already mentioned that the fan is specially designed to be very quiet, but still highly functional. Finally, it is also very easy to install, although you will have to buy Corsair Lighting Node Pro if you wish to control RGB lighting. All in all, this is a great option that will fit your transparent case perfectly, and make it look modern and stylish.
Buy it now: here
Of course, we could not have made a list of best fans without featuring Cooler Master's products. However, we are interested in a specific solution, one with rare features that you don't spot too often. We are talking about one of the largest models that you can find — a 200mm cooler that is mostly found in smaller cases, which might seem counterintuitive, but it is what it is.
As you likely know, the larger the fan's size — the bigger the air it pushes through your case per each minute. This is why 200mm fans offer some of the best performance that you will ever find, and this particular model is only bested by a 140mm NZXT Aer fan, which we talked about earlier. However, it should also be noted that, while it is slightly better — NZXT had to reach these levels of performance quality by making its fans spin almost two times as fast, which makes them a lot noisier.
Larger fans spin at a lower speed while providing a huge amount of fresh air for cooling your hardware, which often makes them very quiet. Not only that, but they are also compatible with pretty much all RGB controller, as well as software. The only thing you should actually worry about if considering this model is whether or not it can fit into your case. The size is rather impressive, so this might be a real problem.
Buy it now: here
Then, our next option for today comes in the form of upHere Wireless RGB Fan. This is a curious model, to say the least, especially when you take a look at its price tag. Most fans can be quite expensive, often going over $100 with RGB options. This is why the firm called upHere decided to do something about it and provide a great five-pack of fans at a pretty outrageously-low price.
This is a very budget-friendly solution that will light up your rig as much as any of the flashiest models on this list. Not only that, but you get five fans, which is likely more than you will ever need at the same time. Even some of the high-end gaming builds do not feature that many fans.
And if you wondered whether the performance would suffer due to the low price and impressive lighting — the answer is no. In fact, their performance is quite similar to that of Corsair's LL series fans, which is extremely impressive. The airflow is actually slightly higher while the static pressure is almost the same as that of the LL series. Further, this solution also gets a plus for being even quieter.
So, what's the catch, you might wonder? Well, they are controlled via wireless remote, instead of software. In other words, you will not have as much control over the light patterns and color. In addition, they may not be as durable as some other fans on this list, which is also to be expected. Other than that, these fans are amazing, and we definitely recommend considering them.
Buy it now: here
Then, there is Thermaltake Riing Trio 12 RGB, which is likely one of the best models on the list. The level of airflow that these fans provide is excellent, and it comes with quite great RGB lighting, as well. It is a perfect model to satisfy both worlds to the fullest.
When it comes to illumination, it is quite intense, as it comes from three different RGB loops. Not only that, but they are also very user-friendly, and come with a 9-pin USB connector. While the Corsair's LL series definitely tops this list when it comes to flashiness, its fans have two connectors that are used for powering the fans and RGB. In the end, it can all get a bit messy and confusing.
Thermaltake's solution offers an interesting feature known as RGB PLUS Ecosystem, which allows you to sync the fans with your phone, and control the light modes, speeds, brightness, or even switch them off with your phone commands. You can even set them to reflect the weather by syncing them with Alexa, which could be great for setting up ambient.
Not only that, but these fans are also extremely quiet, with their max noise being only 25 dBA. They come in packs of three, meaning that they won't exactly be cheap. However, they are definitely among the best when it comes to efficiency and style alike, which makes them worth the money.
Buy it now: here
Going back to Corsair, we have its ML120 PRO, which is a product from the ML series, and also one of our favorites from this company. This time, the firm definitely focused a lot more on providing a great quality airflow, and provide superb cooling while keeping the fan quiet, and almost noiseless.
The model is almost frictionless, meaning that the designers have definitely succeeded in their intention. It also comes with its own commander controller, which lets you set up the fans' speed, but also the lighting options. The controller allows you to set up preferred animations, colors, and more, all through its Corsair Link Software.
All fans feature the same composite frames, in tons of neutral black or gray. At the same time, each fan has rubber-padded corners, which encircle the regular ML120. However, you don't have to worry — the shades won't affect RGB LED lighting at all. The lights are actually designed quite professionally so that they are neither overly bright nor harsh. In fact, if we had to describe them, we would even say they are quite classy and impressive.
All in all, we are very satisfied with this product, and Corsair definitely delivered a great solution once again.
Buy it now: here
Antec Prizm 120 ARGB is a product with a heavy focus on quality. That includes the quality of performance, the quality of stylishness, and even of silence. It checks all the boxes, delivering a solution with a dual ring of addressable RGB LEDs (18 in total), as well as great cooling features.
All 18 LEDs can be controlled independently, which gives you complete freedom to set them up however you like. At the same time, the PWM model is excellent for controlling heat decadence, while the system itself uses hydraulic bearing operation, which makes it extremely silent.
This is quite a high-grade product, which also comes with details regarding the installation. All in all, the fans are superb when it comes to cooling performance, and the LEDs are perfectly designed to provide the best possible visuals. And, as mentioned, it is almost completely silent. There is not much more that we could ask.
Buy it now: here
Then, there is DeepCool's RF120, and true to the company's name — these fans are specially designed to be extremely efficient and keep the heat to a minimum. They provide a well-balanced airflow, as well as a decent pressure. They are also compatible with pretty much all cases.
Then, there is the lighting effect, which is pretty impressive by itself. This model features six high-brightness RGB LEDs, which you can control as per your desire via the cable controller, which comes with the pack. You also get the software control, which is fully accessible if you connect it with the motherboard, which requires RGB SYNC, as well as a 12V RGB 4-pin port.
If not, the cable controller is fully capable of doing the job itself, and you should not have any issues. All in all, it is a model that is both stylish and efficient, and we were rather satisfied with its features.
Buy it now: here
Finally, we have NZXT Aer RGB fans. This time, the flashy display of colors is replaced by performance on the list of priorities, which is why NZXT Aer fans are usually highly praised.
The fans come in 120mm and 140mm versions, and obviously, the larger version offers a significantly greater airflow, as well as static pressure. However, the RPM and noise levels stay the same — and relatively loud, at that. In other words, if you are looking for a quiet solution, this will not be the best option for you. However, if you are only interested in their efficiency, know that these fans are more than capable of filling your case with cool air that will keep your hardware in top condition.
The smaller version — 120mm — can push 52 ft/min of air. On the other hand, the larger one pushes that all the way up to 91 ft3/min. In other words, you can use them to keep even the high-end hardware very cool and capable of reaching its full potential. They even offer enough static pressure for you to use them on radiators, even though they may not offer as much pressure as the Corsair LL series.
And, while we did say that the lighting is a secondary feature, it is still present in a single light loop that goes around the frame. The blades themselves do not have any illumination to offer, so if you were hoping for a spinning light show — this is the wrong model for that. Another downside is that you don't get any kind of fan controller or hub included. That leaves you with two options — either get a hub separately and combine it with this fan, or ensure that you have the right connectors on the motherboard.
Buy it now: here
Best RGB Fans Conclusion
With that, we will conclude this list and let you take your pick. There are all kinds of solutions for all budget sizes, preferences, and needs. All you need to do now is check them out, study each one, and deduce which one will suit your needs best. All of them are bound to light up your case, and they all offer decent performance, so take your time, and pick wisely.