Most people would argue that a Chromebook should be very affordable since it only comes with basic features and moderate storage capacity. That's understandable. But this Google Pixelbook is no ordinary Chromebook. It comes with features that are not found in most other types of Chromebooks. Yes, it could be the most expensive model, but its features and top performance surely justifies the price tag. The true value of the notebook comes with android support, which gives you a plethora of options for app download. Our focus here is on the features and specifications of the Google Pixelbook Go M3 Chromebook. We will talk about its features, benefits, and flaws. In the end, you can decide whether the Chromebook is right for you.
* If you buy through links on our site, we may earn an affiliate commission. For more details, please visit our Privacy policy page.
Google Pixelbook Go M3 Chromebook Review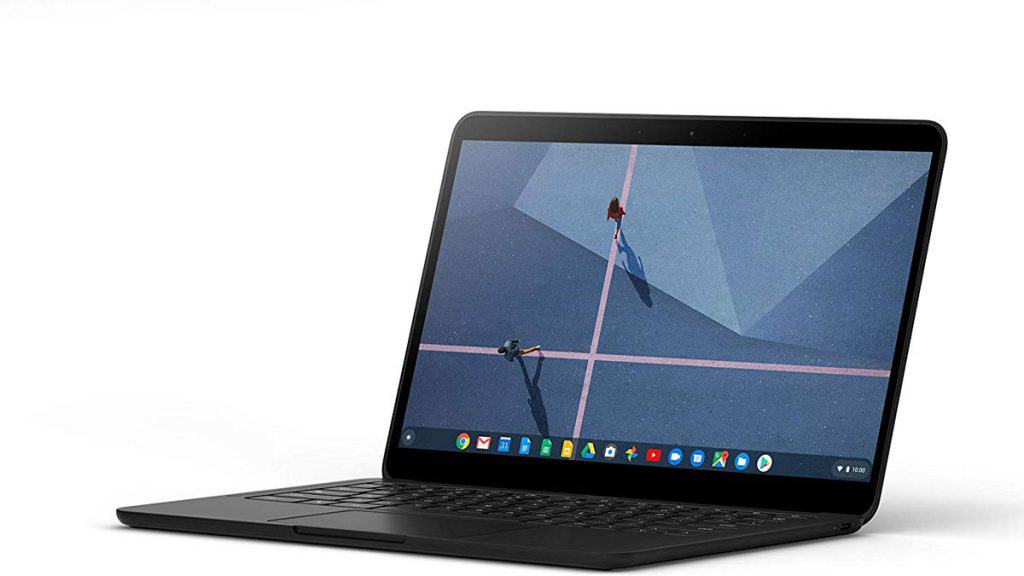 Buy it now: here
Google Pixelbook Go M3 Chromebook Performance
When it comes to performance, the Pixelbook stands up there as one of the best. It comes with an amazing 8GB RAM and features the 8th generation Intel Core i5 processor. Most other Chromebooks have just 4GB RAM, which is quite basic for most tasks.
But with the 8GB RAM of Pixelbook, you can use the system for multitasking without any drop in performance. It is relatively fast and does not have any lag or stutter when using different apps. You can open dozens of programs and apps at the same time without affecting speed.
You could do a whole lot with this Pixelbook and not see any dip in performance. That's where it is better than most Chromebooks. In fact, the features of the Pixelbook are comparable to some gaming laptops with high graphics requirements. And yes, you can play some games with this Chromebook without affecting performance.
The Pixelbook comes with a built-in Intel HD graphics chip that powers smooth visuals, which renders 60 frames per second. This is far more than what is possible with the Samsung Chromebook with the same Intel graphics but a lower fps rate of 48.
Google Pixelbook Go M3 Chromebook Performance Design
Well, for just the outlook of the device, you would easily give in and part with your money. The design of Google's Go M3 Chromebook is spot on. But its 3:2 aspect ratio makes it look a bit odd from the usual design of Chromebooks. That is exactly what makes this model unique and different from others.
The aluminum design is extremely thin, giving it the sleekest look you will ever see from a Chromebook. Apart from the aluminum sleek design, the silicon accents and wrist wrest look fantastic. The silicon writs rest in particular helps to keep the wrist comfortable while you are working on the laptop. The design makes the laptop very attractive. When it comes to outlook, this is arguably the most attractive of all Chromebooks.
The size of the Google Pixelbook makes it look like a paper notebook. It allows you to transport it easily in a small bag. The weight of the Chromebook even makes it more adorable. It measures about 0.4 inches thick and weighs just 2.5 pounds. That's about the lightest Chromebook you will ever see.
The Pixelbook comes with a headphone jack at the left side with two USB type-c ports straddling the Chromebook. The design of the Pixelbook makes it strong and very durable.
Chromebook Display
The 2400 x 1600 pixel display you see in this notebook is far brighter and sharper than those 1080p Chromebooks. It comes with a colorful, brighter, and almost quad HD quality. It shows its superiority over other Chromeb0oks when you are streaming movies. Although there are scanty 4k videos available now, the display was able to stream 4K videos from Youtube. The videos were exceptionally bright and clear
It emits around 421 nits, which offers superior brightness and strong color representation. That is surely higher than the 376 –nit, 284-nit, and 290-nit of other types of Chromebooks. When it comes to displaying, Google Pixelbook is simply the best. Also, the display area of the Chromebook offers good touch recognition. It is smooth and very responsive.
Keyboard and Touchpad
The keyboard of the Google Pixelbook ensures comfortable typing for a long period. It's very soft on the fingers and responds very well too. It achieves this despite its shallow design and thin measurements.
Although the keyboard has 0.9 millimeters, they feel smooth and comfortable on the fingers. They are not loud when typing, comp[ared to those of Ipad Pro Smart keyboards.
The keyboard comes with a silicon palm rest that protects the writs, making you type more comfortable. The comfortable touchpad has a solid feel and accurate tracking. It's very smooth when you are scrolling with the touchpad. Also, there is a gesture that allows you to use three fingers to swap and see all Android apps and Chrome apps at the same time.
As we have already mentioned, Google Pixelbook Go M3 laptop is one of the few Chromebooks that allow you to use both Android and Chrome apps. You can easily view all your apps in one place when you make use of the three swipe feature on the touchpad.
The Pixelbook comes with an innovative Google Assistant-powered pen. When you hold down the button, you can easily circle and object and sent text and images to digital assistance for more information. The pen would come in handy if you are looking for more information about something, and then copy and paste options would not be effective for such. It's easier to circle the object than copying and pasting in a new search area.
But the pen will cost you extra dollars to have. But if you can use all the features, you would know it's definitely worth the extra dollars.
For instance, the pen features tilt support and pressure sensitivity. The pen is fast and very responsive when you are trying to circle an object. Whether you are circling or drawing with it, the pen is a nice addition to the already rich features of the Pixelbook.
However, you would need to have AAAA batteries before the pen can work, which is a bit different from some other pens. That's the negative aspect of using the pen. These batteries are relatively scarce, which means you need to buy them in bulk whenever you see them or have an advance order for them online.
Audio performance
When it comes to audio quality, the Pixelbook is up there as one of the best. It may not be competing directly with gaming laptops, but it surely outperforms most other Chromebook models.
Although the Pixelbook is quite loud, it comes with a little distorted audio clarity when on a high sound. The vocals may sound a bit flat when listening to music, but it's not easily noticeable. Generally, Chromebooks are not meant for audio or music. They are designed to assist you when using office tools. So, you won't fault this Pixelbook for not living up to expectations when it comes to audio performance. However, when you compare it with other Chromebooks for audio performance, Pixelbook is one of the best you can find.
Google Pixelbook Go M3 Chromebook Performance Battery life
This is one area where the Pixelbook Chromebook falls short among its other Chromebook counterparts. Chromebooks are known for their long battery life. But this model is a bit low on battery life. While others can offer a lasting usage of about ten hours, this model only lasts for about 7.5 hours.
It is still far better than what most laptops could afford, but lower than the battery lifespan of most Chromebooks. The reason for this average performance is because of the stacks of features the Chromebook posses. The features and installed programs would surely consume the battery. So, if you want to preserve the battery for a longer time, you could decide to run lesser programs.
But while the Google Pixelbook Go M3 Chromebook may not do very well in terms of battery life, the battery charging rate is quite impressive. It boasts a charging time of one hour to full charging capacity. That's lower than other Chromebook models. The battery charging capacity of the Pixelbook is super fast. So, if you're in a hurry to get your laptop charged before moving out, the Pixelbook will help you achieve that. Other batteries could reach up to two hours before they are completely charged. But Pixelbook takes lesser time, which is an advantage.
Synchronizing Android apps with Chrome
The Pixelbook comes with decent applications. One of the major flaws of the Chromebooks is the fact that the user is limited to apps offered by Chrome. And when you look at these apps, most of them are often junk. But this Pixelbook Chromebook has offered access to both Chrome apps and android apps downloadable on Google Playstore. In the past, Chromebooks cannot compete with macOS or Windows OS because of the app limitations. With the introduction of the Pixelbook Chromebook, that problem is no more.
By bringing the Android Apps and Google Playstore in one fusion, Pixelbook has broken the chain and changed the way users view Chromebooks. Now the Chromebook will compete favorably with its Windows or MasOS laptops because of the fusion of these apps. Users now have a plethora of options when accessing different apps both from Android or Chrome.
It's now possible to get password managers and Microsoft office apps (including outlook) on this Chromebook, something which was not possible before. Pixelbook has brought the required change users have been asking from Chromebooks. No wonder it comes with additional cost. With this synchronization of apps, no one will be surprised that the Pixelbook is far more expensive than other Chromebook models.
The inclusion of an android application has given users a good reason to get larger storage options since some of these apps can allow you to make use of content offline. This means that you don't need to use the apps only when you connect online. There are so many apps that allow users to use their content even when offline. You can go to Spotify Premium and save the playlist to listen later. Netflix also provides the option of saving and watching TV shows later, even when you are offline.
These are some of the benefits of having an android app in our Chromebook. Fortunately, the Pixelbook gives you that option. With the introduction of the Pixelbook, Chromebook will surely give Windows OS and macOS a run for their money.
With other Chromebooks, it's time-consuming to do a serious photo editing job. This is because of the low storage capacity of the Chromebooks and the absence of Google Playstore. But with Pixelbook, it's different. It's now easier to do photo editing because of the additional features of the Google Playstore. The super apps in Android such as Adobe Photoshop Lightroom have made this possible. Now, it's easier to edit images that will look sharper and brighter.
Google Pixelbook Go M3 Chromebook Performance Verdict
We all know the main purpose while Chromebooks were designed. It's to provide a solution for users looking for a dedicated enterprise system for office and business tasks. Truly, Chromebooks have evolved since they were first introduced into the market.
And one of the leading Chromebook brands is the Google Chromebook. With this mode, it's not possible to have both chrome apps and android apps in one place. This feature will help Chromebook to compete favorably with Windows OS and macOS. Although the Pixelbook is a bit more expensive than other Chromebook models, its features and performance make this Chromebook a great bargain for the price.
Frequently Asked Questions for Google Pixelbook Go M3 Laptop
The following are the most common questions asked about Google's Chromebook:
What is Pixelbook?
A Pixelbook is a portable tablet/laptop hybrid computer that is developed by Google. Unlike other laptops, this model uses Chrome as its operating system.
Does Pixelbook has a 4K display?
Yes the Pixelbook comes with a proper 4K display
Is the Pixelbook ideal for gaming?
Yes, it's good for gaming but to an extent. It may not be powerful enough for more graphics demanding games
Is Pixelbook touchscreen?
Yes, it comes with a touchscreen display that's quite responsive.
Can Google Pixelbook Go M3 Chromebook run office tools?
Yes. The purpose of Chromebooks is to run office tools. This model also supports office tools as it's possible to download office 365 on this Chromebook.
Does the Pixelbook run windows?
No, the Google Pixelbook does not run windows. But Google has a plan to develop upcoming Chromebooks that offer support for Windows.
Does Pixelbook come with a USB port?
Yes, it comes with two USB-C ports. Unlike some other best Chromebooks, the ports can be used for fast charging.
* If you buy through links on our site, we may earn an affiliate commission. For more details, please visit our Privacy policy page.