With the introduction of the latest generation of GPUs that bear the Nvidia GeForce Pascal name, laptops can now compete with their fellow desktop counterparts when it comes to gaming. Laptop gaming is now taking a new leap of fresh air because of the recent addition of the GPU with better capabilities.
| Product | Brand | Name | Price |
| --- | --- | --- | --- |
| | EVGA | EVGA GeForce GTX 1060 SC GAMING, ACX 2.0 (Single Fan), 6GB GDDR5, DX12 OSD Support (PXOC), 06G-P4-6163-KR | Check Price on Amazon |
| | MSI | MSI Computer Video Graphic Cards GeForce GTX 1050 TI Gaming X 4G, 4GB | Check Price on Amazon |
* If you buy through links on our site, we may earn an affiliate commission. For more details, please visit our Privacy policy page.
If you're not looking to spend so much on the GTX 1080 GPU machine, you can consider the Nividia entry-level 10 Series GPU such as the GTX 1060 or the GTX 1050 Ti.
Now, the question is which of these GPUs is better? If you're looking to buy one of these GPUs and don't know which to choose for your system, we are here to help you.
Before we get into proper comparison, it will be important to tell you that the GTX 1060 comes in two different versions – one with 6GB VRAM and the other with 3GB VRAM.
The following is an exhaustive comparison of the NVIDIA GTX 1050 Ti vs. GTX 1060 GPUs. In the end, you will be able to decide which one would be best fitted to your system.
NVIDIA GTX 1050 Ti vs. GTX 1060: Which should You Buy?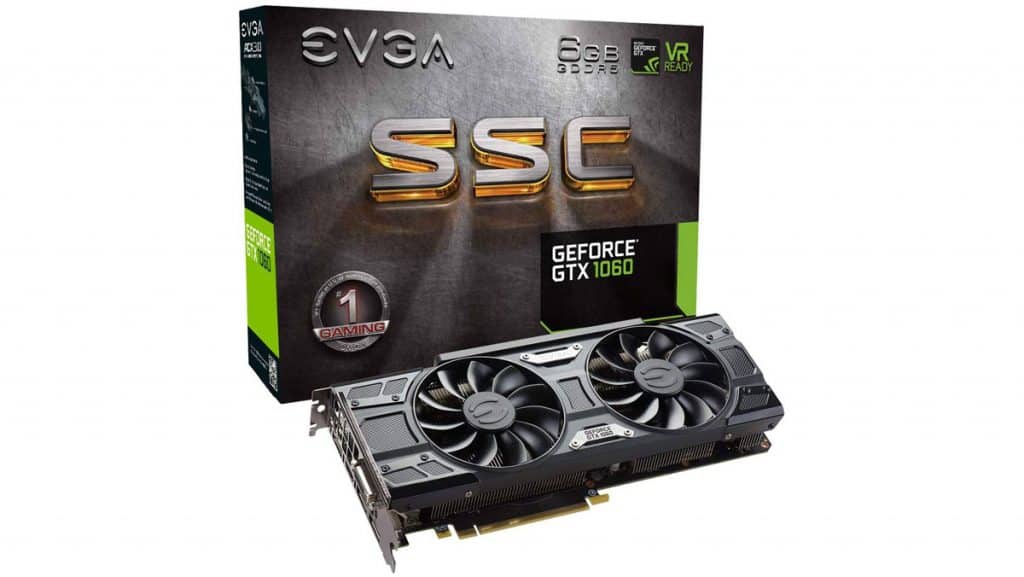 GTX 1050 Ti vs. GTX 1060 – features
The GTX 1060 is the right type of graphics card for high-end laptops. It is produced in 16nm FinFET and is based on the Pascal architecture. Nividia provides the GTX 1060 version for ultra-thin laptops. When it comes to features, the GTX 1060 offers a wide range of features, including H.265 video encoding and decoding, simultaneous multi-projection, HDR, HDMI2, and DisplayPort 1.4. With all these features, this graphics card is most suitable for WQHD or Full HD gaming for higher performance.
On the other hand, the GTX 1050 Ti is the ultimate solution for basic gaming.
It's a basic level gaming graphics card will all the necessary features for moderate games. The GPU was released in January 2017, and it uses the GP107 chip.
The notebook version may be a bit different when it comes to clock speeds, but it's still loaded with 768 shader units, just like its desktop counterpart. It comes with 7Gbps memory data and 4GB GDDR5-VRAM. That would be pretty much enough for the most basic and medium-end games.
The performance of Vividia GX 1050 Ti may vary a lot depending on the cooling features of the laptop. When used under normal conditions, it can be as fast as the desktop version when playing games.
Also, you will be able to play games with high settings and complete HD resolution without any issues with this GPU.
The power consumption if where the Nividia GTX 1050 Ti scores very high when you compare it with the GTX 10 60 model. It takes roughly 70 watts, which is relatively lower than the power consumption rate of the GTX 1060 GPU.
Some top features of the GTX 1050 Ti include support for 3x Display monitors, 758 unit cores, 128-bit memory interface, as well as 4GB GDDR5 video memory.
It's less expensive compared to the GTX 1060 model. Of course, it will do better than the 3GB lower-end GTX 1060 model as well. However, it's not as powerful as the GTX 6GB 1060 Nividia GPU
GTX 1050 Ti vs. GTX 1060 – specifications
Both graphics cards have similar specifications. Their memory bandwidth, memory speed, as well as maximum video memory (VRAM) are similar. They equally offer the same support for similar technology, such as G-Sync and Nvidia Ansel. However, none of them offer support for SLI or VR. There are few differences we would like to point out too.
When it comes to specifications, the major difference between the two GPUs comes with the CUDA cores and the clock speeds.
More cores and higher clock speeds will offer a stronger GPU that can do the work faster. The GTX 1060 has 1280 cores with a clock speed of 1,403 MHz while the GTX 1050 Ti comes with 640 CUBA cores and 1,354 MHz. From their features, it's obvious that the GTX 1060 provides far better cores and clock speeds than the 1050 Ti model.
With this improvement on GTX 1060, you will have a GPU with a higher workload capacity compared to the GTX 1050. However, both of them have similar speeds.
The GTX 1050 Ti offers 4GB, which is okay to run AAA titles comfortably. But the GTX 1060 is even more powerful in that aspect.
GTX 1050 Ti vs. GTX 1060 – Performance
The GTX 1050 and the GTX 1060 are comparable when it comes to performance. Both the 6GB and 3GB versions of the GTX 1060 offers more CUDA cores, higher clock speeds, and better bandwidth than the GTX 1050 Ti. The main difference will boil down to what you want to do and how much you can afford. But let's look at some real-world scenarios to get a clearer picture of their differences.
From our test, the 6GB GTX 1060 averaged about 150 frames per second (FPS) when playing a moderate level game. However, the 1050 Ti averaged about 120 FPS when used to play the same game with the same settings.
Comparing 1050 Ti performance with the GTX 1050 performance, you will discover that the latter is far more superior to the former. Of course, that's the reason why it's more expensive too.
GTX 1050 Ti vs. GTX 1060 – Graphics power
If you are looking at graphics power, it's obvious that the GTX 1060 6GB will give you more graphics power. Although it may seem more expensive, the extra feature is certainly worth more than the additional cost you will bear. But if you are only interested in the basic properties and performance, GTX 1050 Ti will always serve you.
The GTX 1050Ti is the most ideal for a cost-conscious system build. One thing to keep in mind, however, is the fact that some models of GTX 1050Ti do not need an additional power cable. You can operate them with the power drawn straight from the motherboard. So, you can opt for this type of model if you want better user-friendliness.
Other considerations
We know that Nvidia pascal provides a strong memory compression algorithm. What you need is a very fast DDR4 since the game would likely use the RAM to store textures when the VRAM is full.
In other words, you can still manage a graphics card with lower VRAM if your system's RAM is high enough. In this case, it would not matter much whether you go for the GTX 1050 Ti or the GTX 1060 as long as you are playing midrange games with moderate power requirements.
Those who do not intend to do intensive VR or highly optimal framerates can get the GeForce GTX 1050 Ti because it's one of the most basic GPUs you can get. The functionality is simple, and it consumes much less power. It may not do better than the 6GB GTX 1060, but it surely outperforms the 3GB GTX 1060.
However, there is a bottom line here. As you know, the 1050 Ti has a 4GB VRAM, which is higher than the 3GB VRAM from the 1060 model. Even when you exceed the 3GB VRAM for the 1060 GTX, you may not be able to exceed the 4GB VRAM of the 1050 Ti model. So, instead of selecting the 3GB GTX 1060 card, it's better to select the 1050 Ti GPU instead.
When you play some games at 1080p resolution, it could take close to 4GB VRAM. This has already exceeded the 3GB limit for 1060, but still within the 4GB range of the 1050 Ti. So, you can consider the 1050 Ti model is you want to stay on a low budget but still have the ability to play most games. But obviously, the 6GB GTX 1060 6GB VRAM is still the best option among the three when you want higher power and improved performance.
So, which GPU should you buy NVIDIA GTX 1050 Ti vs GTX 1060?
If you can afford the extra cost, the GTX 1060 6GB will always provide better performance than the GTX 1050 Ti. It will provide better framerates, and it will offer you the opportunity to play better games at higher frequencies.
Even when you are looking at the cost, it would still be better if you go for the GTX 1060 over the GTX 1050 Ti, because it offers relatively better performance. It may be more expensive for the short term, but the long term benefit will always be there.
| Product | Brand | Name | Price |
| --- | --- | --- | --- |
| | EVGA | EVGA GeForce GTX 1060 SC GAMING, ACX 2.0 (Single Fan), 6GB GDDR5, DX12 OSD Support (PXOC), 06G-P4-6163-KR | Check Price on Amazon |
| | MSI | MSI Computer Video Graphic Cards GeForce GTX 1050 TI Gaming X 4G, 4GB | Check Price on Amazon |
* If you buy through links on our site, we may earn an affiliate commission. For more details, please visit our Privacy policy page.
Frequently asked questions
The following are answers to the most common questions about Nividia GTX 1050 Ti GPU and the GTX 1060 GPU
Is Nvidia GTX 1050 Ti good?
If you are looking for a basic level gaming GPU, the GTX 1050 Ti will serve you well. It's a budget-friendly graphics card that provides moderate performance for mid-level games.
Is GTX 1060 GPU for gaming?
Yes, the GTX 1060 GPU is a great choice for gamers. It offers high-end features and enhances gaming performance.
Which is better GTX 1060 3gb or GTX 1050 Ti?
The GTX 1050 Ti has the edge over 1060 3GB because of the memory capacity. While 1050 Ti offers 4GB, 1060 3G only offers 3G VRAM.
Which is better GTX 1650 or GTX 1050 Ti?
The GTX 1660 may be a decent option for those looking for entry-level GPU. But the GTX 1050 Ti is far more superior in terms of power and performance.