Keeping your computer, laptop, and other devices in check will require the best laptop repair tool kit. With it, you would be able to do small fixes on your device and prolong their lifespan. And, while you are at it, why not make sure that your tool kit has everything you could ever need? Check out these different options, and pick the one that would suit you best.

* If you buy through links on our site, we may earn an affiliate commission. For more details, please visit our Privacy policy page.
Best Laptop Repair Tool Kit
While we did say that all you need are some basic tools, it never hurts to be well prepared, even if it may seem like overkill at first. Specific problems do happen, and when they arrive, you need specific tools to reach a solution. This is why we also recommend Jacomi's 99-in-1 Screwdriver Set.
But don't let the name fool you — this set comes with a lot more than just screwdrivers. It has pretty much anything you could ever want, including a precision tweezer, 54 chrome-vanadium steel magnetic bits, an LCD suction cup, a roller screwdriver tool, and even a utility knife, among other things.
Everything in the kit, including the kit itself, is made of very strong, sturdy materials that will increase the tools' lifespan and usefulness. And, thanks to the canvas bag that comes with it, you can have your hands completely free to manage different tools, instead of having to carry the kit around. It is ideal for everyone who wishes to maintain their devices themselves.
Buy it now: here
The first on our list is a great tool kit for fixing minor issues, and it comes in the form of Rosewill 45 Piece Premium Computer Tool Kit RTK-045. The kit is not that large, and it only measures 10 x 8 x 4 inches, while it weighs barely one pound. It comes with a few of the essential tools mentioned above, while the case itself is quite sturdy and strong.
It also has a pen-sized grabber, which is neither too large nor too small. The toolkit features a very effective screwdriver that comes with a lot of interesting bits. There is also a reversible 1/8 inch and #0 mini screwdriver, as well as a pocket chip. With it, you should easily have all you need to fix your computer, and the tools themselves are completely demagnetized so that you don't have to worry about messing up your PC while using them. Besides, the tool kit is not that expensive either, and you can order it within minutes.
Buy it now: here
Next, we have a very elegant and professional-looking ORIA Screwdriver Set, which is even cheaper, coming in at $24. It is highly reliable and filled with all kinds of tools that you can use to repair any of your devices.
It features a 60 magnetic screwdrivers, a wrist strap, anti-static tweezers, an LCD suction cup, 2 set for iPhone 7, and even a SIM card ejector pin, just in case you happen to need it.
ORIA also made sure that all of its tools are made of high-quality materials, and in this case, they used CRV steel. In other words, the tools are not only going to finish the job, but also last for years. Not to mention that the set also has an ergonomic design that will ensure your safety, thanks to the fact that it is completely skid-proof. It is easy to carry it around and do numerous repairs, and you should definitely consider it.
Buy it now: here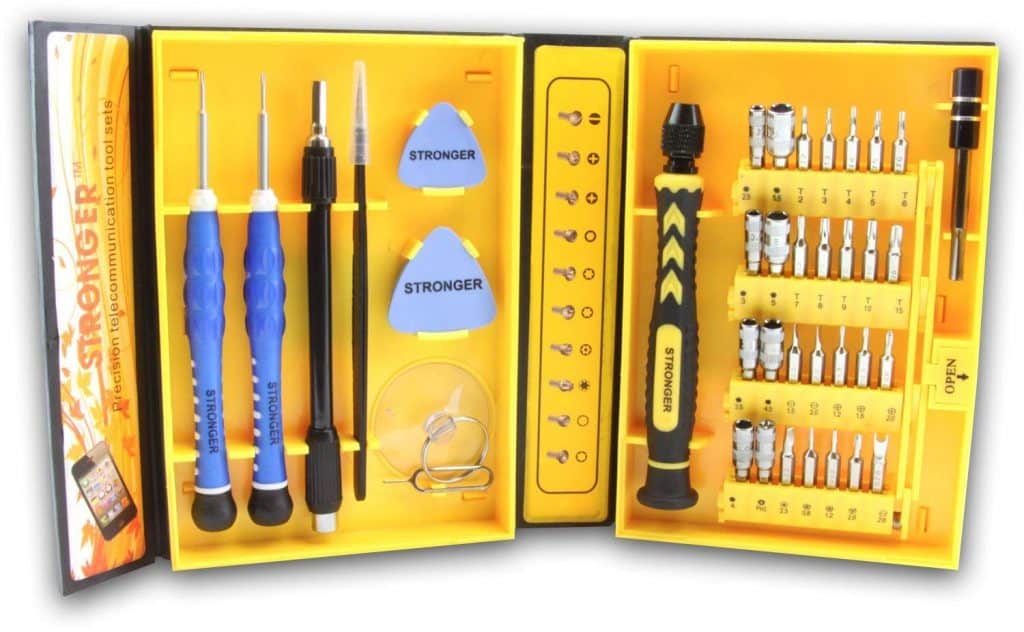 Then, we have LB1 High-Performance New Mini Universal Tools Kit, which is another great solution for all your tech maintenance related issues. It was specially designed for fixing all kinds of sensitive pieces of technology, including laptops, smartphones, computers, and even video game consoles.
It is very strong and sturdy, designed with materials of very high quality. That way, it will last for ages, and make it easy to always have proper tools, and have them in good shape, at that. Further, the suction cup ensures the safety of your devices and the total lack of damage. The kit is also very portable.
Buy it now: here
Finally, we have an especially professional-looking kit — EEEKit Precision 45 in 1 Screwdriver Set Repair Maintenance Kit Tools. It is one of the most efficient and portable kits that you will find. As the name suggests, it offers 45 tools in a single case, and it is designed for repairing pretty much anything, from iPhones to desktops, and everything in between.
It has 31 distinct magnetic bits, all of which are extremely durable and high-quality. They are made of CR-V steel, while the tweezers are made of high-quality stainless steel. These tools can easily deal even with the most corrosive agents and not get damaged, meaning that these tools were built to last a lifetime. As for the price, it is only $25, which is certainly one of the best offers you will ever find.
Buy it now: here
Best Laptop Repair Tool Kit Conclusion
Of course, no one expects you to be able to pull your entire computer apart and build it up once again under 5 minutes, but it would be useful to know how to perform some minor maintenance actions. It would definitely reduce trips to maintenance services. But, in order to be the most efficient at it, you need to have a good tool kit. This should not include anything fancy, just a few basic tools, such as a screwdriver, needle-nose pliers, tweezers, maybe a small flashlight, a soft cloth, wire snips, and a can of compressed air, for easy cleaning of dust and alike. That's all you need to keep your PC and laptop in check by yourself.

* If you buy through links on our site, we may earn an affiliate commission. For more details, please visit our Privacy policy page.