It goes without saying that building the best gaming PC requires you to be very careful when picking out components, as you need to use the best to create the best. Now, as far as the CPU goes, we have decided that Ram for AMD Ryzen 9 3900x is the best choice for elite gamers. As AMD, its creator, itself says: This processor is built to perform, and design to win.

* If you buy through links on our site, we may earn an affiliate commission. For more details, please visit our Privacy policy page.
It is an advanced processor with 12 cores, 24 threads, and a base clock of 3.8GHz. It is one of the best desktop processors that you will ever find, and we believe that it deserves proper respect. However, it also deserves appropriate companions, especially when it comes to Ram for AMD Ryzen 9 3900x.
It is 2020, and there is quite a wide selection when it comes to RAM, especially in terms of gaming. You need your machine to perform at its best, and RAM is crucial for that.
As you probably know, RAM is the short-term memory of a PC, and it is vital for gaming. Its speed can impact your experience significantly, particularly in AMD machines, where RAM decides the speed at which the processor communicates. That is why you mustn't make a mistake of choosing the wrong component.
If you don't have experience in building your own PC, you should know that it is recommended that you buy a single, complete kit. Whether you are building a new PC, or just upgrading your old RAM, it is crucial to replace any current memory you may have, completely. Mixing kits is a possibility, but it can be a complicated process if they differ in things like frequency, voltages, and timings. You should also consider the amount of capacity that you need. 8GB is no longer enough when it comes to PC gaming, as games are much more complex and challenging to run than they used to be.
The best option would be to get a 32GB package. It might cost a little extra, but it will be well worth a few extra dollars when it comes to running modern games. So, with all of that in mind, we will now go through our top picks when it comes to the best Ram for AMD Ryzen 9 3900x. We will also consider different solutions, fit for different budget size, meaning that it is likely that there will be something for everyone on our list. But, without further ado, here are our top choices.
Best Ram for AMD Ryzen 9 3900x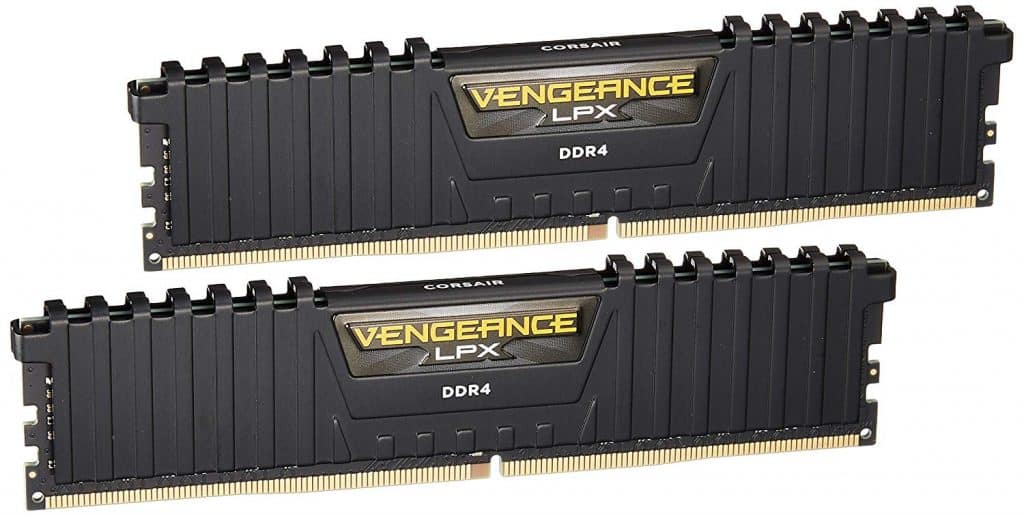 For our first choice, we have Corsair Vengeance LPX. This one was designed with 2 goals: to provide decent performance, and to offer as great overclocking potential as possible. We are glad to say that both goals were achieved by equipping the RAM with an excellent heat spreader, comprised of aluminum. Pure aluminum allows heat to dissipate much faster and with more efficiency.
Not only that, but temperature management is also easier thanks to the ether-layer PCB, which also helps when it comes to overclocking.
Corsair's Vengeance LPX is also quite versatile, and tests have proven that it is compatible with all X99 motherboards. Further, it is also significantly smaller than most other solutions, thanks to its low-profile heat spreader.
You can get different speed and size varieties, going from 4GB/2400MHz to 16GB/4000MHz, which means that it should not be too difficult to find something that fits your needs. Naturally, it does not lack when it comes to RGB, either. The series has an RGB edition, although the price does not entirely reflect all the improvements.
Buy it now: here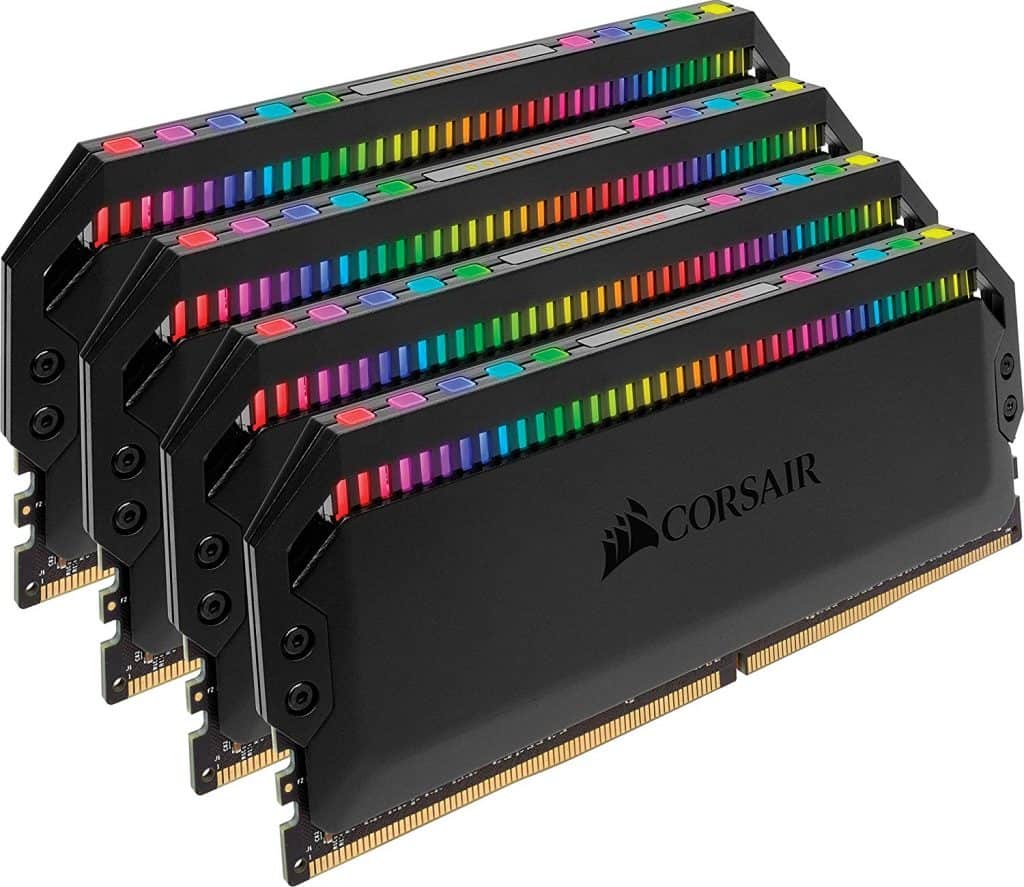 Our second choice goes to Corsair's Dominator Platinum RGB 32GB DDR4-3200MHz, which is widely considered to be one of the best solutions when it comes to gaming. Now, Corsair has always provided great products, but many would agree that it has truly outdone itself with this particular RAM.
The Dominator Platinum RGB has a sleek exterior, DHX cooling technology, as well as performance that you likely won't find anywhere else. This is something that you could have expected from and product from Corsair over the years.
Dominator Platinum RGB also adds higher clocked SKUs, as well as 12 individually-addressable Capellix RGB LEDs. They are much brighter, as well as significantly more efficient than their predecessors. The Dominator Platinum RGB can easily be called the best RGB, especially when combined with the iCUE software that Corsair has to offer.
As for the cost, there is no denying that the Dominator Platinum RGB is a pricey solution. However, this is not much of a difference when compared to the original non-RGB Dominator Platinum. Other solutions are significantly cheaper, but since Dominator Platinum RGB is considered the best, we thought its place on our list is well-deserved.
Buy it now: here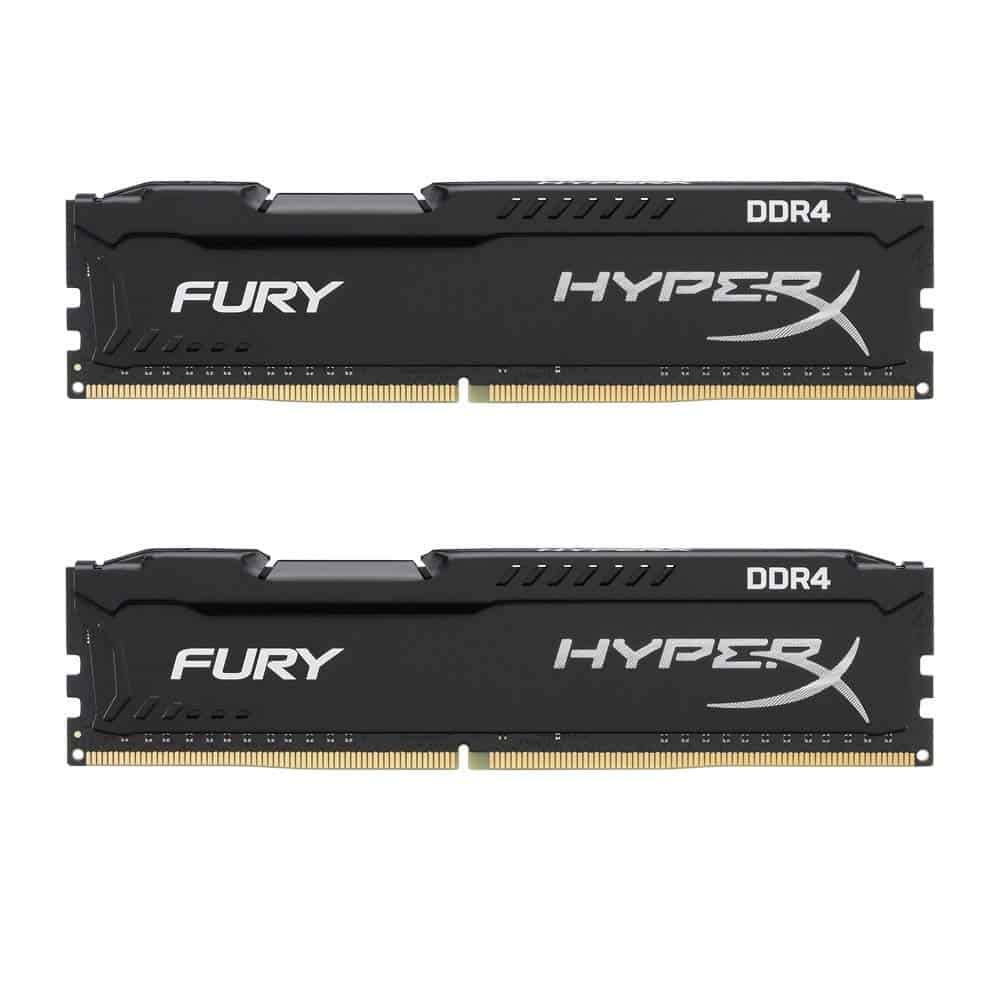 Next, we have another rather affordable solution — HyperX Kingston Fury 8GB. This is one of the cheapest solutions that we are satisfied with, and one of the favorite budget RAM kits for a lot of consumers. It features quite decent speeds.
HyperX Kingston Fury 8GB comes with a heatsink for the overclocking utility, and many have managed to push it further than we would have expected. In some instances, it went as high as 3,000Mhz, which is more than great considering the low price.
As the name suggests, its capacity is 8GB, which is not the best that you can get, but it is not that bad, either. It is easy to install thanks to its plug-and-play functionality, and it requires no BIOS adjustments. Tests have shown that it is compatible with all of the most popular brands of motherboards, so you should not have any issues if you decide to go with this pick.
Buy it now: here
Next goes to a much more affordable solution — Patriot Viper 4 Series. However, don't be discouraged by the fair price, as it does not take anything away from the regular performance power.
Patriot claims that their Viper 4 has been specifically engineered for intense gaming, designed to fit into the most demanding computer environments. So far — so good.
It should be noted that Viper was only slightly slower in benchmarks than most standard brands, but considering the low price, we believe that this is something that can be overlooked. Its capacity goes from 4GB to 16GB, and in terms of frequency, you can expect DDR4 2400Mhz – 3766MHz.
It comes in a few different colors, and it has an RGB iteration. However, if you are on a tight budget — you should still be careful, as this can increase the cost by quite a bit. Finally, it also comes with a custom-designed high-performance heat shield.
In the end, Viper 4 is a good solution for those looking to buy affordable RAM and still use it for operating on pretty decent levels.
Buy it now: here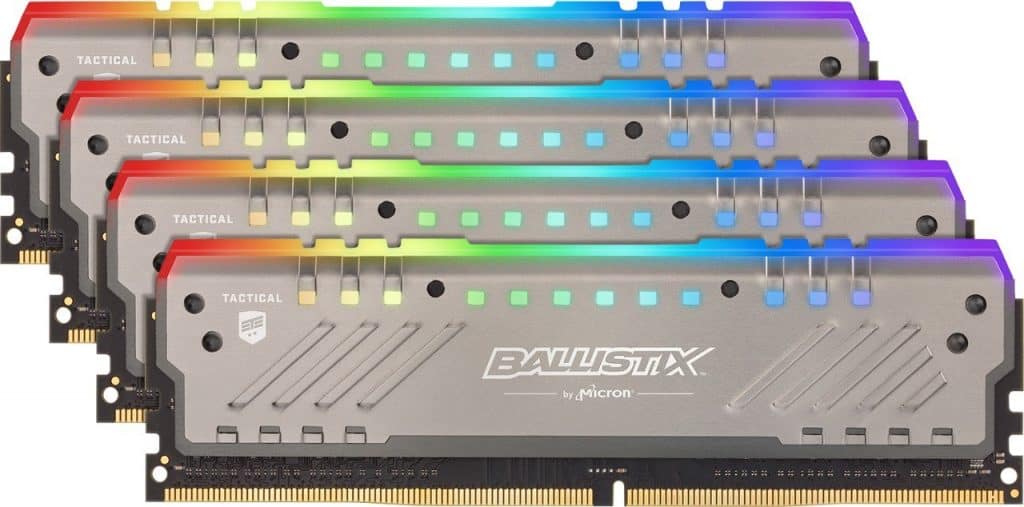 Our next option will be perfect for those who want to be able to customize, personalize, and mod their PC in a specific way. Crucial's Ballistix Tactical Tracer RGB series is one of the best options for that. Its Ballistix DDR4 RAM is available in 16GB-64GB configurations, as well as at 2666MHz and 3000MHz, which makes it an excellent solution for numerous different builds.
The kit features 16 addressable RGB LEDs, it has eight controllable zones, as well as a light bar that is easy to remove, and it can enhance or diffuse RGB effects, as per your desire.
As you may know, Crucial offers 3D files that you can use for printing different light bars for free. This allows you to produce quite a wide range of aesthetics for your build, no matter which one you wish to go with. Furthermore, power users can even change already existing files, and print their own tag, create custom designs, and more. The modification allows for all kinds of options, and we believe that they are more than worth exploring.
Ballistix Tactical Tracer RGB provides quite advanced software and options, thanks to the Ballistix kit, which is the reason why this is one of the favorites of PC modders. Not to mention that the price is also pretty reasonable. It is not the cheapest solution, but as we have seen earlier, it can go quite a big higher for some of the RAM solutions.
Buy it now: here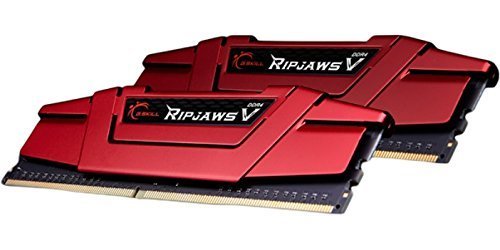 When it comes to gaming for mid-tier machines, there are some excellent options as well, and G.Skill Ripjaws V is one of them. This is the second-gen of DDR4 memory from this provider. While the company did get quite a bit of criticism for their initial product, they clearly heard it and received the feedback, as their new series is not only faster and offers a better heatsink, but it is also significantly more affordable.
Therefore, we recommend 16GB Ripjaws V kit as one of the best options if you need a kit that features decent capacity, as well as excellent performance.
Tests have shown that Ripjaws V offers top performance immediately, straight out of the box. It did not need any overclocking, and it still managed to overcome many other kits in a similar 2400MHz range.
If you really want to overclock it, you can go as high as 2800MHz, or even 3000MHz simply by bumping up the voltage. Some claim that 3200MHz and higher is also possible, although it is more than possible that certain stability issues might start to emerge at those heights.
Buy it now: here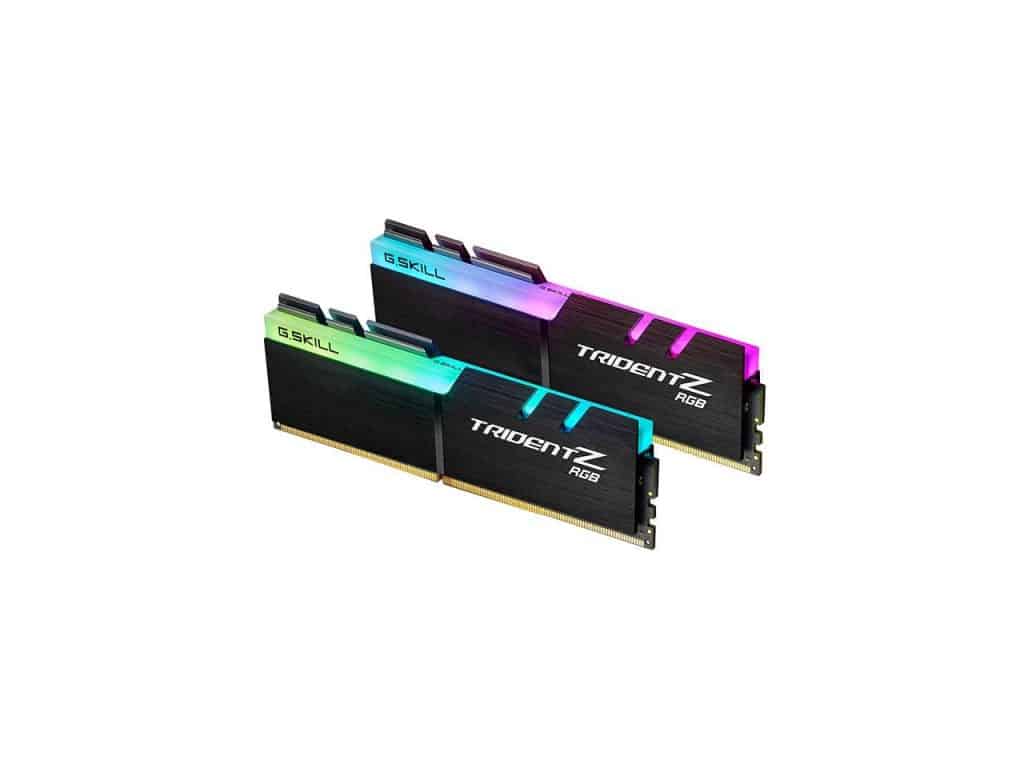 Last but not the least, we have a mid-price solution in the form of G.Skill Trident Z RGB 16GB DDR4-2400MHz. Now, this is easily the best gaming RAM for those who want a light show. It is one of the most tasteful RGB lighting implementations that you will find, and the kit illuminates itself with as many as five individual RGB LEDs. It even has a frosted diffuser which has its own soft glow, and it simply looks fantastic as part of pretty much any PC build.
Of course, we all know that looks are not everything, but you don't have to worry — it performs as well as it looks. Trident Z line is typically available in speeds that go from 2400 to 3600, sometimes even higher than that.
The overclocking performance is what you have come to expect from other products in the Trident memory line, although it is possible to improve it even further through your own tweaking. A few hundred more Mhz should not be hard to achieve, and it will certainly have an impact. It is worth considering, regardless of the build you are after.
Buy it now: here
Best Ram for AMD Ryzen 9 3900x Conclusion
And, that is pretty much it. We have searched among the best available options to come up with this list, and we believe that there is something for anyone here. Whether you are on a budget or not, whether you need the top-performing RAM or an average one, there is likely a decent solution for you.
With that in mind, be careful when choosing a new memory, as some of the solutions can be pricier than others, but well worth the extra money, as you are bound to find out once you add them to your build.

* If you buy through links on our site, we may earn an affiliate commission. For more details, please visit our Privacy policy page.