In the day and age of relentless questioning of the trustworthiness of traditional media, being able to see historic events unfold through the eyes of the people who are directly affected by them is a real game-changer.
Founded on the belief that live video is a powerful source of truth and connects us in an authentic way with the world around us, Periscope is a live video streaming app for iOS and Android owned by Twitter and originally developed by Kayvon Beykpour and Joe Bernstein. It empowers people to broadcast video using a smartphone camera to the millions of Periscope users. But what if you would rather watch Periscope broadcasts on a PC? Is there a way how you can bring live, user-generated video content on a large monitor? Yes, and not just one.
Periscope Web Viewer
Depending on how you'd like to use Periscope, you might be content with the official web app, which lets you search through archived broadcasts and watch select broadcasts live. You can log in with your Periscope account, comment, share broadcasts on social media, and more. Similar functionality is offered by third-party aggregates of Periscope streams such as On Periscope or Periscope for Web.
However, none of the available online solutions come close to the functionality of the official mobile app. If you want to experience everything Periscope has to offer on a PC, continue reading to learn how to get the Periscope mobile app on your computer.
App Runtime for Chrome (ARC)
Google has created a Chrome plugin that makes it possible to run Android apps in the Chrome web browser. The plugin is called App Runtime for Chrome, or ARC, and it's available in Chrome Web Store.
Download and install Google Chrome Go to the official website of Google Chrome and download the installation file for your PC. Launch the downloaded installation file and follow the directions. The installer will automatically download the latest version of Google Chrome and install it on your computer.
Install ARC: Go to Chrome Web Store and add ARC Welder to Chrome. Keep in mind that there's a different version of ARC for Chrome OS and for Windows. To add ARC to Chrome, simply click on the blue Add to Chrome button in the top-right corner.
Download the latest Periscope APK file: ARK can't download Android apps from Play Store; it can only run downloaded APK files. Luckily, you can easily secure the latest APK file for Periscope from the web. APKMirror should have a download link for the latest version. If it doesn't, there are many other similar websites out there—just use Google.
Open ARC and load the downloaded Periscope APK file: ARC can be opened by clicking on the Apps button located in the bookmarks bar of Google Chrome. After you open ARC, a window resembling a smartphone screen will appear, prompting you to load an APK file. Select the downloaded Periscope APK file and wait for it to load. Then press the Test button to start the Periscope app on your PC.
Android Emulator
Android emulators aren't nothing new under the sun—even the official development environment comes with one. That said, we can guarantee that you'd get tired of using the official development emulator to run Periscope on your PC. It's clunky, it's not really optimized for performance, and it targets developers and not regular computer users. Fortunately, there are many third-party Android emulators that remove all complexity from running Android app on PC.
Bluestacks was founded in 2011, and its user base has since then ballooned up to more than 130 million users from around the world. Given its long history, it's not a surprise that Bluestacks supports the vast majority of Android apps and games and is optimized to the highest degree. The latest version, Bluestacks 3, has an integrated app center, a built-in chat app, a state-of-the-art engine that automatically adjusts various emulation parameters to deliver excellent performance, and more.
Download it now: here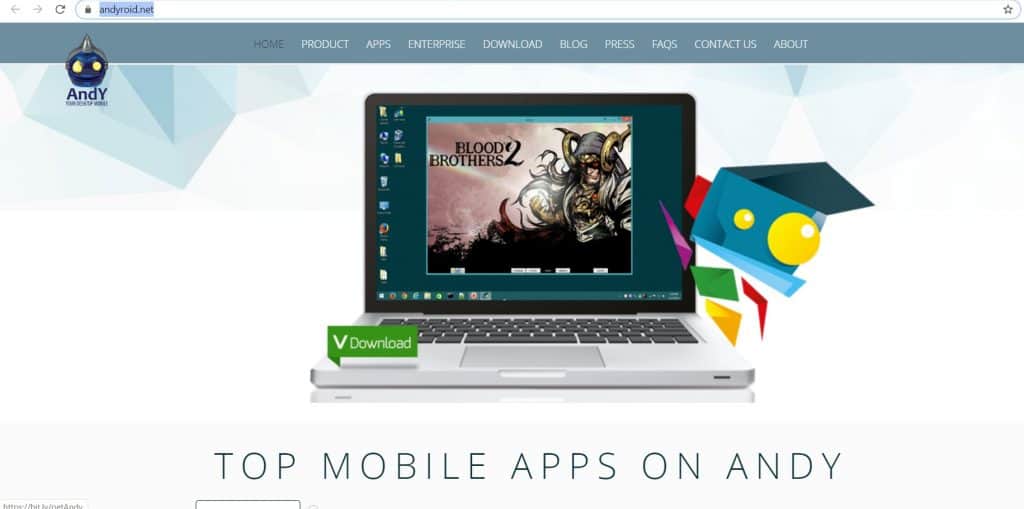 Andy is a free, user-friendly Android emulator that provides seamless sync between desktop and mobile devices and enables app download from any desktop browser direct to Andy OS. With Andy, you can use your mobile device to control the Android apps on your PC, but you can also connect your Xbox or PlayStation controller and use it instead.
Download it now: here
3. Ko Player
Ko Player is an upcoming Android emulator with support for OpenGL acceleration, video recording, external input devices, and multiple accounts, just to name a few interesting features. Despite its apparent focus on Android games, Ko Player supports most Android apps, including Periscope. Ko Player maintains its own database of APK files, making it easy to locate, download, and launch the latest version of Periscope.
Screen Mirroring
If you have a very slow PC, Android emulation may not be the right option for you as an alternative to ARC Welder. What you could try instead is mirroring your smartphone to your PC. This is easily done if you have a Chromecast-enabled monitor or if you download AllCast Receiver for Chrome.
You can also consider rooting your Android device and installing a more capable mirroring solution such as AirDroid 3 with its AirMirror feature. All you need to do to mirror Periscope running on your Android smartphone to your PC with the latest version of AirDroid is connect both devices to the same wireless network and launch AirMirror. Unless there's too much traffic on your local Wi-Fi network, you should enjoy a lag-free Periscope experience on your PC.