For those looking for an affordable laptop with a good performance, the Chromebook has provided that option for them. Since Chromebooks were introduced, the PC market has seen a reasonable level of competition. Now, those looking for a considerable level of performance from affordable laptops can have a sigh of relief. This HP Chromebook 15 is all you need if you want an enterprise system that can handle different programs at a time. It is ideal for business people, students, and office workers. We are going to look at the design, performance, and overall features of the HP Chromebook 15 review. In the end, you will be able to make an informed buying decision.
* If you buy through links on our site, we may earn an affiliate commission. For more details, please visit our Privacy policy page.
The system comes with a solid 8th generation Intel Core i3 processor, a long battery life, and a comfortable keyboard. But you have to sacrifice something too. It doesn't have loudspeakers and the system tends to be a bit warm after some time. That's a fair price to pay for a high-performing system that can do almost everything you want.
HP Chromebook 15 Review – Comprehensive Review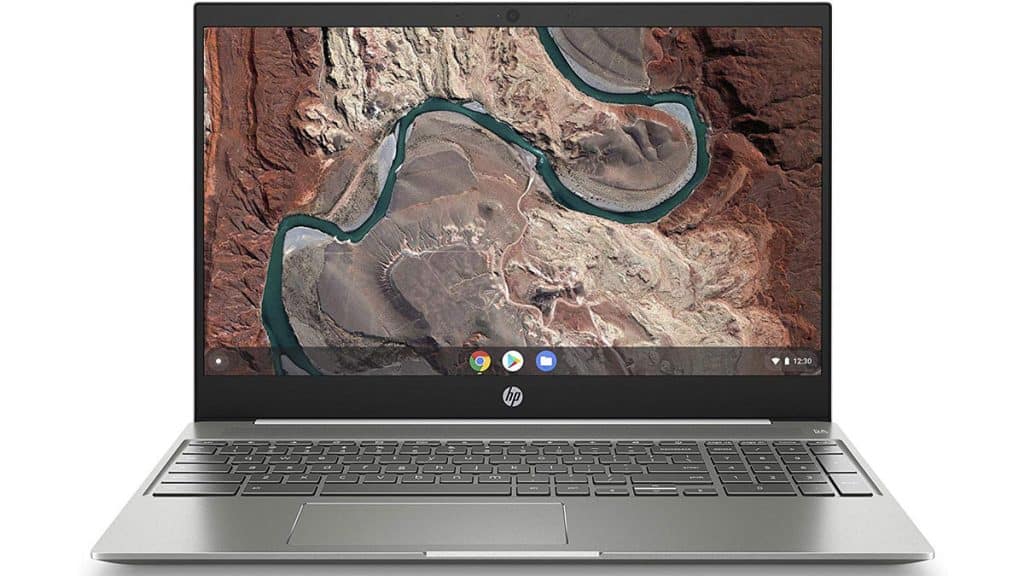 Buy it now: here
HP Chromebook 15 Design of the HP Chromebook 15
Chromebooks are not really fanciful. The manufacturers prefer including other relevant features before dwelling on aesthetics. But despite the good features of this model, it still comes out great.
That is a result of its two-toned design (Cloud Blue and ceramic white). The metal hood bears the blacked-out Chrome logo and the silver HP logo, which adds a lot to its beauty. There is also a circular hinge, which curves on each side. It gives the system a softer and more elegant look.
The interior section of the Chromebook comes with cloud blue and sorts deign. The speaker vents are located above the keyboard, while the bezels are kept a bit farther. While most Chromebooks have their speakers underneath the system, this one has them where they are visible. It is great this way because it won't muffle the sound of the speakers when they are placed on the table or your laps.
The HP Chromebook 15 is lightweight. It weighs just 4 pounds, which is lighter than some other Chromebooks. The lightweight design makes it a very portable machine you can carry along when traveling.
HP Chromebook 15 Ports and connections
The HP Chromebook is not very rich when it comes to ports. However, it does come with the most important ones.
At the right, there is a USB Type-C port while the left contains a MicroSD card slot, a headphone jack, another USB-type C port, and a security lock slot. You can add more ports by getting a docking station or an extra USB Type-C hub.
This HP 15 Chromebook is just like other Chromebooks in terms of performance. They are usually lightweight and generally have long-lasting batteries. This one is no different. It comes with the right features to make your task an easy one without any delay. But you have to note that it doesn't have all the connections. Some few connections are missing. The Chromebook does not have a functional Thunderbolt 3 port, although it does come with the Thunderbolt logo. We are not sure why HP included the logo when there is no noticeable functional port for such.
However, for its official purpose, you are likely not going to need all those connections. The most important connections for office and web-based tasked are included. That is what matters.
HP Chromebook 15 Display
The HP Chromebook 15 comes with a 1920 x 1080 15.6-inch touchscreen that has good contrast and decently bright. The screen is very sharp for movies and streaming on videos online. It has 347 nits of brightness, which is ahead of many other top Chromebooks we have tested. It closely matches the nits of the brightness of Acer Spin 13.
The Full HD quality display offers enough brightness for you to work in a classroom or an office. But it does not offer enough brightness that will subdue the brightness from the sun. This is not a serious downside since you are more likely using it outdoors occasionally.
Contrast on the screen is sufficient enough. It offers bright colors for video streaming. Whether you are watching movies or streaming videos on Netflix, you will enjoy every bit of your time because of the clarity. The display is far superior to some other Chromebooks, such as the Acer 15 and HP Chromebook 15. But the new Google Pixel outperforms all of them. However, the high price of the Pixel Justifies its high picture quality. That means you need to spend extra dollars if you want a display quality that's better than this HP Chromebook 15 model.
One other nice feature of the keyboard is the white backlighting, which helps you use the Chromebook even in a poorly lit environment.
The touchpad is not as smooth as we had hoped for. It is impressive when capturing Chrome OS gestures such as three-finger tab out and two-finger scrolling. Also, it does come with a decent pair of clickers. But to help with quick navigation, you should consider getting a productivity mouse.
HP Chromebook 15 Audio performance
Unfortunately, the HP Chromebook 15 has a relatively quiet speaker. That is the major flaw with this model. The speakers are not as loud as some other Chromebooks model. That's where HP needs to improve when it's releasing the next model. But you shouldn't miss out on all the other good features because of the speakers. To compensate for this, you can connect an external speaker to give you the quality of sound you want.
HP Chromebook 15 Graphics and performance
The HP Chromebook 15 is loaded with enough memory capacity. It comes with 4GB RAM and an Intel Core i3 processor. One good thing about this model is the fact that it can take up several programs at a time without affecting speed and performance.
The Chromebook may come with the standard processors found in most other Chromebooks. But the design of this model, coupled with its memory capacity, makes it faster. The processor offers enough power to the entire system to keep all your programs at high operational capacity. With this Intel processor, there is no slowing down of any program. No matter how many Chrome tabs you open, the system does not slag in performance. Yes, it's a very affordable Chromebook. Yet, its performance is far more than other Chromebooks within its class.
We opened two Youtube videos and 15 Google Chrome tabs on this system at a time. Interestingly, performance or speed did not drop. There wasn't any sign of a slowdown. If you are using this system for multitasking, it will surely deliver for you. When it comes to overall performance, it surely beats many similar Chromebooks in the market.
There are so many Chrome OS laptops that come with Intel Celeron and Pentium CPUs. They offer good performance to a lot of users. However, their level of performance does not match this model. They are not as fast as this model. That is what makes this Chromebook unique and distinct from many others.
The Chrome OS was meant to offer a quicker operating system at an affordable rate. That is exactly what this Chromebook does. If performance is very important to you, it is best to stick to this model. It delivers in that aspect.
Chrome and Android Support
The HP Chromebook 15 may have Chrome support for all Google apps. But Google recently added android support to the Chromebook, which is a nice thing. You are no longer limited to only Chrome apps. Most android apps will also work well with this system since it comes with a touchscreen display. You can easily convert it to a tablet and use it like you would use your tablet phones. That's one recent update that will help HP's Chromebook 15 users enjoy the system better.
HP Chromebook 15 may not be powerful enough for enthusiastic gamers, although it can play some fair games without any issues. If you are looking for a gaming laptop, a Chromebook shouldn't be your priority.
Most Chromebooks are designed for students and office use. Those looking for gaming laptops should consider high-end laptops with the right graphics for such performance. But if you are looking for a laptop that can run various office tools, open Chrome tabs, and stream videos, you are right on point with this model.
HP Chromebook 15 Battery life
Based on Chromebook standards, the battery life of the HP Chromebook 15 is relatively high. When we tested it at 150-nits brightness over the web with Wi-Fi, it lasted for 10 hours. That's an incredible amount of time. And it's longer than the average battery life of 9 hours among Chromebooks.
Even when we used it to stream movies online, it took us about 6 hours with continuous movie streaming. It outperformed most Chromebooks we have tested in the past. If you are going for a Chromebook because of its battery strength, this model will be suitable for you.
Also, it doesn't take too long before the battery is completely charged. If you are charging it from an almost empty position, it will take you about 2.5 hours to reach its full charge. The super battery charger of the system makes that possible. If it takes you 2.5 hours to charger a system that could carry you for up to 10 hours, we think that's a good return.
HP Chromebook 15 Webcam Features
Since the HP 15 Chromebook comes with a 720p shooter, it should be able to deliver in terms of picture and video quality. And it does. The webcam feature takes clear and crisp shots. It performs well even under dark environments, which is a good thing for those who want to have shots at night.
HP Chromebook 15 Heat Level
Another area where this Chromebook underperforms when compared with other Chromebooks is the area of heat generation. The Chromebook gets a bit hot after using it for a few hours. Although other systems get hot too, their heat level is not as high as this model when you compare them. Sometimes it could go up to 85 degrees Fahrenheit after about 30 minutes. It may not be an issue if you are using it on the desk at all times. But when it stays on your lap, that's where the problem comes. You may start feeling uncomfortable after some time.
Hp's Chromebook 15 Review – Conclusion
In this HP Chromebook review, we have noticed that the HP Chromebook 15 is designed specifically for performance. Those who want a multitasking system with the ability to run all programs for a long time without charging will love this unit. Although it does come with some flaws, the benefits certainly outweigh those flaws. Moreover, it comes with a sleek design that makes it very portable.
We have tested it and seen that the Chromebook is a top drawer in terms of performance. If you are looking for a high-performing Chromebook that's affordable, you may not see a better deal than this.
Frequently Asked Questions about HP Chromebook 15 Nowadays
The following segment provides answers to the most common questions about the HP Chromebook 15 laptop.
Which is the best Chromebook 15?
No one product is considered the best because each of them has its benefits and flaws. But some of the best in terms of performance include Acer Chromebook Spin 13, HP Chromebook 15, and Google Pixel Chromebook.
Is HP Chromebook 15 good?
In terms of performance, the HP Chromebook 15 is one of the best you can get among Chromebooks. It has a good display, long-lasting battery, and is relatively affordable.
Which is better Windows or Chromebook?
The Operating system is the main difference between Windows and Chromebook. However, aa Chromebook has long-lasting batteries companied to windows. It is also lighter than a Windows operating system.
Should I get a laptop or a Chromebook?
If you are interested in only Web services, office tools, and videos, a Chromebook will be ideal for you. But if you want high-memory capacity with the ability to do the toughest of tasks, a laptop with high memory capacity is better. However, remember that the Chromebook is far more affordable than the laptop.
Why should I buy a Chromebook?
If you are a student, a business person, or an office worker, a Chromebook will be a better option rather than a laptop. This is because it is cheaper, has longer battery capacity, and can comfortably run all office tools.
Can HP Chromebook 15 run word?
Yes. You can use all the Word features on this Chromebook. It is specially designed to run word and other office tools.
Can I use Chromebook features without the internet?
Although some apps cannot open on Chromebook without an internet connection, there are other apps you can run freely.
* If you buy through links on our site, we may earn an affiliate commission. For more details, please visit our Privacy policy page.