Editing videos, by itself, is a very technical process and requires powerful tools and robust software to use. However, some may not have the resources to purchase such applications as these costs literally hundreds of dollars, not to mention that many of them are challenging to learn, thus creating some apprehension when deciding to buy the video editing software needed for making personal projects become a reality. Here are 5 of the best free video editing software in 2023 that promises an excellent video editing experience that you'll forget leaning onto those expensive programs from famous names and brands.
Because of the said concerns, many developers and programmers are creating video editing software that's not just free, but the penniless purchase also comes with features and functions that give you the feel of a premium without hurting the budget. Imagine getting the job done with ease, thanks to interface and functionality that's just like using a paid video editing software. There are many options, but there's a few that makes the cut with being the best in the market.
Best Free Video Editing Software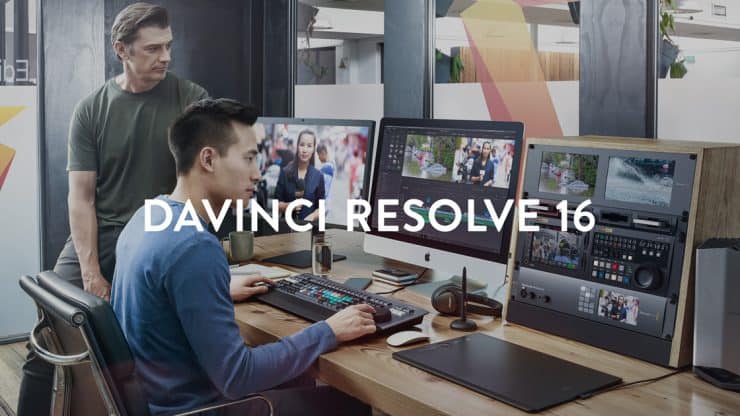 A video editor that the famous Italian painter and inventor would be proud of, the DaVinci Resolve 16 is an all-in-one tool that lets you do everything from pro 8K resolution editing, to correcting colors, adding visual effects, and even post-production audio. The company Black Magic Design also gave power, through the application, to let directors, artists, editors, and sound engineers work on the same project together, at the same time, across different working stations. Now that's what you call teamwork on an editing standpoint.
There's a promise of a faster way to edit, apart from what everyone is accustomed to using. The "Cut" brings in some of the legacy tools for editing, while fusing it to work faster with modernized and updated dynamics that you'll never imagine how something so old could feel so new and better. One great example is the feature called Source Tape. Instead of looking into video and audio files as thumbnails and boxes one after another, organized in a very conventional manner, DaVinci Resolve tweaked that form of view into something older, but with a more realistic feel. All the clips are arranged in a single "tape", or track as we commonly mention, separated by lines to know the play time of the file. So, there's no need to scroll up or down, or clicking a thumbnail to know content. Instead, you only need to move the track arrow to a certain track of the tape, and you're good to go.
Cut also reinvents the timeline as we know it. Even until recent, we have one timeline to use, and editing elements in a timeline can be sometimes inconvenient as you need to zoom in or out for editing dedicatedly – which can be a little time-consuming. What DaVinci did was to have two timelines on the same screen: one for the whole length project and the other for the specific element editing. You'll no longer experience lagging, especially when you have videos longer than an hour. Because there's a dedicated timeline for all your editing jobs, doing everything else is simpler and less bothersome. In fact, you can trim, transform, color, and add transitions and effects like never before. The interface is so intuitive that its operation goes with whatever you're doing, literally, employing its level of intelligence to your editing as if your software is working the edits for you. You can automatically do edits at the trim point where you left last, moving the playhead in line with the work at hand, not having the hand at the playhead all too often.
DaVinci Resolve 16 has also made staple processes done at the background to lessen loading times when you're working on other things. Reviewing footage done on an app usually consumes time as it loads before the video or audio is played. But with the latest DaVinci Resolve release, play times are intelligently prioritized and loaded based on the length of the track. Longer tracks play a little faster and shorter clip play a little slower. With video being a priority, playback speeds may compromise sound a little, but there's also an auto pitch correction to make sure that you can hear the tracks at the nearest normal sound, even when the pace is a bit faster.
Editing with the DaVinci Resolve comes with better responsiveness that endures well against tasks that cast lag due to playback, stacking elements in various timelines, and the addition of effects, transitions, and post-production enhancements. The software runs with a high-performance JKL playback engine, has a very responsive interface that results to better timeline scrubbing, faster editing, and of course, more precise and reliable trimming.
Even though version 16 of the DaVinci Resolve offers new stuff, it was designed to be familiar and intuitive for those who already into video editing. Just like before, you can pretty much do anything to your clips and tracks such as overwrite, insert, replace, fit to fill, append at end, and so on. You could also drag and drop from the media library, add markers to the tracks, and do multi-point edits like you used to. However, the exciting components are found in the details.
There's an advanced trimming tool that's not found on any other system you could think of. Imagine ripple, roll, slip, or slide trimming by just pointing your mouse cursor on a section of the track to be trimmed. And because trimming tracks, especially with a vast project cannot just be settled with one timeline, DaVinci Resolve gets things done more efficiently with stacked timelines that make it possible for you to drag and drop properties from other timelines and never have to drag the process down with accessing files one after another going to and fro, wasting precious production time.
Since we're talking about the DaVinci Resolve 16 being efficient when it comes to everything else in between, it won't be much of a surprise that it comes with a Timeline Curve Editor that makes dependent-property editing a breeze! Keyframe editing has never been simpler with having an editor that moves all related factors at the same time, giving you the flexibility to get the results you want, at half the effort. All that needs to be done is to click on a keyframe to edit, and you can change elements in groups.
Composting visual effects is simpler with a node-based interface that lets you work on various layers of your visual effects, running in a flowchart system. With this system in place, you could work on composting in segments and not having a hard time editing as a whole, which usually consumes RAM and other operation resources that may result to slow loading times. This does not only provide room for efficient work, but more importantly, it saves time from scouring for specific visual properties like finding a needle in a haystack. For removing color backgrounds that can be quite taxing, especially when fusing multiple images, you could use multiple and Delta keyers that are managed with matte finesse controls. Along with backgrounds, Fusion also has a Vector Paint tool for modifying shots and removing unwanted images that can be taken away by a cloning stamp or a brush stroke. Imagine using a premium photo editing software right where you're cleaning your videos. You could also fuse additional elements like 3D particles, 2D and 3D titles, as well as volumetric effects like fog, mist, and smoke that can be added without strain against video processors thanks to the GPU acceleration that can be activated by the DaVinci Resolve at will. You no longer have to wait for renders to be created just so you could use those effects and see results before production. And if you're a Lua and Python programmer that seeks to hasten the pace of projects by creating codes and scripts, the DaVinci Resolve 16 supports the programming language for tackling repeated tasks.
Grading tools for the DaVinci Resolve is known to be world-class when it comes to meeting scale, reducing noise, multi-node editing, and even dust and dirt removing. Thanks to its massive internal YRGB color space, it's possible to process color editing that's noted a gold standard in Hollywood. Think of 32-bit quality that shows no signs of slowing down with GPU acceleration assisting the works. Get to control color wheels and tools that are sensitive to the detail, even adjustment bars that let you play with luminance that separate color channels with incredible precision. But if tweaks are not sufficient at the primary level, then the toolset expands to help the meticulous satisfy their critical eye. Temperature, tint, gain, gamma, saturation, mid-tone detail, luminance can be controlled for optimum adjustment. That may be fine, but if you're in a hurry to make those corrections and don't need to be handling every element solo, then the traditional curve editor should help you make edits that interactively go along with each other.
One amazing thing about the DaVinci Resolve 16 is its ability fuse even professional audio editing within the same software. Known as "Fairlight", the said feature brings together editing, mixing, recording, finishing and mastering tools in one page. With real-time changes that can be applied to any project, you could tweak and update sound quality and enhancements as things happen. Think of handling a 6-band parametric equalizer, expanders, compressors, and limiter dynamics on each track, and not just the whole thing. Working to as deep as a subframe level for pure synchronization may sound difficult for a free video and audio editing software, but that's not the case with this software. In fact, if you're used to automating changes with audio for certain effects, you'll find it sweet that native and plug-in parameter automation is possible over time. But if you think you're limited to monitoring for small 3D soundspaces, then you'll be astounded with DaVinci Resolve's support for over 24 channels wide and 16 different speaker sets. You could even go to as wide as 64 speakers with an optional B-chain processor.
In order to experience the magic of the Resolve 16 in full, even with a free download, Black Magic Design created hardware that would help you get the most of the efficient application with the help of the DaVinci Resolve Keyboard Editor and the DaVinci Resolve Panel that comes in micro, mini, and advanced. Aside from the standard keys in the board, what's special with the Keyboard Editor are the tons of shortcut keys that could help you access various menus and options. There's also a dedicated dial that could be used for scrolling tapes or editing properties that require optimal movement and selection. The panel controls are all about knobs, dials, trackballs, and buttons that make primary correction a professional experience.
Download it now: here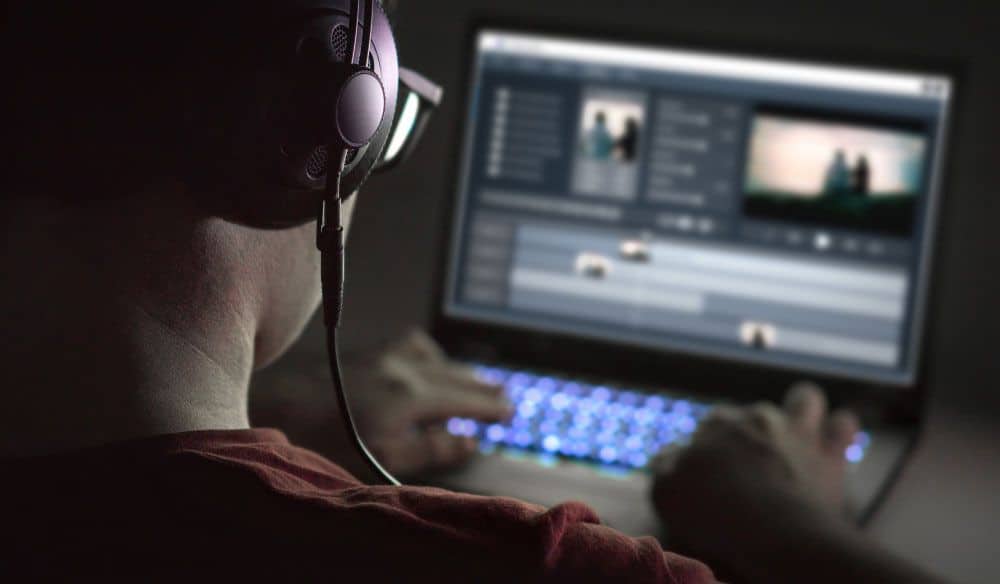 What makes the Apple iMovie an excellent video editing software, aside from being free, is its ability to edit videos as if you're using something that's both premium and expensive. Think of 4K sharp videos rendered with Hollywood-styled effects and visuals. More than the overall quality, you can consistently transfer your editing from an iPhone, to an iPad, and even on a Mac and not losing momentum when you switch between the three devices.
When you make movies, the iMovie makes it simple from start to finish, with an interface that's as straightforward, whether the movie is edited using an iPhone or a Mac. Everything begins just as it's like with other software: you choose your video clips and sounds, and add them in a library to be clicked and dragged into the timeline. The magic begins when you begin to edit that timeline and add in elements that would make your simple stitched files into a masterpiece. Their selection of Titles is pretty decent by the fact that the effects and animations in them are as clean as what you see in the actual movie screens. As for Filters, the iMovie has over 10 of them, including the classic monochrome, vintage brown, and the futuristic blue among other filters that could be applied whether on a particular clip or for the whole project. Add some extra oomph to your shots by adding Extra-Special Effects like speeding up or slowing down, picture-in-picture, or even using green-screen effects for some new flare.
One unique feature that's in the iMovie is its ability to create Trailers based from your choice of videos utilized in a project. The process for making the trailer is really easy as you get to choose the kind of Hollywood-style template for setting the tone of your trailer. There's also the ability of adding personalized properties like the logo on the opening and the credits at the end of the trailer. Sum everything up in the storyboard and you're good to go. In fact, you could have the trailers done using your iPhone, iPad, or Mac.
iMovie takes advantage of having an Apple ID tied up to all your other devices, in case you have more than one Apple product on hand. Imagine taking videos using your iPhone and moving them to your iPad or Macbook using AirDrop or iCloud Drive with ease and convenience. After all, it takes a mouse and a huge computer to completely work on a seamlessly made movie, all thanks to Apple's innovation on portability and shareability!
And one of the best features of all? Videos created within the iMovie is integrated with social media platforms like YouTube, Facebook, and Vimeo. You no longer have to go through the hassle of saving a video, uploading the file on the website, and be bound with accessibility features limited on the app. Everything's as easy as clicking the share button, choosing an app of choice, and you're in for some serious sharing, all done with the best resolution available.
The iMovie for iOS can be downloaded via the App Store, and requires that your iOS version is 11.2 and above. As for the MacOS version, you should have El Capitan and above, with a unit that has 2GB RAM and above. There's also limitation on the graphics card and resolution display with the GPU being OpenCL capable, and screen resolution being 1280×800 and higher.
Download it now: here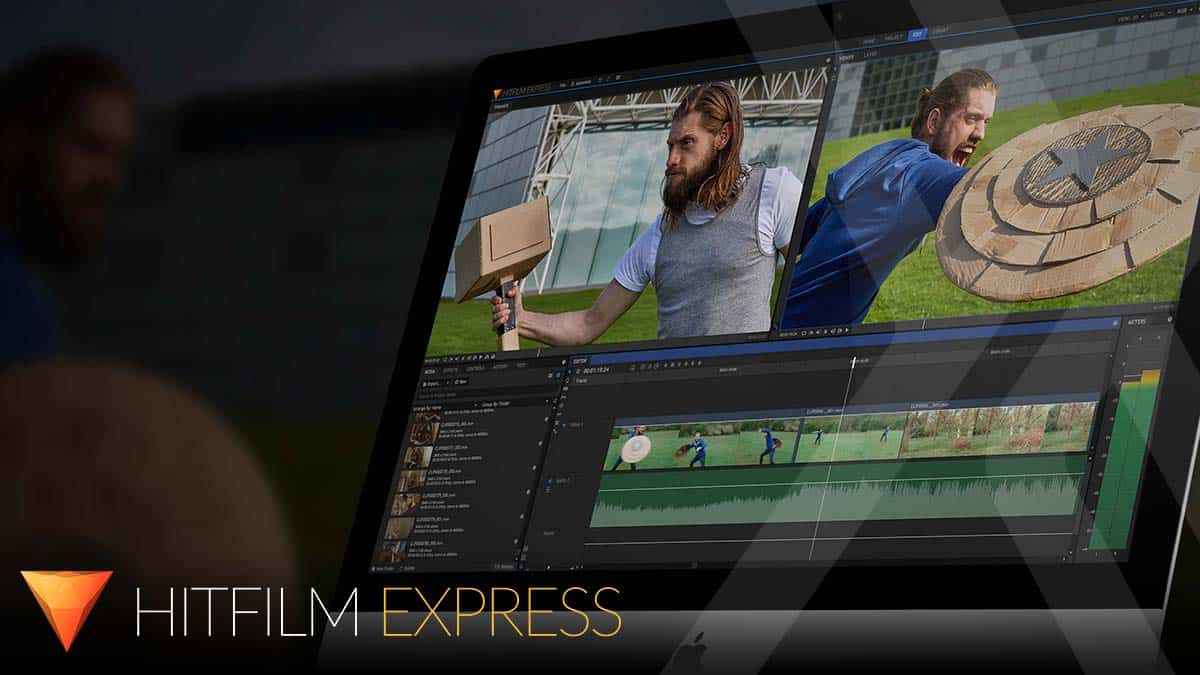 Claiming to be perfect for beginners, film students, and YouTubers, Hitfilm Express provides ways and means of giving the power needed to edit videos and add cool visual effects without spending a penny. And this is not just an empty promise that commonly ends with you getting to the fun part and have to pay to go the extra mile. The software is fully loaded and Hitfilm has no plans of cutting the fun. After all, it doesn't happen all the time that you get to play and not pay, and Hitfilm Express gives that wonderful opportunity to anyone who's fueled with the passion to create.
In order for you to use Hitfilm Express, you will need at least a 4th Gen Intel Core Processor with the iSeries recommended, or a Phenom II in AMD for starters. Optimum operating RAM is at 8GB the smallest, as a 4GB may have the tendency to fail, especially when you're not planning to dedicatedly use the editor on solo. A graphics card is also a major requirement. NVIDIA, AMD Radeon, and Intel HD Graphics cards that were released in 2013 should do fine, but make sure that video memory does not go down from 1GB. As for operating systems, macOS should be from 10.12 Sierra and above. And in Windows, it's 8 and 10, both on 64-bit versions.
One of the main things to look forward to is Hitfilm's revolutionary way of commanding workflow to editing and working on multiple projects and media. With combined timelines, you can switch to different tasks like shifting tabs in an internet browser. You are also given the capability to customize your interface with panels that can be expanded and collapsed so that you'll know the ins and outs of your flow while keeping your space utilized and optimized to see everything happen on one screen. It's also possible for you to customize playback quality and paused quality. This means that you no longer have to settle with just one setting for video when editing or inspecting the finished product, which slows down your editing overall.
For video editing, you have animation tools, composite shot enhancements, and transition features, all at your disposal. And to make things better for your myriad of objects and elements, Hitfilm allows unlimited video and audio tracks for your timeline – a limiting factor to many high-end video editors that focus on limitations rather than potential. And it does not stop there. There are optimized trimmers for you to use to edit your video and audio clips, as well as other elements that comprise your project. You're all too familiar with the dedicated trimmer as that is where all the magic happens. But what about the magic in the magic? There's also the adaptive trimmer that gives you the edge of editing what you've already added in a much more detailed and focused scale.
If you're the type that's very meticulous when it comes to color and detail, you'll never go wrong with Hitfilm Express' powerful color correction and grading tools that would help you bring out the best tones and the richest visuals. Gone are the days when you need to modify color properties, brightness, and hues with by independently moving bars or pressing buttons to choose the output you want. With the help of the curves feature, you can adjust the quality of your videos by merely adjusting curve points to increase or decrease shadows, highlights, and hues for faster application. And in case you've found that signature tone that you'll be applying for the rest of the project or your personal preference, you could save your curve selection thanks to extensive presets that are readily accessible to lessen time in setting up and employing those visuals of your choice. There's also a massive collection of color grading tools that gets you covered, in case you want to be more specific with color balancing or adjusting blacks and whites to your heart's content. In case you're feeling fancy and you want extremes with color textures, negatives, and other stuff like giving a cartoon filter to your video, Hitfilm also has hyper-stylized effects that you could use to feed that creative Van Gogh.
When it comes to Keying and extraction, Hitfilm hits the right notes when it comes to creating green screen composites that makes your visuals almost real. For something free, you get to use a matte cleaner tool of the highest standards. Here's where you can expect excellent results when smoothing, feathering, or chocking the edge of the key. To also make your green screen footage even easier for adaptation with both back and foregrounds, applying simulated light to a more adaptive level, there's a Spill simulation and light wrapping feature to deploy.
All of the features mentioned are for free. Hitfilm Express offers additional options for those who'd like to nudge their application expertise higher with the Add-on Enhanced and Add-on Required versions. There are certain features in the application, such as Text and Tilting or Cinematic Style Effects, that are provided for free, but with some in-depth items that need some purchase and download to use; being an add-on enhanced feature. But when you need an add-on required item, say a Particle Simulator or the 3D Model Import, the content cannot be used not until you buy it from the website and download the content for installation.
Download it now: here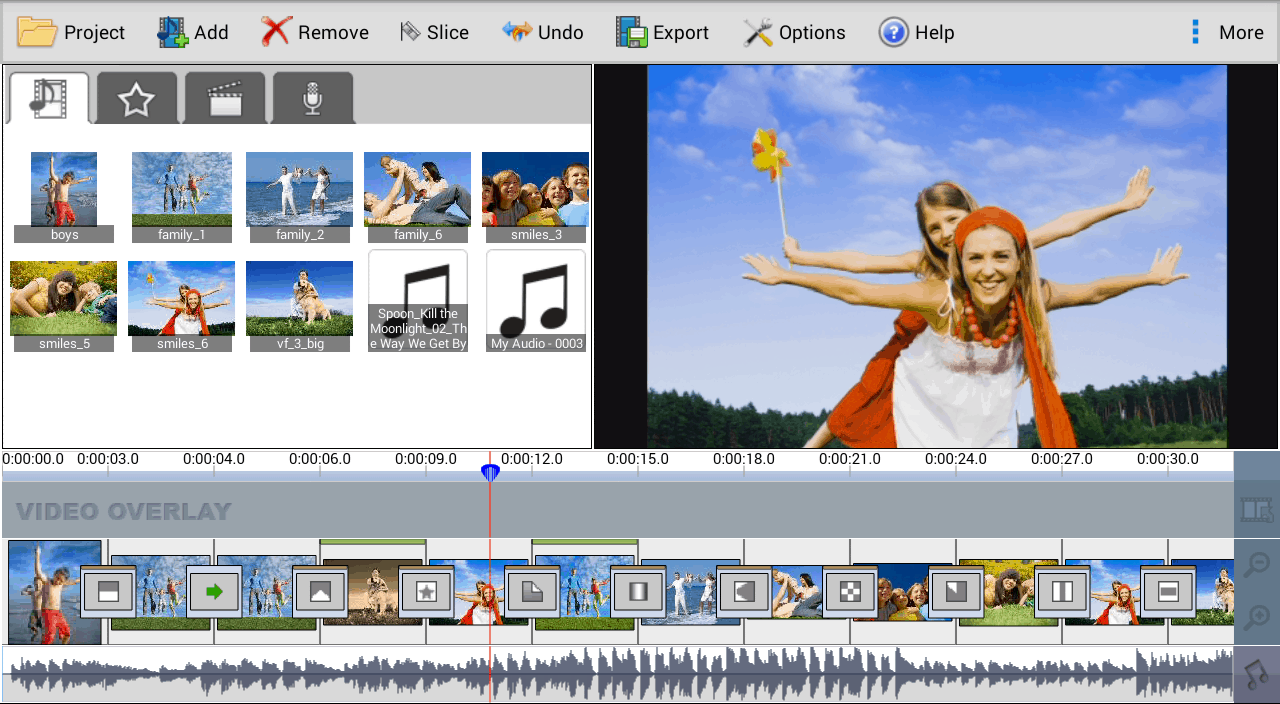 The NCH VideoPad is a video editor that offers features you would commonly get from a paid software, including its intuitive interface that provides lesser time to adjust your learning curve into getting used with the editor.
You get to experience using video transitions and effects that feel you're not short on a budget, since there's nothing that would hold back your imagination. There's a wide range of transitions to choose from, as well as options to customize those same transitions to tailor fit into any project. And no, your efforts will not be in vain as there's an option for you to save your preferences for future use; a saving grace for those effects and visuals made with hours on end. Layer effects are also at full disposal, giving you the ability to add texts, overlays, and animations on any kind of screen, whether 2D, 3D, or 360-degree videos.
Audio editing with the NCH VideoPad is also a guaranteed pleasant experience with tools that feel professional without the rocket science. Upon use, there are plenty of audio effects included in the media library that's easy to add and edit for your editing pleasure. There's also a place in the video editor where audio composers can fuse in various audio files to create amazing tracks, thanks to the MixPad multi-track mixing software. Capabilities such as simultaneous track recording, unlimited track mixing, as well as VST support for additional studio effects and musical instruments can be utilized with this inclusive software with the NCH VideoPad. It's even possible for you to add voiceovers on the actual track by simply clicking a button to start recording.
Once you're done with the project, you'll need to fine-tune your video to make sure that it fits well with the viewing audience. There's an in-software video stabilization for correcting those shaky videos, which can be activated before the publishing of the project. Aside from the common task of adding videos and tracks altogether, you could also alter some properties in your videos with respect to timing. You could slow down, speed up, and even reverse the way your videos are played. It's also simple with the NCH VideoPad to correct timing issues with audio and video synchronization by merely nudging the audio a few seconds forward or backward to confirm that both properties are running correctly. Worried that some of your media may not fit with the software, being free and all? There's a plugin support for tons of tools and effects that will not leave you hanging. In fact, you could do more than just editing your video. The VideoPad also has the ability to create looped GIF videos for short visuals or even memes.
After publishing your project, making it available for viewing, you could use the NCH VideoPad to create video formats that would make your video viewable across different devices, such as PSP, iPod, iPhone, or over DVD and Blu-ray players. VR headsets are also covered with the formatting made for 360-degree videos, also usable for some YouTube videos. There's also social media sharing that makes it possible for your videos to be directly shared to YouTube or Facebook.
Download it now: here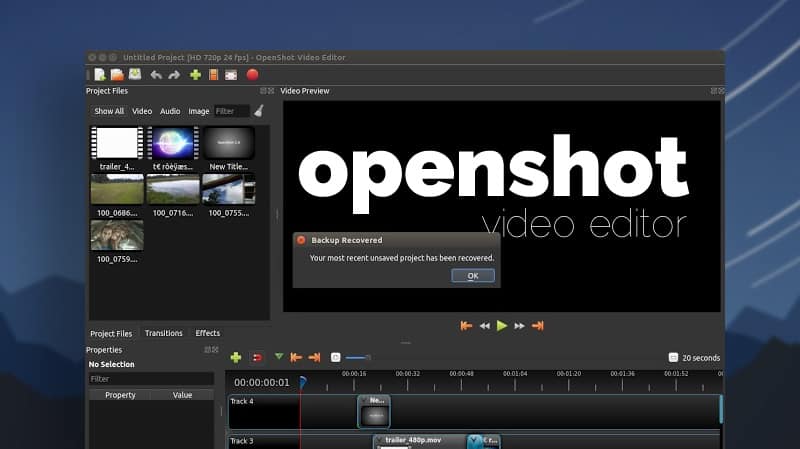 An award-winning video editing software that's going to be free forever, OpenShot promises simplicity and power. They have designed the interface and the elements of the open-source application to be usable, even by non-professionals, thanks for its ease of use and straightforward functionality.
One good thing about OpenShot is its cross-platform support for wherever the project is created, whether that's made in Linux, in Windows, or in OSX. So, no matter what system you use for making videos, you'll be able to work on anything with no problem. And it's not just the operating system that's making the video editing software support-friendly, developers made sure that file formats and types found in the FFmpeg library can be read, edited, and written.
When it comes to editing videos, you'll feel that you're using a professional editor due to the availability of tools that would not leave you left behind. For your key framing needs, there's a powerful animation framework that can accommodate interpolation for tweaking frames, whether quadratic, linear, or constant, that saves you time and effort when working on dependent elements. If you're comfortable with taking care of various videos, audio, images, and texts across tracks, you could add unlimited tracks and move it based on viewer perspective. Clips added to the timeline can be trimmed, scaled, rotated, snapped, and adjusted to however you want, with just a few clicks. Along with the adding of various clips come the need of transition. With OpenShot, you could choose over 400 transitions and choose one that's perfect for the sequence. And in case you need some tweaking with your transition of choice, it can be adjusted using keyframes in adding your personal touch.
Looking for ways to improve your editing, seeing that everything turns out the way you're envisioning the output? OpenShot makes you realize that goal with digital effects, color correction, title templates, subtitles, 3D animation rendering, as well as time-mapping and speed changes on clips that you could deploy for developing your raw shots into great-looking projects. With frame accuracy that's essential for adding effects on time, coupled with advanced timelines for a more detailed look on how your elements can be edited with greater detail, you'll never go wrong.
In case you need to add in music and voice, or do some voice overs into your project, there's an in-app audio editor that can help you edit and enhance your audio, thanks to waveforms on the timeline. OpenShot, by default, displays your audio and video separate from each other so they're easy to edit, enhance, or remove.
So, who says that it pays to create an excellent video project with all the feel of something professionally done? With these five free video editing software available for you to download with no commitment whatsoever, you can have your personal projects made with a touch of Hollywood. To this end, it's going to be a choice between the DaVinci Resolve 16 and the Hitfilm Express, with both applications having free features and not given away in full upon install. Despite that downloading these products come with limited inclusions, you'll never feel left out as all the essentials for video editing are included. But in case you feel that there's lacking with what's offered for free, taking a look at these professional video editing tools would give you an idea of what's vital for your editing needs.
Download it now: here
Adobe Premiere Pro
Famous for being the "industry standard" the Adobe Premiere Pro has everything you need from making a TV series to creating high-quality films. Timelines are enhanced with workflows that promote efficiency while providing minimal time away from where all the action happens. There are also automated tools that activate based on elements and properties being edited, giving the term "intuitive" a better description.
If you're familiar with other Adobe software like Photoshop, you'll feel that familiar environment with the Premiere Pro, especially now that there are rulers and guides found on the edges of the project. And more than just the rulers, there's also a snapping tool that provides a cue for the editor to know where a certain element can be placed.
It supports a huge array of file formats, from 8K to VR, and even works with hundreds of applications, whether Adobe or non-Adobe related. Partners literally from AMD to Z Cam have worked with Adobe in providing tools, in-app enhancements, and tweaks for customers around the globe that's familiar with products and services that are offered outside Adobe. In premise, Premiere Pro aims to be the go-to application for every editor out there.
And because it's paid, you'll expect updates consistently rolling that makes the software better each time. Performance enhancements such as smoother HVEC playback for Windows and MacOS and load balancing across multiple GPUs are achieved with the latest version of the Premiere Pro; only achievable because of the subscriptions made by customers who wanted quality, as well as seamless support in all spheres. And depending on your plan, whether for pro, for students, or for business, there's a Premiere Pro version that's right for a monthly payment.
Final Cut Pro X
Apple's take on editing videos comes with everything that the Final Cut Pro X has to offer. Aside from the fact that the said software is made exclusively for the OS X system, it's designed to work hand in hand with Macbooks and Mac computers. One of the most known benefits of the product's absolute support is the ability to perform and deliver at speeds that only Apple units can provide. Compatibility makes it possible for the Final Cut to operate on GPUs and processors in making every aspect of the operation and editing seamless and lag-free.
Editing has features that automate video and audio syncing issues, bundles video and audio clips for simpler moving, as well as allowing various versions of one clip accessible on the same track. Organization tools can detect video lengths, respond to metadata tagging, and can also determine the collection of various elements according to user-defined criteria. While there's nothing new in the aspect of motion graphics, the Final Cut Pro X gives a unique flavor to making titles, editing transitions, and modifying added effects. Editing audio is also just as efficient with built-in tools that let you work on multichannel audio, quality enhancements, effects application, and optimization.
Need to find the perfect shot while looking at different angles? The Final Cut can accommodate 16 angles at once in the Angle Viewer and can be trimmed, color graded, and synced via the Angle Editor. And speaking of color grading, you can get your hands on professional tools that give way to color wheels, color curves, and keyframe adjustments, no matter the quality, even on High Dynamic Range. Collaboration is also possible with the Frame.io extension where you and your collaborators could access the same project real time, an excellent tool for actual review, feedback, and editing done at the same time. And angles are not just about the editor, but also the viewer with 360-degree monoscopic and stereoscopic formats. You could do 360-degree editing and effects, optimized for VR headset playback.