Hardcore gamers have been on the lookout for the best PC cases for water-cooling systems ever since they became popular. Today, these systems have grown to be quite common as parts of gaming setups, meaning that there is a wide selection of cases that support this technology. To help you find the best ones, we have come up with a list of our own, which will, hopefully, help you get some insight into which case to buy. Let's review them now and see what they have to offer.

* If you buy through links on our site, we may earn an affiliate commission. For more details, please visit our Privacy policy page.
Best Cases for Watercooling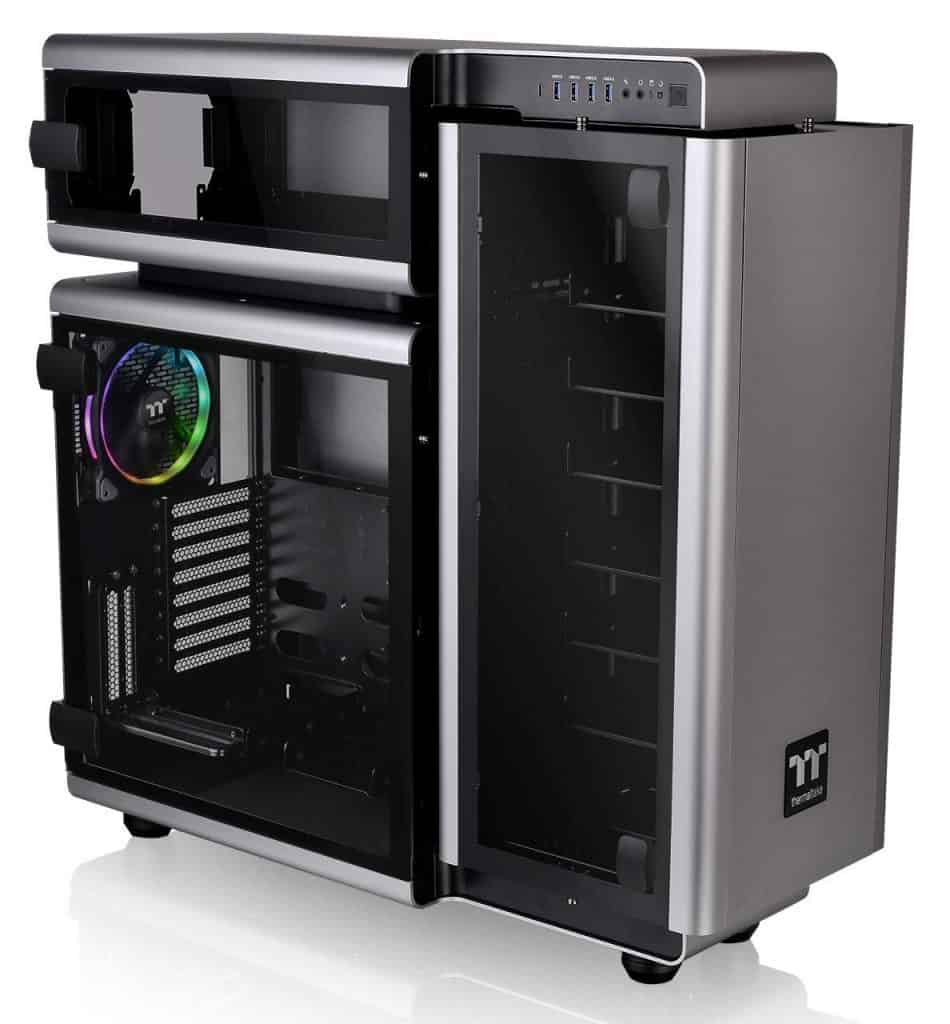 If you are looking for a full-tower case for water-cooling, and you are not on a strict budget, then Thermaltake Level 20 Aluminum PC Case might be just the right choice for you. Thermaltake is very well-known for the excellent quality of their PC cases, as well as other products. Another great thing about their models is that they often offer a lot of space for expansion.
Thermaltake Level 20 Aluminum PC Case features up to 11 drive bays, and it has enough space for six 2.5, as well as 3.5-inch HDDs, three HDDs of the same sizes with bracket, as well as two 2.5-inch and 3.5-inch HDDs with bracket, so it is safe to say that you won't run out of space for those anytime soon. On top of that, it offers more than enough space for different cooling systems.
The front part alone has the ability to support a 360mm radiator, as well as one more of 280mm. And, if you want to add even more, you can fit another 120mm/140mm cooling system in the back.
On the side, the case has a glass panel with 4mm-thick tempered glass. The rest of the exterior is features a space gray color, while the interior is black. The case itself is made of aluminum and SPCC.
Buy it now: here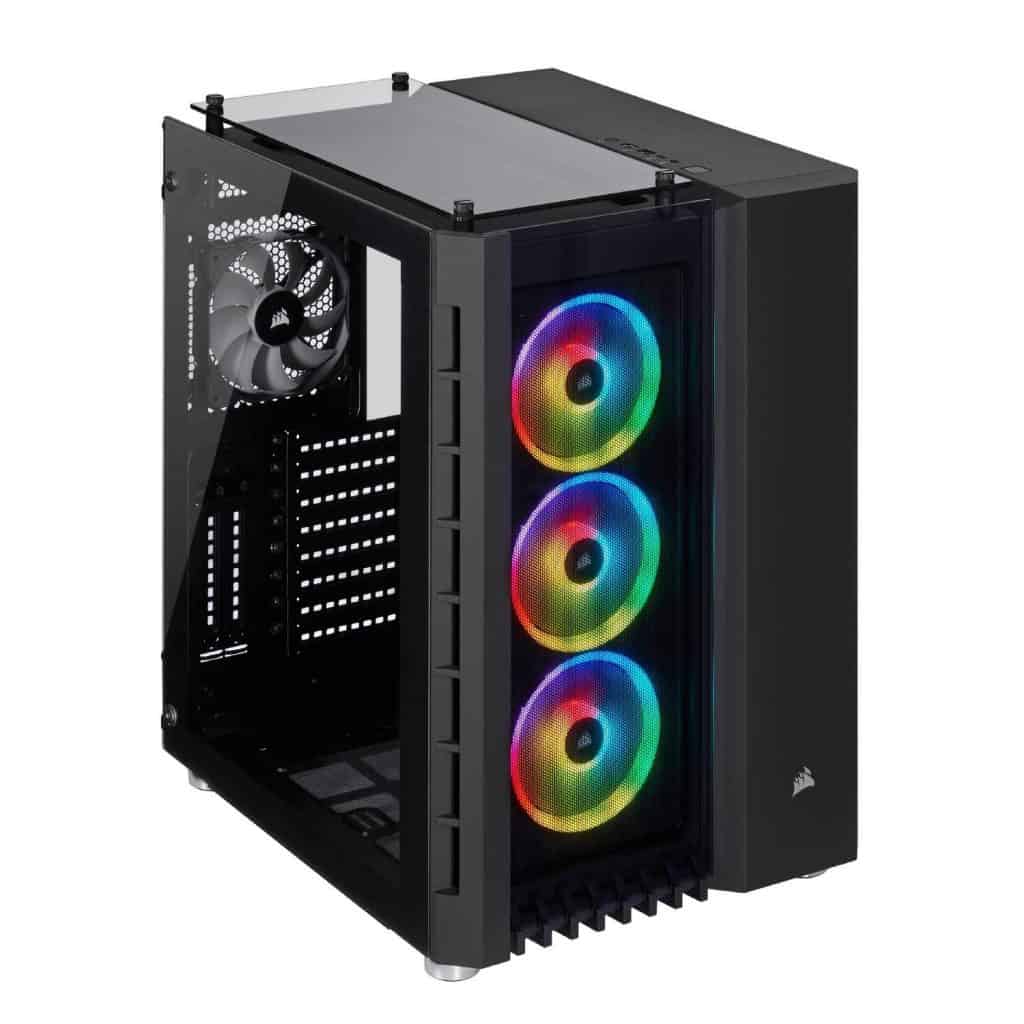 On the other hand, if you are more interested in a mid-tower solution, we can recommend Corsair Crystal 680X RGB PC Case. Corsair is a very well-known name in the computer industry, and they are responsible for numerous excellent products and components. However, in terms of water-cooling-friendly cases, they also have a few models worthy of mentioning.
The first thing to note is that these are larger cases, which is necessary in order for the water-cooling systems to fit in well. This is why Crystal 680X is among the best options.
This particular model features a lot of room for all the necessary components. Not only that, but it will let you access them with ease thanks to a side panel that features a hinge, for easy opening and access to hardware. However, the model also features tempered glass panels at the top, front, and the side — all of which allow you to display your build. You don't even need to worry about insufficient cable management features, as the cables can easily go behind the motherboard and stay out of sight, thus making your case appear organized and impressive.
Now, when it comes to cooling, this model features four fans, and an excellently thought-out airflow path, which will ensure that your case stays nice and cool at all times. All of the fans also come with RGB, and you get to control the lights with a Lighting Node PRO. It is a great case for liquid cooling, and it is also rounded with a number of storage bays.
Buy it now: here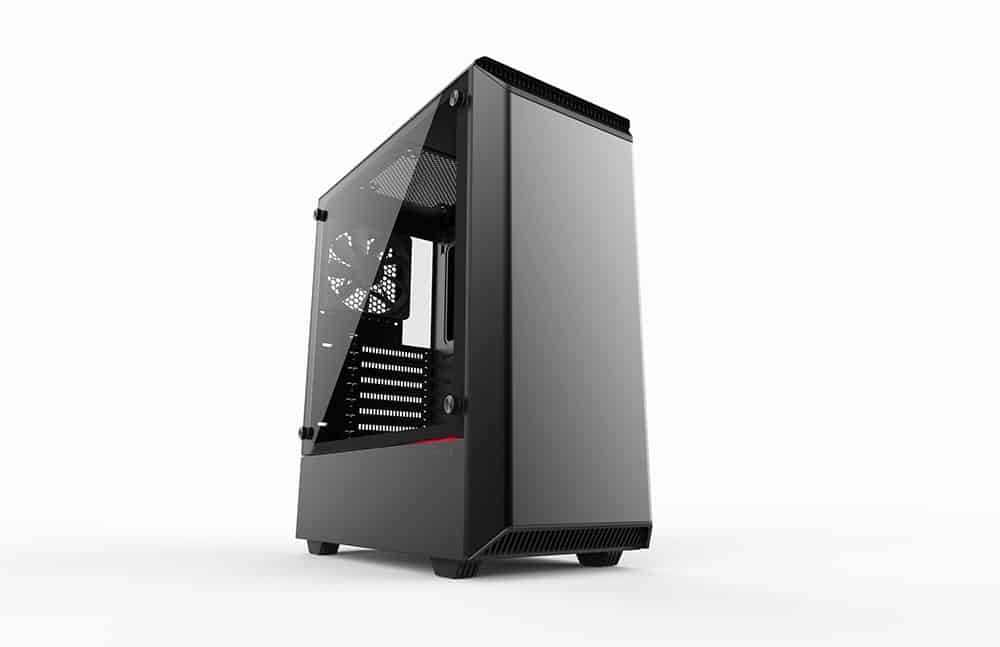 Next, we have a very good budget solution, which is one of the most affordable cases on the list. It is, of course, Phanteks Eclipse P300 TG, which can store a front mount rad, and support up to 280mm in front, as well as 120mm at the rear. As the name suggests, it also comes with a TG.
This is a very budget-friendly case, considering the fact that it can house pretty much any motherboard, including E-ATX. The front panel offers a number of ports, such as mic and audio ports, two USB 3.0 ports, as well as an RGB switch. The case also comes with two 3.5-inch drive bays, one 2.5-inch drive bay, and enough place for you to include another one of 2.5 inches. There are 7 PCI slots in total, and it even comes with a 120mm exhaust fan in the back.
At the top, bottom, and the front — this case features dual filters which are very easy to access. However, the most noticeable part of the case is its excellent cable management, which features velcro straps and can help you route your cables with ease.
This case combines performance and aesthetics in a great way, and it looks both, stylish and professional, in addition to being extremely functional. It is a great option for those on a tight budget, so do consider it.
Buy it now: here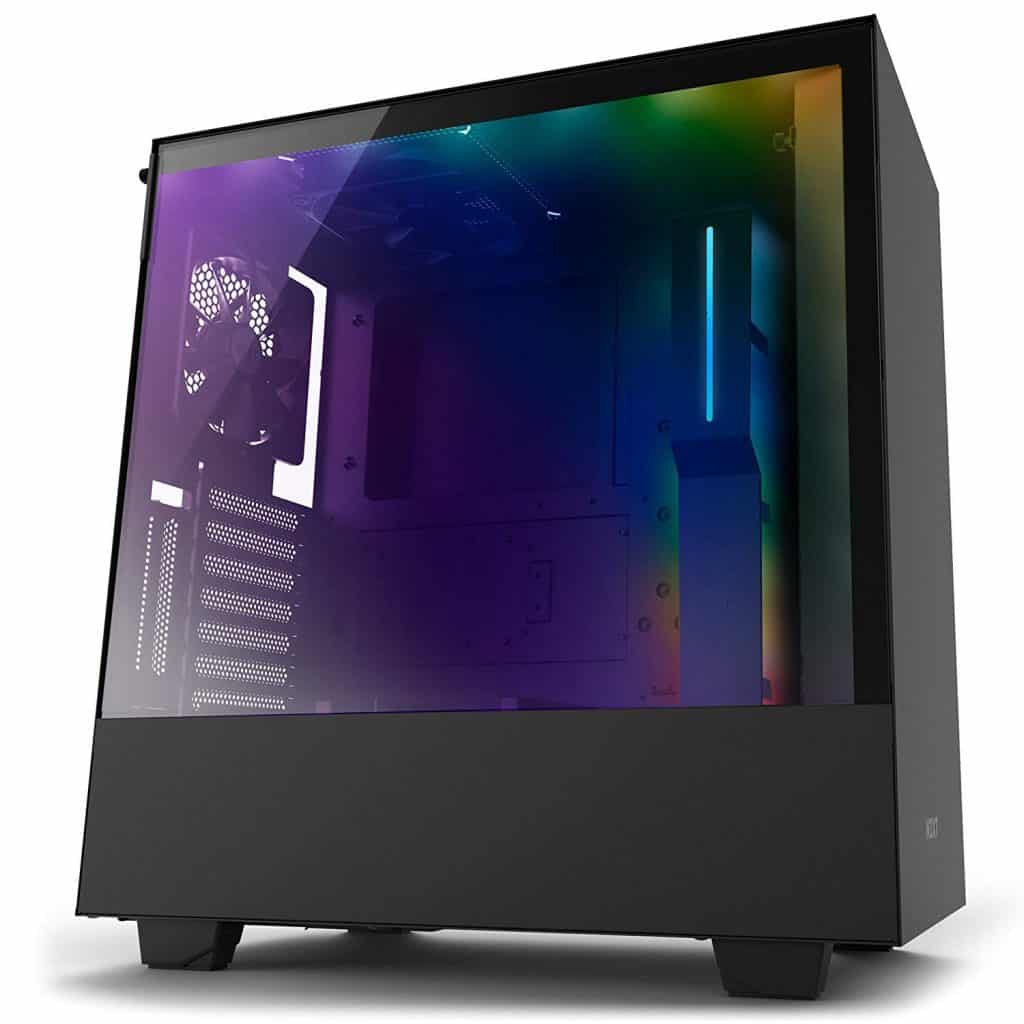 Then, we have NZXT H500i, an H-series model that was created to be durable. This is one of our favorites, and it is made of steel, apart from the tempered glass panel which you can see on the side. It is well-made, stylish, and easy to remove or install, as it is held in place by a single screw.
The case's measures are 18.11 x 8.26 x 16.85 inches, and it weighs around 15.4 lbs. When it comes to motherboard support, it can fit most of them, including ATX, Micro-ATX, and Mini-ITX. E-ATX, unfortunately, is not supported.
The case also has up to seven expansion slots, multiple drive bays, and port for an audio/mic jack, as well as two USB 3.1 GEN1 Type-A ports.
Now, when it comes to cooling capabilities, this case is an excellent choice. It provides great airflow, despite the fact that it only features two Aer F120mm fans which come pre-installed. There is enough room for you to add more fans, and not have to worry about overheating. In the front part, it can hold a 280mm-large radiator, while another 120-mm one can fit in the rear.
The case is also quite silent, which proves that the company did not cut corners when designing it or when picking the materials. This PC case is excellent for water cooling AND for silent operations, so we expect you would be quite pleased with this choice.
Finally, we have an excellent cable management solution, which is pretty much a signature of NZXT at this point. It comes in the form of a bar which covers the cable-routing hole, and it gives your PC a clean look, without allowing the cables to make a mess out of your build. Naturally, it uses routing channels, strips, and more to let you organize cables in the best possible way and let you keep the extra space for things that truly matter.
However, this model also has a downside worth of mentioning, and that is its CAM software, which powers the Smart Device that comes built-in. The software was often reported as flawed, and it might not load properly, miss a few features, or even cut you off from LED controls. Since the reports started coming in, the software got an update that fixes most of these problems, so always maks sure that you have the latest version installed.
Buy it now: here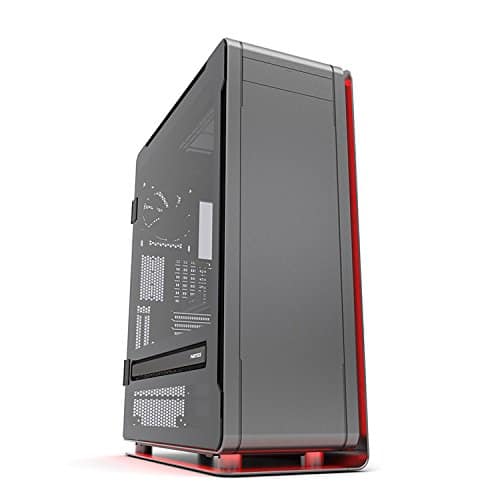 Then, we have another relatively expensive solution that comes in the form of a full tower PC case known as Phanteks Enthoo Elite. This case features an exceptionally aesthetically-pleasing design, but it also has the functionality to prove that it is worthy of its elevated price.
It particularly excels when it comes to its cooling capabilities, which are nothing less than superb. Its internal space management is optimal, which reduces the risk of having unwanted hotspots form in your build. However, it also features a cooling chamber and isolated storage that further improves its capabilities. It even has a rather extreme solution when it comes to radiator cooling, which is why it definitely deserves a place on this list.
Just in case you were wondering why we believe that this PC is so spectacular, we will note that this particular case allows you to mount as many as 20 individual 120mm radiators within it. That number will fall to 16 if you choose to go along with 140mm radiators, which is still more than enough to keep your PC cold under any circumstances.
The model is rather spacious, but it is the intelligent engineering that is responsible for enough space to mount all of these radiators. They can be installed on pretty much all sides, including top, mid-plate, front, rear, and side. It is very unlikely that you will find another model with cooling capabilities such as these, and still find it as stylish and attractive as this solution is.
To spice things up a bit, it also features an RGB illumination. And, to help keep things clean, it also features a dust filtration system, offering filters in all areas where the dust might find an entry point. This will, undoubtedly, be the most stylish, cleanest, and coolest PC case that you will find in a single solution.
There are a few potential cons to this model, though, but we do not see them as deal-breakers at all. The first one is its weight, and the second one is that it only comes in gray or black. The biggest issue is the higher price, as mentioned before. However, for those who can afford it — the other two 'problems' should not be a real deal-breaker.
Buy it now: here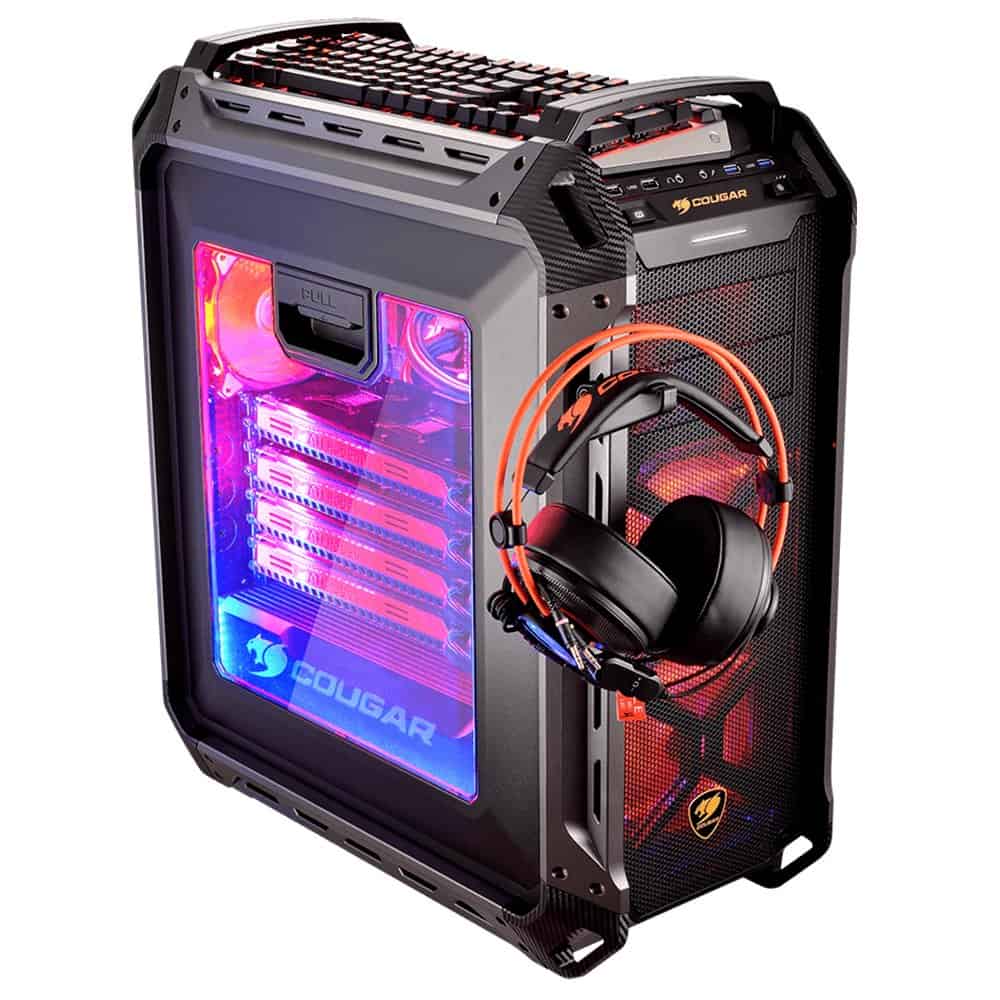 Then, we have Cougar Panzer Max Ultimate Full Tower Gaming Case, which is large enough to fit numerous GPUs, motherboards, storage devices, and more. Not only that, but it can also store around four water-cooling radiators, and twice as many fans. It is truly a great solution when it comes to cooling and spaciousness, which is why it is also among the favorites of every hardcore gamer who needs their hardware kept under control during extensive gaming sessions.
Panzer Max model can easily accommodate radiators as large as 360mm. When it comes to its front and top panels, they are certainly versatile enough to handle radiators of most sizes, and anything between 120mm and 360mm should fit.
As for the rear side, you are a bit more limited, and only 120mm radiators can fit there. However, your options are once again expanding when it comes to the bottom of the case, which is large enough to support a 140mm cooling system. In other words, it has more than enough space to accommodate as many radiators as you could ever need.
Not only that, but you can also fit six motherboards, as well as up to four dual-slot 390mm GPUs. Finally, the case can also store six storage devices, which likely makes it one of the spaciest solutions on the list.
Buy it now: here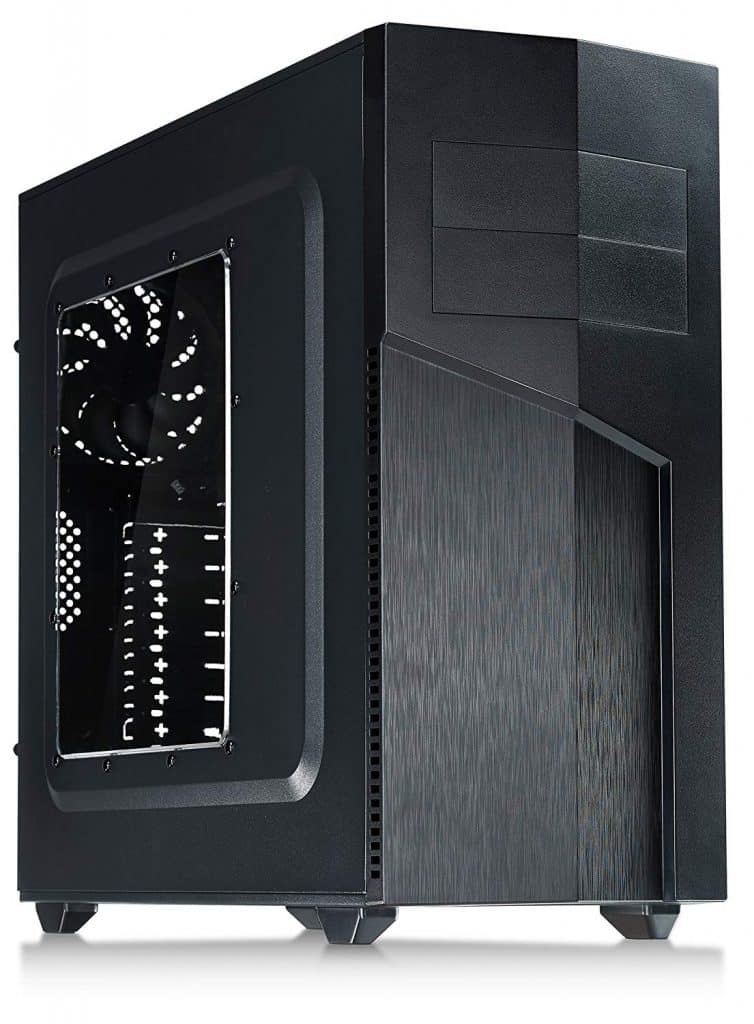 Next, we have Rosewill Tyrfing, which is a very sharp-looking, professional case with a convenient top-mounted I/O panel, and a translucent panel with a window on the side. In addition, this model also has a rather advanced cooling system, but we will get to that soon.
This is a mid-tower case which large enough to accommodate pretty much everything that you could expect to store within a full tower case. It is one of the most spacious mid-tower models on the market, which is not only a great feature, but it also comes at an extremely low price.
You can install 3.5-inch drives with no tools needed, which is very user-friendly and perfect for beginners in PC building, or those who do not want to make things overly complicated.
As for cooling, it offers 2 pre-installed fans, although it does have the capacity to support 3 additional ones. In addition, it can support a CPU cooler up to 160mm, as well as up to 360mm long water-cooling radiators at the front and top panels. For a mid-tower solution, we see this as pretty advanced, although it might not be the coolest model on our list, particularly coming after our previous two entries. However, it is a case that definitely deserves its place on the list.
Buy it now: here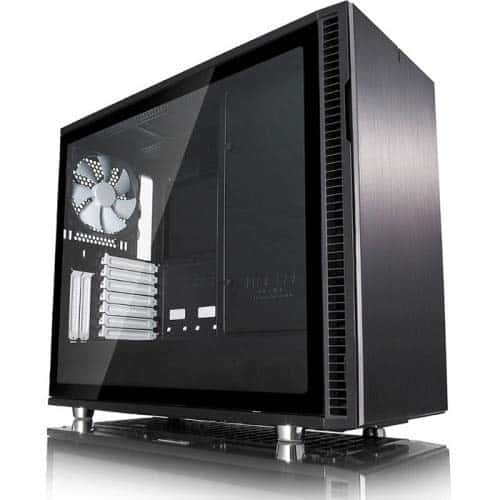 Speaking of cool-looking PC cases, we have Fractal Design's Define R6, which is a case often recommended by reviews, as it has been one of the best in the last several years. It can store tons of hardware with ease, and you won't have to be overly cautious when it comes to what it supports and what it might not.
The case features a tempered glass side panel, with mounting points being among the best in the market. Thumbscrews are hidden from view, but this is still a completely tool-less solution. The rest of the panels are made of steel and sound dampened, so you have a dark, sturdy, sharp, and professional-looking PC which is very stylish, but in a way, also simplistic.
When it comes to its I/O, you will have 2×2 USB 2.0 Ports, and as many USB 3.0 ports. In addition to that, there are a reset button, power button, and audio jacks. The case's front panel features an aluminum plate, which you can open to the side from left to right and from right to left. Behind the panel, you will find a ventilation and dust filter, as well as two 140mm fans.
There is also a dust filler at the bottom, which can be accessed from the front side and which covers the span of the entire case. As for the top panel, it comes with 3rd-gen ModuVent technology, and it allows users to pick between filtered ventilation setup and a soundproof steel cover. There is also a fan bracket behind the top panel, which can hold a radiator as large as 360mm when it comes to standard layout. If you remove the bracket and choose to go with the open layout, even 420mm becomes an option.
Furthermore, 360mm radiators can even be installed in the front, while the rear can support a 120mm radiator, and another one of 280mm can fit at the bottom of the case. As you can tell, the cooling system of this model is quite advanced, and we would even go as far as to call it superb. It will definitely keep the entire case and all the hardware inside as cool as it can get, which is all that any gamer could ever ask.
Buy it now: here
Best Cases for Watercooling Conclusion
With that, we will end our list. Hopefully, you have found a model or two that had caught your eye. There are quite a few of them at very approachable prices, but also some that are highly expensive. In any event, the important thing is for you to find the best PC case for water cooling that you can, and secure your hardware properly.

* If you buy through links on our site, we may earn an affiliate commission. For more details, please visit our Privacy policy page.