If you aim to build a new PC, you would want it to be as best as possible. Naturally, the only way to achieve this is to include the best components that you could find. Now, of all the components that you will need, the motherboard easily fits into the category of most important ones. Granted, choosing a motherboard is not the most exciting part of building a PC, although it definitely ranks above picking among different PSUs. Still, a lot of people neglect to make the right choice, so we thought we should make it easy on them, and provide a few suggestions in regards to b450 Motherboards for AMD Ryzen
* If you buy through links on our site, we may earn an affiliate commission. For more details, please visit our Privacy policy page.
However, you must also make a point to purchase the one that will work best with other parts. With AMD's new Ryzen CPU being the most popular on the market, we thought that picking a few great motherboards that will go well with it should help out a lot of people.
They aren't that different than previous B350 motherboards, but there are still some important if minor differences. So, without further ado, let's explore different options and see which of the new B450 motherboards are among the best in regards to features, prices, and everything else.
Best b450 Motherboards for AMD Ryzen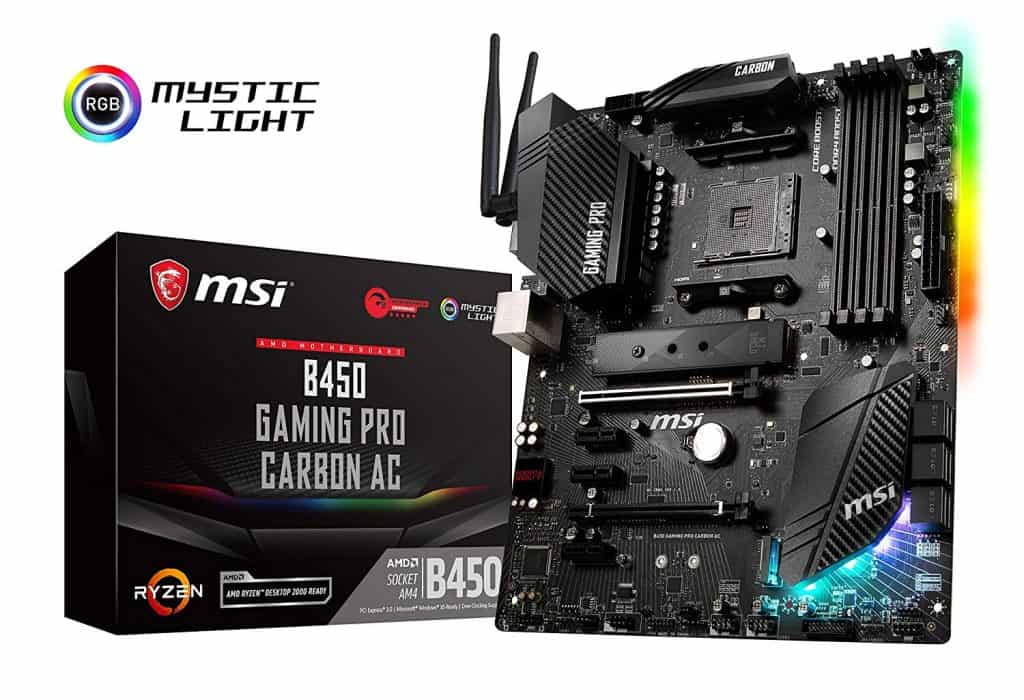 First on our list, we have MSI's B450 Gaming Pro Carbon motherboard, which is widely considered to be one of the best solutions out there, if not THE best one.
We like this one the most because MSI really did an excellent job with it. It is superior to all of their x470 model boards, or at least the great majority of them. X470 Gaming Plus was thought to be good, but it has nothing on the new B450 Gaming Pro Carbon.
Well, its VRM might be slightly better, since B450 Pro Carbon has a 4+2 phase VRM, while X470 Pro Carbon has 5+2. However, both have double the components but lack a decent doubling mechanism. Even so, the B450 version has a better cooling thanks to a bigger heatsink. Not to mention the fact that it is cheaper, and it comes with Intel dual-band Wireless-AC, as well as Bluetooth 5.0.
It does lack two SATA ports, as well as the third PCIe x16 slot, though, although the chances are that you won't miss them that much anyway. A more significant issue with both models from MSI is their lack of voltage offset support when it comes to the BIOS. In other words, this model won't grant you the ability to make full use of Precision Boost Overdrive. However, if you can live with that, then this is definitely the motherboard for you.
Buy it now: here
We have just seen the best MicroATX, so let's take a look at what the best Mini-ITX version might be. In our opinion, that honor goes to MSI's B450I Gaming Plus AC motherboard. This one can easily be the best option, even when compared to solutions such as Asrock B450 Gaming ITX/AC, or Asus ROG Strix B450-I Gaming.
We believe it might be better because it offers a stronger 3-phase Vcore VRM, which provides a doubler for 6-phases. It does have a rather unimpressive SoC VRM, which doesn't exactly make it an ideal APU motherboard. In that regard, going after Asus would be better.
It supports 32GB Dual Channel DDR4 Memory 1866/ 2133/ 2400/ 2667 MHz by JEDEC, and 2667/ 2800/ 2933/ 3000/ 3066/ 3200/ 3466 MHz, it is VR-Ready, and perfect for offline and online gaming alike, so if you need it to play your favorite games without being interrupted by all kinds of issues, this is a motherboard for you.
Buy it now: here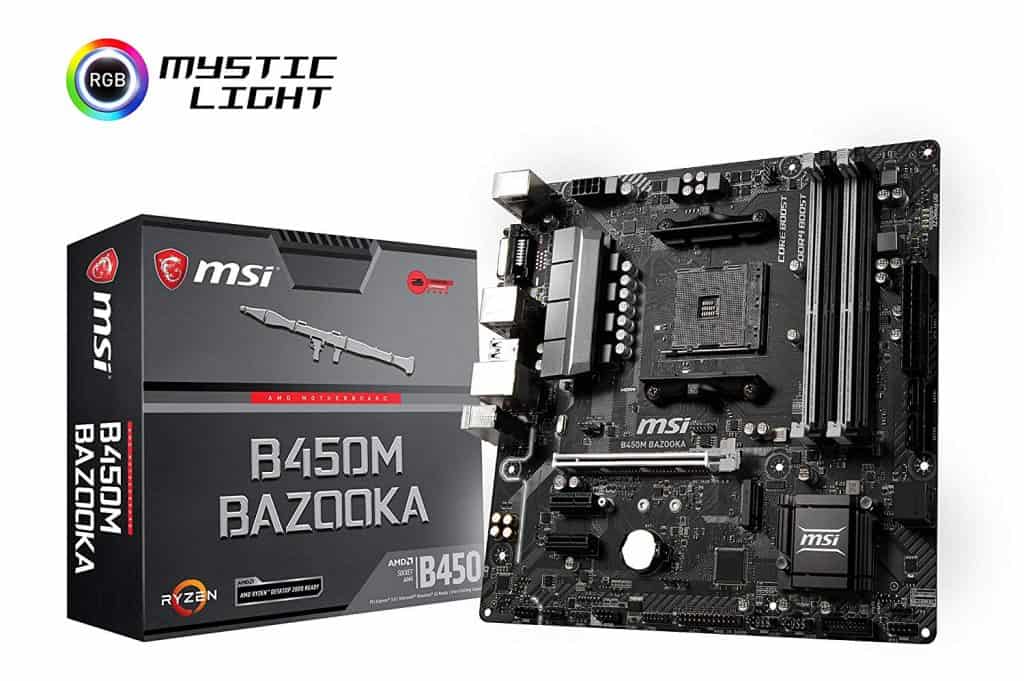 Next, MSI's B450M BAZOOKA motherboard definitely comes with an impressive name, but more than that. It has M-ATX form factor, but unlike most others, it comes with a single PCI-E x16 slot, which results in a lack of Multi-GPU CrossFire support. Besides, it also doesn't have USB 3.1 Gen 2 ports, which might be a problem for some.
With that said, why do we recommend this model? Because it is rather well equipped, even with the lack of the components mentioned above. It offers two PCIe x1 slots, support for DDR4 3466+(OC) MHz RAM up to 64GB and a Turbo M.2 slot for SATA M.2 SSDs and NVMe.
It also features gaming heatsinks, which are extremely important, in addition to Gaming LAN, 8 channel audio, PCI-E Steel Armor to protect the GPU, a DDR4 Boost, as well as AUDIO Boost.
Then, you have EZ Debug LED to handle any troubleshooting and RGB Mystic Light support, as well as UEFI BIOS. Then, it has as many as six USB 3.1 Gen 1, and four USB 2.0 ports, which can handle any high-speed USB devices and/or storage.
With all of that, nobody can say that it is not rather well-equipped, while still being extremely cheap. It is well suited for gaming PC builds, budget workstations, and alike. We don't expect you will have many problems with it if you can deal with the lack of a handful of components, as mentioned earlier.
Buy it now: here
Out of all the B450 motherboards out there these days, MSI's Tomahawk is easily one of the most popular ones. You can't really go wrong if you pick one, no matter what build you have in mind.
With it, you get numerous PCI-E ports, 4 DIMM slots, 6 rear USB ports, a few RGB headers, and more fan headers that you even need. We mentioned that it had great VRMs, but it should be pointed out that they are even good enough to handle basic overclocking.
In other words, it won't satisfy your needs only if you are after extreme overclocking. In that case, you might have to seek out some other solution. If not, then MSI's B450 Tomahawk (in ATX form) will likely be more than an excellent choice for you.
Buy it now: here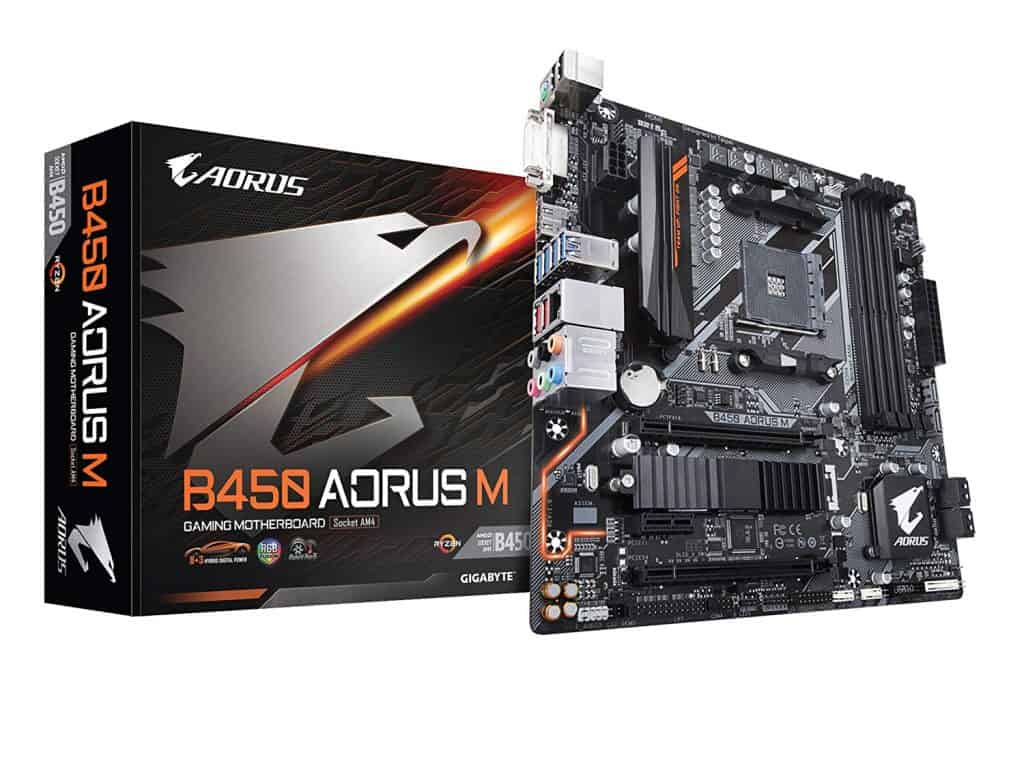 Then, we have Gigabyte B450 AORUS M, which is an entirely different level of the AORUS gaming motherboard. It was based on the mid-range AMD B450 chipset. It comes in the form of a micro-ATX motherboard, and you can quickly put it in a mini-tower or mid-tower. As for the higher form factor cases, it can easily fit with no issues.
Another reason why we believe this version is an excellent choice is the fact that it has pretty much all the features you might expect to get from a full gaming-grade motherboard. It offers one PCIex 1 slot, two PCI-E x16 GPU slots supporting 2-way CrossFire, as well as an M.2 slot. On top of it all, it supports DDR4 RAM (3200 MHz) all the way up to 64GB capacity.
Next, it supports Memory and CPU Overclocking, and it also has additional features, including Gaming LAN, RGBW and RGB header, 8-channel onboard audio, RGB Fusion Support, USB 3.1 Gen 1 & 2 ports, UEFI Fual BIOS, M.2 heatsink, Smart Fan 5 fan control software, and also display ports that include HDMI and DVI. It is definitely more than you could expect to get from any other budget solution, which is why we firmly believe that this is the right option for anyone looking for a cheap new B450 motherboard.
Buy it now: here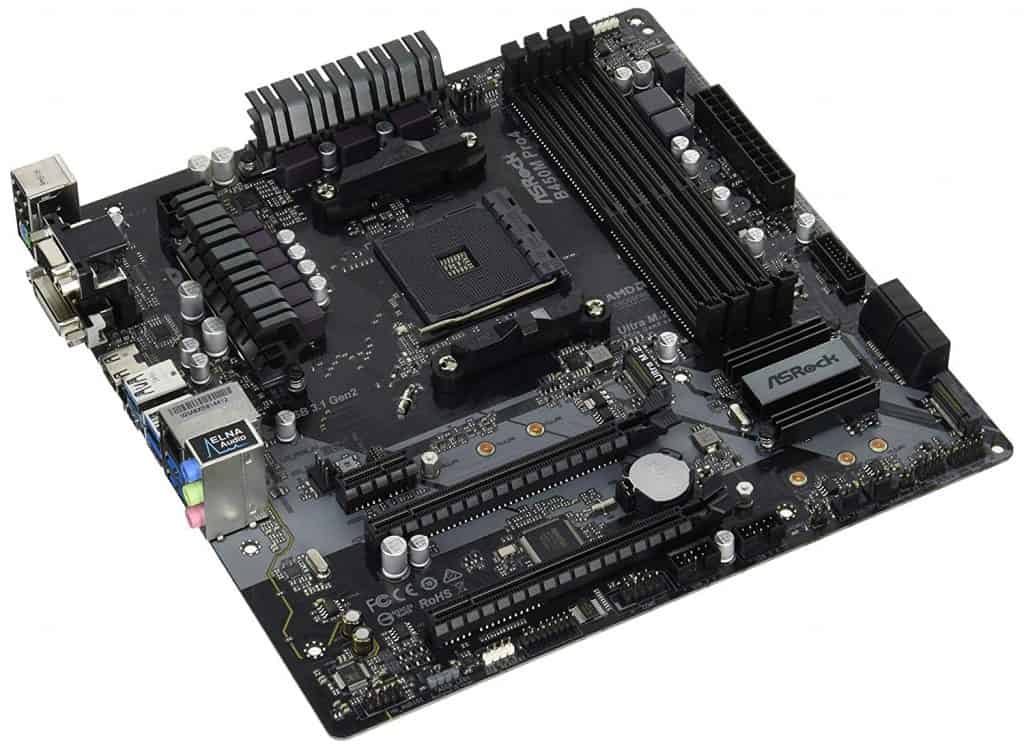 Then, there is ASRock B450M Pro 4, which is easily one of the best Micro-ATX B450 motherboards that you will find at Asrock.
It packs a 3+3 phase VRM, with both SoC and Vcore portions featuring passive cooling. This is an excellent advantage since no other MicroATX B450 motherboard offers. Besides, SoC VRM cooling is extremely important, particularly if you plan to overclock the integrated Vega graphics card or use a Raven Ridge APU.
It is not as crucial for those planning to use Ryzen 5 or 7 series, but it is a nice feature to have. Additionally, it offers two M.2 slots, as well as two PCIe x16 slots. Then, there are DIMM slots, USB Type-C, and 4 SATA ports. All in all, it is an excellent motherboard, and one of the best MicroATX options on the market, which is why we believe that you should give it a look if you are on the lookout for a motherboard of this type.
Buy it now: here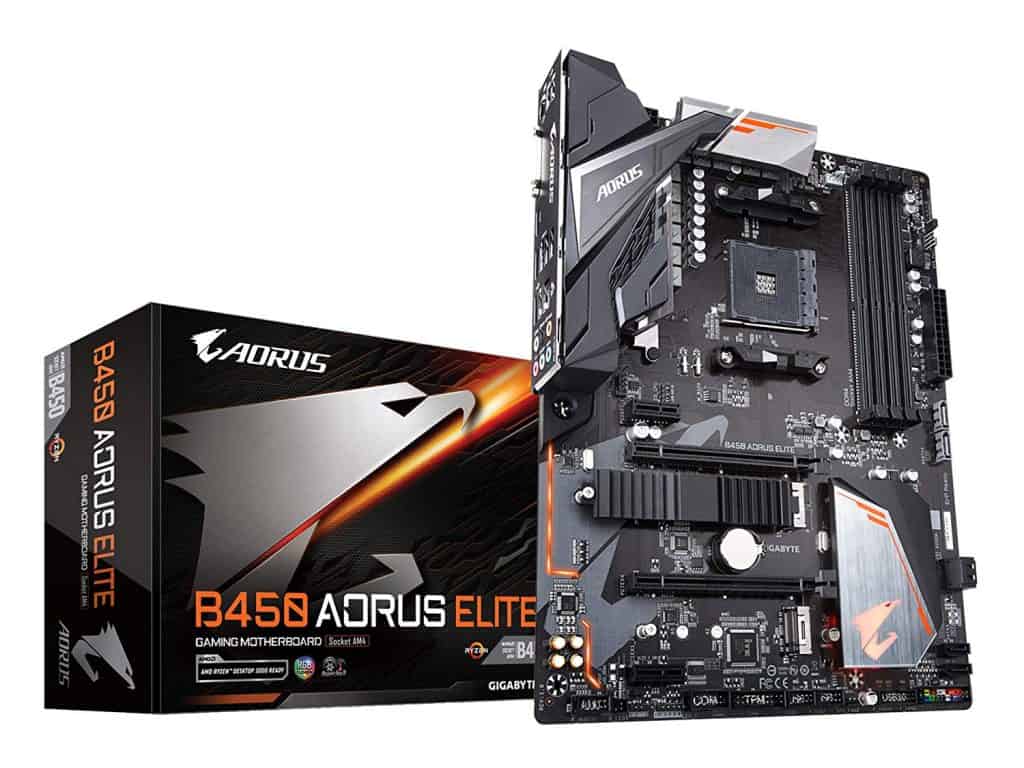 We had already talked about another Gigabyte B450 motherboard, but this time, let us introduce Gigabyte Aorus Elite. It is a great mid-range version, which will easily offer you everything that you, as a Ryzen user, might need.
It has decent VRMs, 4 USB 2.0 and 4 USB 3.1 ports at the back in addition to 2 USB 3.1 and 4 USB 2.0 ports on the front. It has up to 3 system fan headers, 4 DDR4 slots at 3200 MHz with support for 64GB of memory. It has a DVI-D and HDMI port, one PCI-E 3.0 x16 slot at x16, one PCI-E x16 slot at x4, as well as 2 additional PCI-E x1 slots.
There is a lack of Wi-Fi as a drawback that might be a dealbreaker for some people, but this can be fixed with a USB adapter, so we don't take it as a huge issue. In other words, it is a pretty good deal, it doesn't ask a lot of money, and the only real problem that it has can be resolved without much of a fuss.
Buy it now: here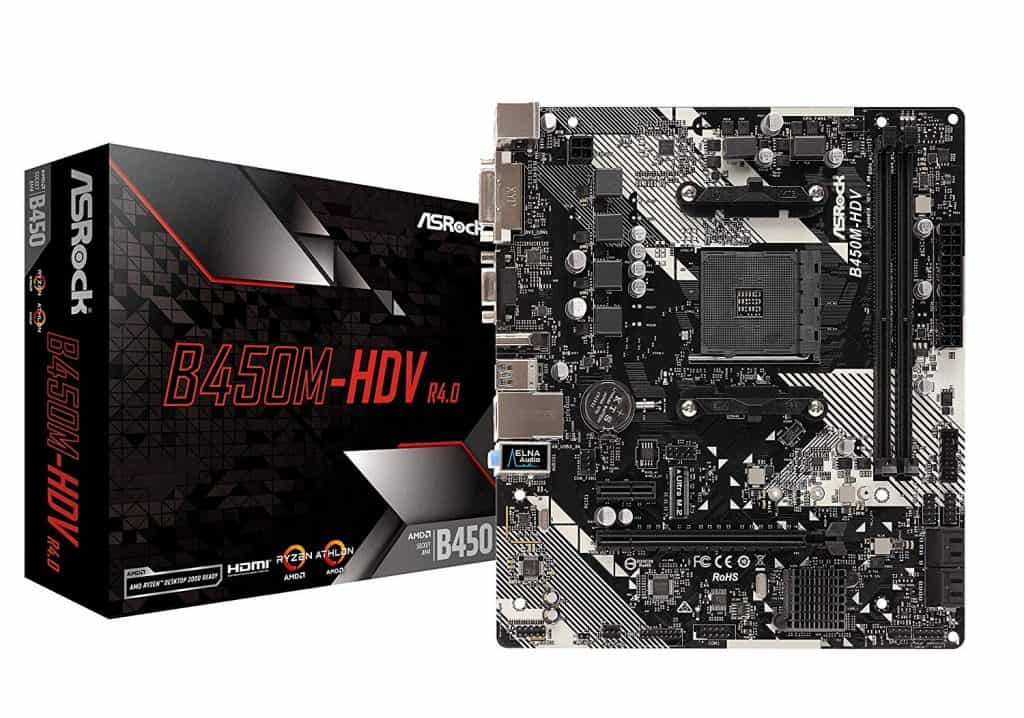 As far as we know, this is the only option that you will find fairly valued and still have a great B450 motherboard.
Even the cheapest B350 motherboards are less expensive than this one, so choosing this option will definitely be beneficial to your wallet.
Asrock B450M-HDV offers a very similar quality VRM to that of Gigabyte B450. It also provides a heatsink on the vcore VRM, which makes it better than MSI's B450M PRO-M2 solution, as well.
We also rather like Asrock's UEFI design, as well as its feature set. In fact, the feature set beats many others and should serve as an example. It should be noted, however, that it may not be the best choice if you plan on overclocking. If you do not, then, by all means, go for it.
Buy it now: here
The B450 Steel Legend motherboard, which is an excellent solution for those on a budget.
It offers a full RGB setup, as well as everything else that you can expect from a budget option. In fact, it provides even more than you might think. It is an excellent option for Ryzen, whether you have 3600, 3600X, or 3700X PC build. With it, you get multiple USB 3.1 ports, fan headers, 4 SATA ports, M.2 ultra socket, as well as PCI-E x16 slots.
The VRMs may not be among the best. It comes in the form of Micro ATX; it has 3 system fan headers, RGB/LED, AMD fan LED, addressable LED, a CPU fan, and a Pump.
Buy it now: here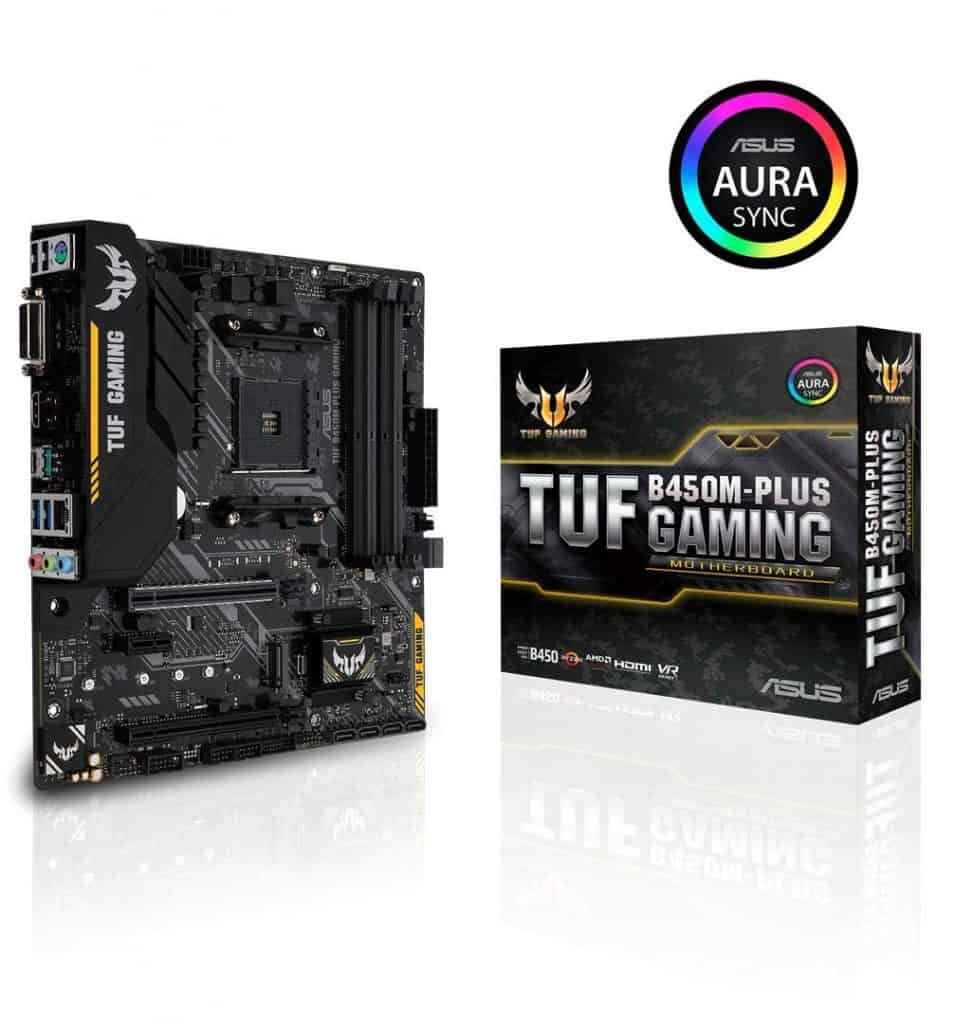 Finally, we have ASUS TUF B450M-PLUS GAMING, which is the gaming motherboard from the TUF series, which is known for being very durable and very reliable.
In other words, ASUS TUF B450M-PLUS GAMING comes with all the extra protection for different chipsets and other components that you could ever want. The form is Micro-ATX, meaning that it can fit in basically any PC case, including micro-ATX and higher. There is also a bigger version, but this time, we are focusing on this one. It has two PCI-E x16 slots, both of which support AMD CrossFireX, as well as one PCI-E x1 slot. On top of that, you get one M.2 slot for M.2 SATA and PCI-E NVMe SSD.
This model also supports DDR4 RAM 3200 up to 64GB, at least when it comes to dual-channel mode. As for its other features, those include USB 3.1 Gen 2 ports, Asus SafeSlot that protects from heavy GPUs, a USB Type-C port, 7.1 channel Realtek audio, Gigabit LAN, support for Aura RGB Sync LED Lighting, and more.
It has decent protection for I/O ports, in the form of stainless steel cover, and it also includes Military-grade TUF Components, with TUF LANGuard, TUF Capacitors, Chokes, and MOSFETs.
Buy it now: here
Best b450 Motherboards for AMD Ryzen Conclusion
In the end, which is the best 455B motherboard for Ryzen? It depends on what you need, what you want, and what you are building. This list should provide you with some pretty good solutions, most of which come at rather acceptable prices. Choosing the best motherboard is crucial for your user experience, so don't rush the decision. Take your time, inspect every model, and find which one is best for your needs.

* If you buy through links on our site, we may earn an affiliate commission. For more details, please visit our Privacy policy page.