When it comes to desktop PCs, most of them are not carried around. However, if you are into gaming and especially into multiplayer games — a portable PC case with a handle is a must-have. How else are you going to attend LAN parties and stand a real chance of performing decently against your friends and other competitors? Here, we have compiled a list of some of the best portable PC cases with handle that you can find in 2023, so we hope that you will find a few good solutions.

* If you buy through links on our site, we may earn an affiliate commission. For more details, please visit our Privacy policy page.
Best Portable PC Cases with Handle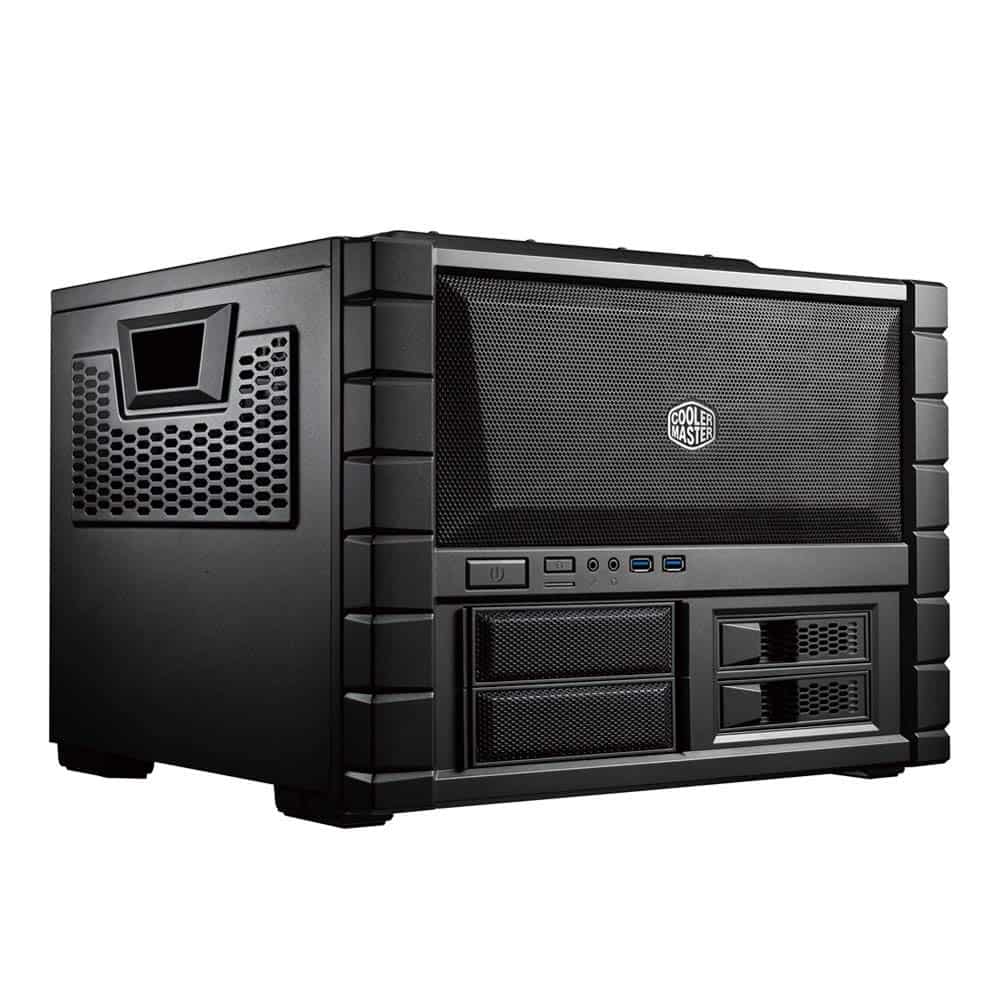 The first on our list, and likely the best solution you can find these days, is Cooler Master's HAF XB EVO. Now, you might be thinking — this is a case from 2013, how can it still be relevant today? Well, the simple fact is that it is. It is one of the best LAN boxes that you can find, even after six years since its release, and we are going to prove it.
The first thing to note is that this is a multi-purpose portable PC case with a handle. It offers great portability, but it also means that you can use it for pretty much anything, from creating a LAN box to making your home theater PC, or even a test bench, if you enjoy overclocking a lot.
Next, we would like to talk about its design. The design is not the best of the best; we admit that much. However, it is not inherently wrong, either. In fact, you could even say that it is quite good. It features two separate compartments, one of which can be used for storing a PSU, while also acting as a storage device. The other one, on the other hand, is large enough to store your motherboard, processor, graphics card, as well as other components that might be generating heat.
The front side features two 120mm fans, which you can even replace if you want, and put 140mm fans instead. They are located right behind a large mesh grille, and beneath this grill, you will find a couple of USB 3.0 ports, as well as a headphone jack, mic jack, a reset button, and of course — a power button.
That is still not all, as there are removable panels on both right and left sides, where you will find the case's handles. They are robust and sturdy, and they can help you easily carry your PC with you. The back of the case, on the other hand, features a few of the fan options, space for the I/O panel, as well as seven expansion slots, which is quite a bit.
The case is also very functional, and it even features a PSU mounting bracket, which can help your power supply extend from the rear end of the case, if necessary. At the same time, this can also help you with cable management, which is one of the most significant issues for PC users who need to carry their computers with them.
Now, managing cables is not always easy, as you probably know. In fact, most of the time, it is quite bothersome and confusing, although this case might make it a bit less of an issue. This is because it features hooks through which you can easily route the cables.
The motherboard tray is removable, and so is the top side of the case, which comes with a mesh grille, and allows you to attach a 200mm fan to it. The entire case is made of durable, thick steel, apart from the front panel itself. This makes the case sturdy, durable, and capable of protecting your PC components during transport.
However, there are a few things that we should point out when it comes to compatibility. Mainly when it comes to longer components, such as GPUs. The longest GPU that can fit in this case is 334mm. And, if you plan to add a liquid cooler to it, 180mm is the limit. Obviously, the case is not unusually large, but even so — it is rather efficient when it comes to cooling. It offers a significant amount of airflow thanks to two internal compartments. Its design is cubical, and you can customize it quite a bit, which makes it a great solution overall, and we are still very satisfied with it.
Buy it now: here

In second place, we have Silverstone's ML08, which is a great model and a multi-purpose portable PC case with a handle, and in that regard, it is somewhat similar to Cooler Master's model which we covered earlier. However, when it comes to looks, it does not particularly resemble the Cooler Master's model at all. Instead, it looks more like RVZ02, although with a small profile. This makes it significantly more compact, and while many might immediately think that this could make it bad for powerful gaming — there is nothing further from the truth.
The model's design is vertical, and it features a handle on its top side. In fact, the design makes it rather easy to put it alongside the rest of the rig, although you can easily lay it flat if that is your preference. It is made of reinforced plastic and steel, although you might never guess so judging from its weight, which is only 7.5 lbs.
It is also nicely vented, with plastic dust filtering vents on the right and left, as well as the top and back. However, one thing to note is that these vents are essential since the case doesn't feature fans on the inside. The front side of the case features the reset and power buttons, as well as audio jacks, and two USB 3.0 ports. The rear offers a motherboard cutout, which is perfect for any model of mini-ITX, with two expansion slots besides.
Now, when it comes to its interior — it is divided into two areas. In one, you can store your graphics card, and in the other, you can fit the rest of the components. As for the graphics card's length, you can easily store a 330mm-large GPU, which is good enough. However, one possible issue might be CPU more cooling support, which is pretty limited at only 58mm. As for the power supply, you can choose between SFX-L and SFX, as both are supported.
However, the drive cage is tool-less, which should speed things up when it comes to assembling, as well as disassembling. And that is about it. The only real issues about this model include a noticeable lack of fans, as well as limited CPU coolers support. Other than that, we are pretty satisfied with this model. It has a great tool-less SSD assembly, good cable-routing, a sensible price, as well as dust filters, so we believe it is more than worthy of checking out.
Buy it now: here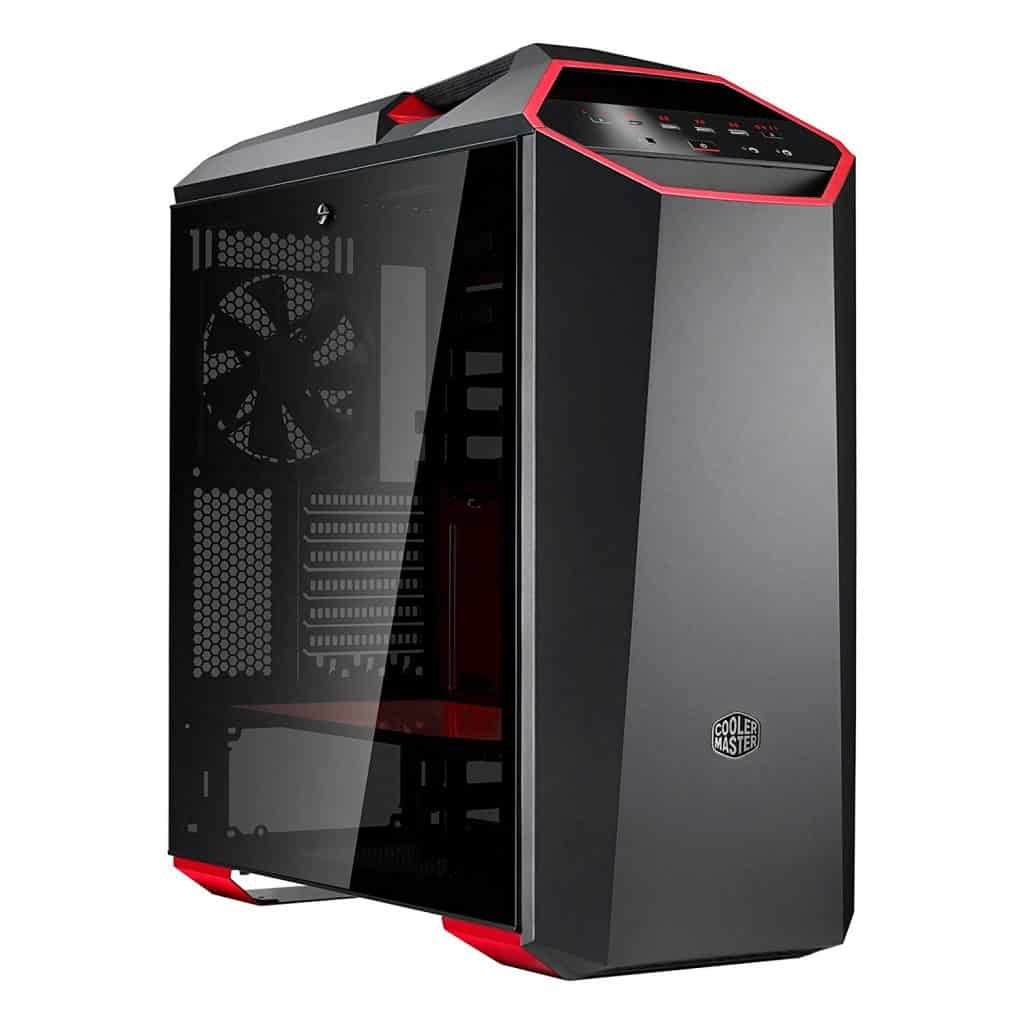 Next, there is MasterCase Mc400Mt, which is a very modern and professional-looking model, with a sleek front panel. It features tempered glass windows on the sides, which is excellent for those who wish to display their hardware for all to see. Further, the glass panels are set in place via special, drop-resistant brackets, which will make sure that your hardware stays safe while transporting. The glass itself will not slide or move in any way, which is pretty good in terms of hardware safety.
On top of the case, there is a handle that allows you to carry the case with you quickly. Next, there are special built-in GPU holders, which will also support the weight of the GPU. That way, it won't put extra stress on your PCI-E slot in which it resides, or fall out, which would otherwise be more than possible during transport.
As you can see, this model does everything in its power to protect your components at all times, and make it easy for you to carry it around safely, without having to worry about potential damage. Not only that, but it uses FreeForm modular system by Cooler Master, meaning that customizing the panels or swapping them out is as simple as it can get.
The front of the case also provides impressive I/O, which includes as many as three USB 3.0 ports, a single USB 3.1 Type-C port, as well as buttons that control the RGB and fan speed.
Now, we admit that this is not the most portable option, but it does have excellent airflow, and it is rather beautiful to look at. It supports most motherboards, including full-size ATX, as well as some eATX, and it allows you to add numerous expansion cards, drives, and alike. It is very customizable, although large and a bit heavy.
All in all, it is a pretty good solution, although a bit too large and heavy for comfort. But, you could do worse, so we believe that it deserver a proper look over before deciding whether or not you like it.
Buy it now: here
4. BitFenix Prodigy M
Then, like the last on our list, we have BitFenix Prodigy M, which is the original prodigy case's successor, as well as a version that is easily among the best for mATX. It is available in multiple colors, and it is firm and sturdy. There is no lack of steel when it comes to this case, but it also features a bit of plastic, as well as Fyberflex composite feet on the bottom, and handle on top.
Unlike most cases, its I/O panel can be found on its right side instead of the front. It features pretty standard audio jacks, a power button, a reset button, as well as two USB 3.0 ports. In terms of cooling, the model is pretty decent. It comes with one 120mm fan, which can be found on the bottom, although you can add a fan too if you wish for better performance.
However, there is also an option to add a 200mm, or even 230mm fan, although that would require you to take out the smaller, 120mm fan that comes with the case. There is enough space for two more 120mm fans on top, as well as a pre-installed 120mm fan on the rear. However, this one can also be replaced by a larger, 140mm fan. That is about it when it comes to cooling, and above the rear fan, you will find up to five PCIe slots where you can install the mATX motherboard.
The case also features one 5.25′ drive-bay, although it is easily removable. There are also three 2.5′ drive-bays, as well as two 3.5′ drive-bays. These can also slot in another 2.5′ drive, meaning that you could have as many as five of those in total.
In the end, this case is pretty good; although it does come with a few drawbacks, which might not be a deal-breaker, we believe that you should be aware of them. First of all, you won't be able to rely on tool-less installations. Then, there is the fact that its handles do not look particularly sturdy. Quite the opposite, in fact, and you might even say that they look a bit fragile. Another potential issue is that the wiring on the side panels might be somewhat short, so be aware of that as well.
But, some positives might make up for the drawbacks, such as support for two graphics cards, as well as for a massive, 240mm-large radiator support. So, the model has its pros and cons, meaning that you should think carefully before making a choice.
5. Corsair Graphite Series 380T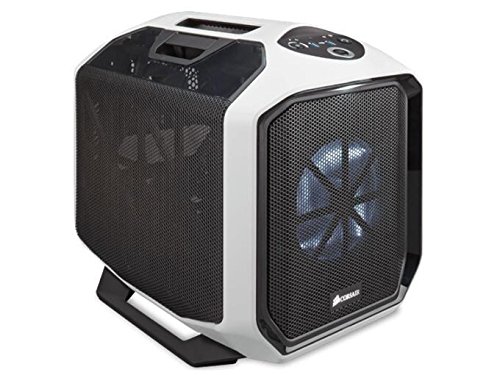 Finally, we have a Corsair-made product in the form of a mini-ITX case from the Graphite Series 380T. This is another very practical and very efficient model, made by the company that is widely known for superior cooling equipment technology and equipment. However, they obviously did not fail with this case either.
380T design is rather interesting, with the sides and the front made from a breathable mesh that helps improve the airflow by quite a bit. Not only that, but the mesh also takes on the role of a filter, which will keep your portable case from getting filled with dust. The air, of course, has a free pass and keeps the case nice and cool.
The airflow and cooling are further improved by a total of five fans, which you can mount in the rear, front, and on the sides. The front mount can provide you with one 200mm fan, one 140mm fan, or two 120mm fans. As for the side mounts, they feature 120mm fans, or you may even install a 240mm radiator if you are a fan of water cooling.
And, as mentioned, there is a rear mount as well, which can also support a 120mm fan. Best of all, you can control these fans thanks to a controller available on the front of the case, and set the cooling to one of three speeds. That way, you can make it quiet when you need it, or super-efficient but a bit louder when performance is more important.
The rest of the case is just as customizable, and the entire front panel easily comes off, making it easy to work with this model and organize your components in any way you like. The side panels can also be folded open, which provides you with quick and easy access to any component at any time and any place. Not only that, but mounting new hardware is simple, as removing the panels lets you easily reach the internal metal frame of the case.
Now, despite the mini-ITX form factor, you can easily fit in a full-size GPU, as well as a PSU, meaning that you can quickly boost its performance to the maximum, and be the best as you can be during the LAN parties and similar occasions.
All in all, we see this case as very compact, easy to carry around, with exceptional cooling abilities, and lots of drive bays, especially considering its small size. On top of it all, you can still fit in a full-size PSU and GPU, which means that it offers performance and efficiency when it comes to usage, and not just transport.
Buy it now: here
Best Portable PC Cases with Handle Conclusion
And, that is it. Our list does not feature too many different models, but the ones that we did find satisfying should be more than capable of serving you properly. As always, they all have their strengths and weaknesses, but most are rather strong, beautiful cases that you might even enjoy carrying around with you.
There is no question when it comes to their efficiency, and if you need your PC at your side at all times — these are the models that you should turn to for help.

* If you buy through links on our site, we may earn an affiliate commission. For more details, please visit our Privacy policy page.