Voice changer software is an app that allows you to modify your voice to sound like someone else. It is an app designed to make your voice conversations more interesting and more enjoyable. The application is used in a wide range of situations. For instance, when gaming, the gamer can take the voice of the protagonist or any other character in the game.
There are endless uses of this important software, which makes life more fun and interesting. Moreover, the app is relatively affordable.
Even in normal online conversations, voice changer software can come in handy. Some can use it to prank their friends and act like someone else when conversing with them. If you have ever heard of voice prank, voice changer software is largely involved in the prank.
Selecting the best voice changer software
There are different types of this app available for free and paid download. However, only a few of them would do exactly what its name implies. If you don't know about the best voice changer software, you could probably end up with the worst one that won't do a single thing for you. That's why it's necessary to carry out your research before picking one.
Fortunately, we have done that research part for you. Based on our experience and extensive research, the following are the best voice changer software available for download in 2023.

Among all the software listed here, Clownfish is the only one that is a multi-platform which offers voice changer features. The app will work on any application on your computer that makes use of a microphone. It supports a wide range of applications, including TeamSpeak, Discord, Viber, as well as Skype. The software is also compatible with different games, as it's a good modifier for voices.
However, it does not offer voice effect features, although users can install the features and use them separately. The process of installation is not a difficult thing for those who would love to have such a feature.
Clownfish has multiple voice options users can choose, including Darth Vader, Robot, Alien, Baby pitch, female pitch, as well as male pitch. The Darth Vader will be more fun for the star Wars gamers.
However, another drawback is the fact that the software is not available to other users except windows users.
Download it now: Here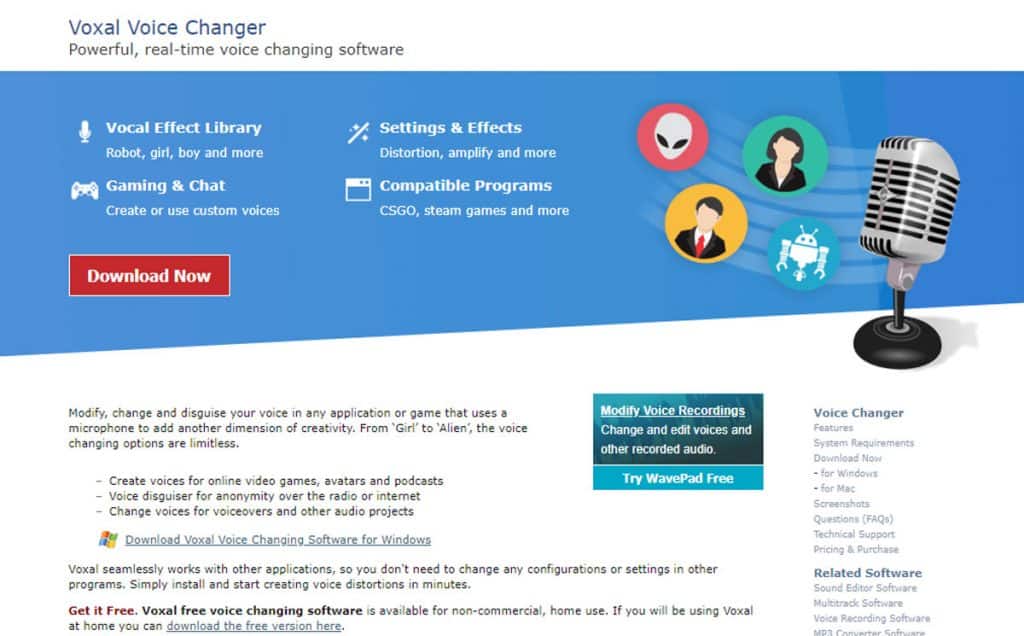 Voxal is another free app that is available for both Mac and Windows users. So, Mac users who are not able to download MorphVox because of its non-availability for Mac can take this app as another good option.
It allows the user to change their voice in almost all devices that make use of a microphone. The app will come in handy for games and online communications. Interestingly, there are several voice options for users. No matter the type of voice, the user will certainly see the exact match they are looking for.
There is the option to use either a male or a female voice. Moreover, the app can alter the user's voice in real-time. Another great feature is the ability to alter recorded audio.
Voxal voice changer is very easy to understand and use as the user doesn't have to be a professional editor to edit their voice and add some effects. Everything is provided to assist them to get exactly what they want in terms of the voice effects.
However, the app is only available for free for home users. Those who intend to get the business package will have to pay to download and use it.
But the free version has better and more impressive features than what other apps provide.
Download it now: Here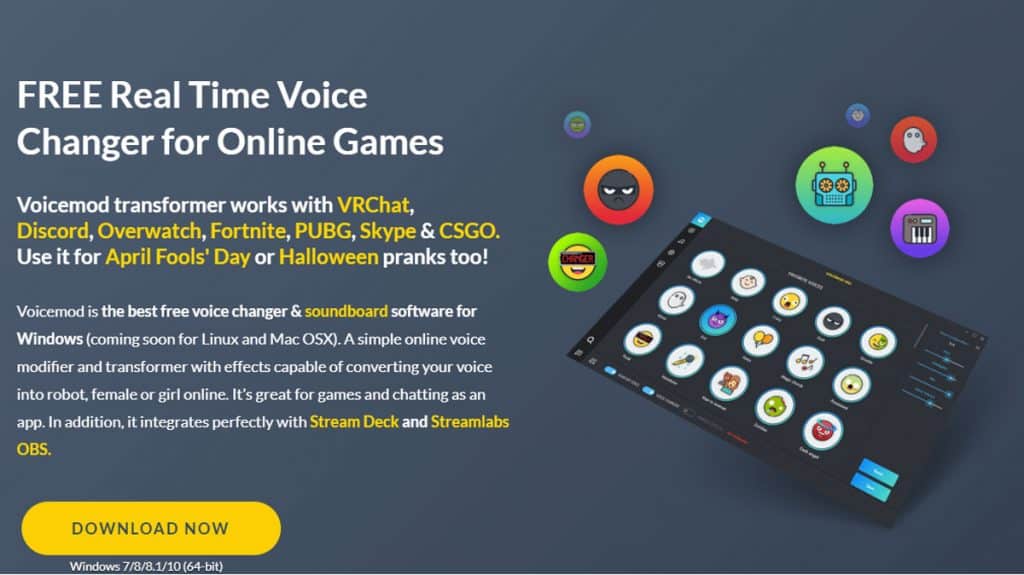 This is also one of the best voice changer software meant for those with windows operating system. It has a modification feature that easily changes the voice for real-time online communication and gaming. This app offers support for a wide range of games, including PUBG, Minecraft, and Fortnite.
Those who want to chat online with a different voice will also find the app very useful. It is compatible with a lot of streaming and chatting software, which includes Stream Deck, Skype, VRChat, Twitch, as well as Discord.
Voicemod also has a long list of voice options to choose from. From police, Alien, Android, baby to chipmunk, there is no shortage of voice options. Interestingly, the app comes as free download software. With all these premium features, it's awesome the app is downloaded for free.
Download it now: Here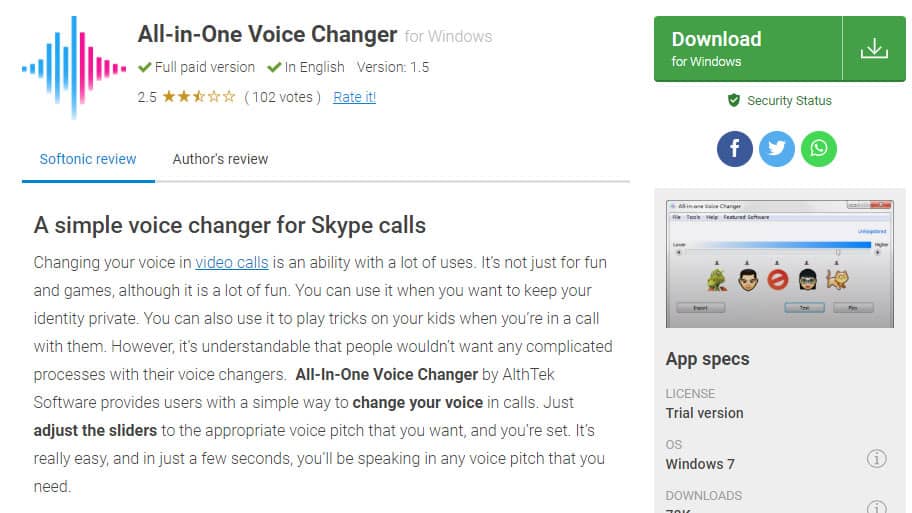 4) All-in-One Voice Changer
Here is one of the best voice changer software available for both free and paid versions. It works on the same principle as the Skype Voice Changer. However, this one enables users to connect to other IM tools like QQ International and Yahoo Messenger. It may not be suitable for games, but those looking for an app for real-time online chatting will love this software.
It is nice software users can utilize to make prank calls to friends and families. There is a unique feature that allows the user to easily change the voice type when they are in the middle of a conversation. This makes chatting even more interesting.
Users can move the slide bar feature on the app to change the voice pitch. They even have the option of previewing the change until they get to the ideal voice pitch.
Another good feature is the transfer of recorded .wav audio, which the user can alter in the software. As stated earlier, the software offers a free downloadable option where users can check out the chatting features. Those that want to enjoy the full benefits of the software should consider the paid version. That is when they would get all the features that would make online conversations more enjoyable.
Download it now: Here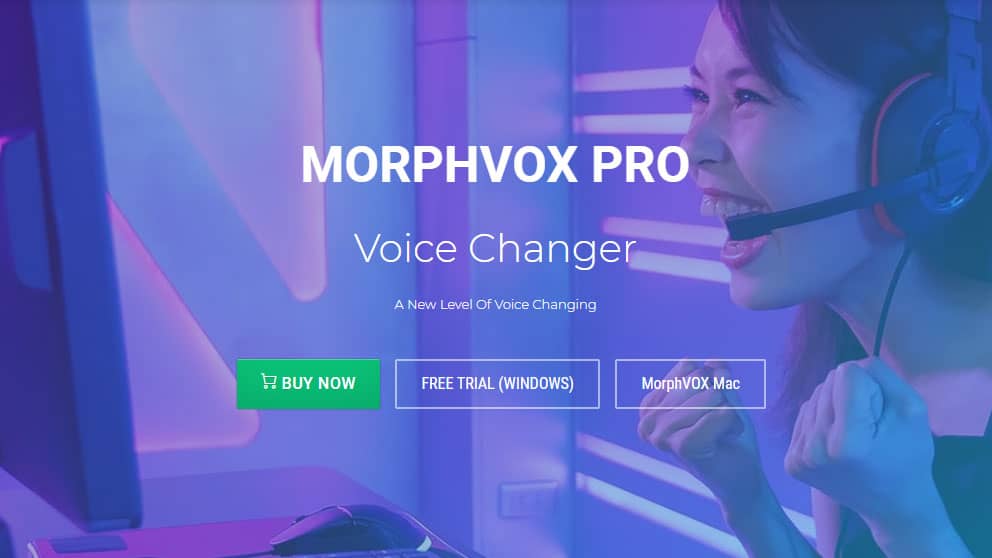 5) Morph VOX
We decided to save the best for last. Morph is certainly the most popular voice changer software. It has a lot of customizable features, which is great for those who want to try out different voice options.
Moreover, the tool has a free option, which comes with limited features. But those looking for a complete package should go for the paid version with all the features.
The MorphVox pro is the paid version while the MorphVox junior is the free version. But the free version has a lot of limitations. For instance, there are only three voice options available in the free version. You only have a kid voice, a female voice and a male voice. For those who want to enjoy more voice options, it's obvious they have to settle for the paid version.
The paid version has a plethora of voice options. No matter the voice options the user is looking for, there is certainly always a match on the app.
Also, this best voice changer software changes voice in real-time. This means that the app will be suitable for gaming and online communication. It also comes with a skinned mode feature, which enables the user to easily select their preferred voice option and add some effects for customization.
Also, users can even go a step further by using the Studio mode. Here, the user can adjust the voice to either pitch or timbre.
One good thing going for MorphVox is the fact that it can integrate easily with different online platforms and games, giving the user enough compatibility options.
Also, the app gives users the ability to add background noises, which can recreate a real-live environment right on their computer.
However, the only downside is the fact that it's only available for those with windows operating system.
Download it now: here