Microsoft may have failed at the mobile game, but the company's enterprise-oriented products are as strong as ever, and the Surface Pro tablet is among them. But, if you're looking for a tablet or tablet hybrid that you can use for business and enterprise-like functions, what do you possibly choose? The Microsoft Surface Pro is an excellent choice, but Apple is making waves with the 12.9-inch iPad Pro as well.
* If you buy through links on our site, we may earn an affiliate commission. For more details, please visit our Privacy policy page.
So what do you get? If you follow along with us below, we're going to pit the Surface Pro against the 12.9-inch iPad Pro to see which of these two large convertible tablet PCs is more versatile and better performing overall. From here, you'll be able to tell which one can meet your needs better. So without further ado, here are our two contenders:
Surface Pro vs iPad Pro 12.9 Best 2-in-1 Tablet PC Comparison
Surface Pro vs iPad Pro 12.9 Design and Build
A laptop may be ugly and clunky, but as long as it performs well, comes with a great display, and has comfortable input devices, the less than perfect build quality is easy hard to overlook. The situation is different with tablets. Because they are more tactile, typically held in hands and controlled with the finger, things like design, build quality, and comfort matter a lot. Ergonomics are tantamount here.
Having a slightly larger display (12.9 inches versus 12.3 inches), the iPad Pro is also larger overall than the Surface Pro. It weighs either 677 grams or 692 grams, depending on whether you choose the Wi-Fi only version or the LTE version. The Surface Pro is heavier, starting at 768 grams for the version with Intel's M3 processor.
Both tablets have excellent displays, but the iPad Pro has the upper hand because it supports ProMotion technology, which automatically adjusts the display to the movement of the content and allows for refresh rates of up to 120 Hz for greater responsiveness and smoother motion content. Thanks to this technology, UI animations are butter smooth, and games are as fluid as they are on high-end gaming PCs.
The iPad Pro also comes with a superior audio setup. It has one speaker in each corner, and the four speakers together produce clearer and louder sound than many laptop speakers do. The Surface Pro has only two speakers, but they also sound better than many laptop speakers—just not as good as the iPad Pro.
Surface Pro vs iPad Pro 12.9 Performance
The Surface Pro is available with three different processors (Intel 7th Gen Core M3, i5, or i7) and with up to 16 GB of RAM. The iPad Pro always comes with the Apple A10X Fusion chipset and 4GB of RAM. A low-powered Surface Pro with an Intel m3 processor and 128 GB of storage space costs roughly the same as the basic iPad Pro with 64 GB of storage space.
On the other side of the performance spectrum, the top-end Surface Pro (an Intel i7 processor, 16GB of RAM, and 516 GB of storage space).
As you can see, the low-end models are comparable in both their price and performance. But the situation is radically different when you decide to spend more money. The Surface Pro with an Intel i7 processor and 16GB of RAM has the performance of a full-fledged laptop, which it essentially is.
This performance is noticeable even when doing OS-agnostic tasks, such as browsing the web, but it becomes apparent the most when you start using more demanding applications, which brings us to the next chapter of this comparison.
Surface Pro vs iPad Pro 12.9 Operating System and Apps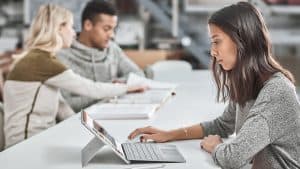 The iPad Pro may have a slightly larger display than the Surface Pro, but it still runs mostly the same operating system as the iPhone does, iOS. On the other hand, the Surface Pro runs Windows 10 Pro, making it possible to use software such as Photoshop, Microsoft Office, Google Chrome, VLC, and even Steam to play PC games.
In addition to traditional desktop applications, the Surface Pro can also run applications built on the Universal Windows Platform (UWP), which can be found in the Windows Store and are the closest equivalent the Surface Pro has to iOS apps. Last year, the number of UWP applications had reached 600,000, whereas the number of iOS apps has exceeded 2.2 million.
For people who want a tablet mostly for content consumption, the iPad Pro seems like a better choice as it offers a large number of curated apps, most of which are polished to the highest degree and meticulously optimized for touch. Editing the occasional Word document or Excel spreadsheet is still entirely possible on the iPad Pro, and the same can be said about the photo and video editing, music production, and many other tasks.
But if you depend on desktop applications, the Surface Pro allows you to be productive everywhere without hauling a bulky laptop or sitting behind a desktop computer.
We should note that the iPad Pro is starting to see some differentiation over regular iOS abilities. This is because Apple is trying to turn the iPad Pro into a device perfect for enterprise solutions. That said, there are some impressive Apple-made office applications now available, and you can even still use many Microsoft Office apps on the iPad Pro, too.
Surface Pro vs iPad Pro 12.9 Battery life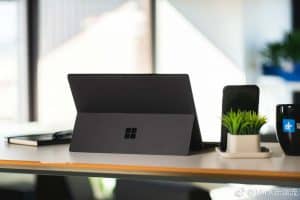 Of course, in our mobile-first world, one of the areas that is starting to set devices apart from another is battery life. The iPad Pro has some nice battery life inside, giving you up to 10 hours of straight use off of a single charge. Doing things like hours of video playback may reduce that amount, but 10 hours is where you can peg the iPad Pro at.
One of the benefits of the iPad Pro is that it can charge up pretty fast as well. It has a bit battery, and despite that, it can juice up to full after just a couple hours on the charger.
When it comes to the Surface Pro, it is a your mileage may vary situation. With normal browsing, you can quickly get around 13.5 hours off of a single charge. However, if you plan on doing a lot of video playback, gaming, or using demanding desktop applications, that number can drastically decrease. It can charge relatively quickly but seems to take slightly longer than the iPad Pro, which is no doubt due to the even larger battery inside.
Surface Pro vs iPad Pro 12.9 Accessories
As is so typical for Apple, the iPad Pro has just one Lighting port, so you should be prepared to buy and carry all sorts of adapters if you want to connect to an external display, wired internet, or add an SD card reader. The Surface Pro has far better connectivity options, offering a Mini DisplayPort for an external monitor and a full-size USB 3.0 port for traditional input devices, printers, memory card readers, flash drives, or just about anything else.
You can also easily hook up the Surface Pro to the Surface Dock and instantly add two additional Mini DisplayPorts, one Gigabit Ethernet Port, four USB 3.0 ports, and one audio out port.
Neither of the two convertible tablets comes with a keyboard, but both Microsoft and Apple offer one. Microsoft's Type Cover is available in several different colors. Apple's Smart Keyboard is slightly more expensive even though it doesn't feature backlighting and has very low essential travel. Fortunately, alternatives to the Apple's keyboard cover do exist, including this excellent keyboard case from JETech.
For people who do a lot of drawing or hand-writing, Microsoft and Apple also sell styluses: the Apple Pencil and the Microsoft Surface Pen.
Surface Pro vs iPad Pro 12.9 Comparison Verdict
The result of this comparison is clear: both the Surface Pro and the iPad Pro are excellent 2-in-1 tablet PCs, but each is suitable for a different type of user. The Surface Pro has an enterprise heritage and offers excellent performance and the ability to run desktop applications for Windows. The iPad Pro is perfect for creative people who want to take advantage of its large screen and the optional Apple Pencil, and it also works great as an entertainment device for casual users.
Really, the choice is up to you. Apple has done a lot to start competing on the enterprise level as well, bringing a suite of office apps and tools that you can use for, well, the office. We will say that the iPad Pro is definitely a clear winner here if you already have an iPhone, as the seamless connectivity between the two devices is unmatched.
* If you buy through links on our site, we may earn an affiliate commission. For more details, please visit our Privacy policy page.