Previous models of the snapdragon laptops have been criticized for their high price tags and poor performance. However, this Newest Lenovo Yoga Chromebook C630 has brought two things to the table. It is relatively cheaper and is still a beast when it comes to performance. If you are a business person, a student, or an office worker, this is the type of laptop you would need. That is because most of your tasks will be on office tools. And this Chromebook has all the office tools in abundance.
* If you buy through links on our site, we may earn an affiliate commission. For more details, please visit our Privacy policy page.
With the Yoga Chromebook C630, there is a 30 percent increase in performance from the previous models. It is also very good at multitasking. From the test we carried out, the Chromebook was able to run more than 7 different web pages without affecting its speed. If you are looking for a laptop that will be great for multitasking, this model would be the ideal choice for you.
In the following segment, we are going to give a detailed analysis of the performance and features of the laptop. In the end, you would understand why it has been hailed in the industry by users who have seen its overall benefits.
Lenovo Yoga C630 Chromebook Review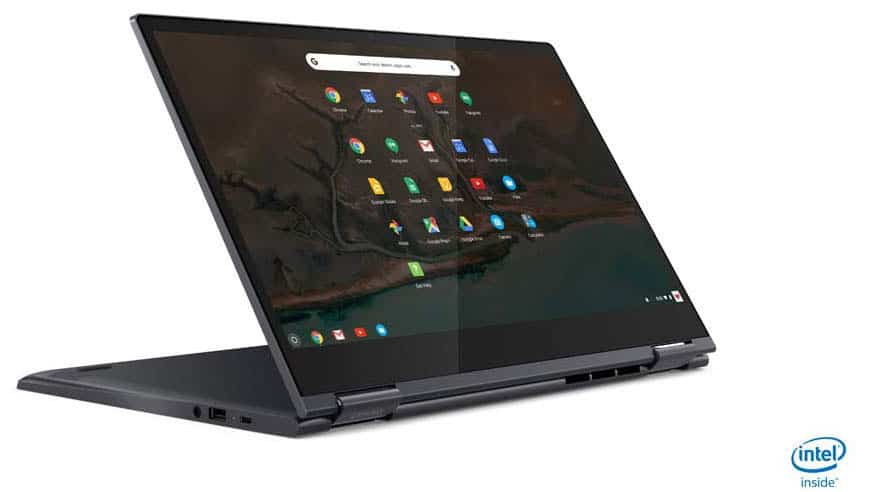 Buy it now: here
Lenovo Yoga C630 Chromebook Performance
The Lenovo Chromebook comes with enviable features. It comes with 8GB of RAM, Qualcomm 630 GPU graphics, and 2.96GHz processor. This is more than basic for a Chromebook. Most other Chromebooks only feature 4GB RAM, which is still enough. But this model goes beyond offering enough features. It allows you to go for extra gear in case you want to do a whole lot of things.
In terms of connectivity, the Chromebook certainly has all you will need. It has a space for Bluetooth 5, Qualcomm Z20 modem, and 802.11ac Wi-Fi. This model does not lack connecting ports too. There are spaces for 1 x audio jack, 1 x combo Nano-SIM slot, a microSD card reader that can contain up to 256GB, and a USB 3.1 port.
The Lenovo Yoga C630 weighs just 2.6 pounds. Although it's not the lightest Chromebook around, it comes very close. The good thing about this model is the fact that despite its good features, it's relatively affordable.
While other models with even lesser features are priced higher, this model is sold lesser. That's the most surprising thing about the Lenovo Chromebook.
The processor is a good upgrade to the previous model. The processor matches the 8GB RAM perfectly. Apart from office tools, you can still do some decent graphics work with the system, if that's your fort.
Again, the processor can allow you to play certain games. However, it may not be enough to play high-end games that require higher graphics. In that case, a Chromebook shouldn't be your preferred computer choice. You should be looking for the premium quality laptops with stronger processors and memory capacity to hold such games. But if you're looking for a Chromebook, this is one of the best you can find in the market right now.
Yoga Chromebook C360 Design
When it comes to design, Lenovo C630 is up there as one of the sleekest. One of the main appeals of Chromebook is the fact that they run a lot cooler than some other conventional laptops.
If you are working for several hours, a laptop can get pretty hot, especially when it's on your laps. It is a nice thing that this model does not run hot too fast. Since it doesn't use an AMD processor, it allows the manufacturer to design lighter and thinner systems for users' convenience.
Because of its slim design, there is no need to allow space in the chassis for airflow. Besides, the laptop stays relatively quiet when in use. If you are using the system in a quiet environment, that's when you will appreciate its design and performance. You will do your task peacefully without worrying about waking up your partner. The Chromebook measures 12.5mm. That's about the thinnest Chromebook you will ever see.
Lenovo tried to make this model very portable, and the brand has achieved that. It is easy to tuck in inside your bag when traveling. When you are using your system both at home and in your business place or office, portability will be essential.
Thankfully, the Yoga Chromebook was designed for such a purpose. It is easier to carry along when traveling or commuting. Even with its metal body, it doesn't look heavy. It's an innovative design most brands have struggled to imitate.
Lenovo Yoga C630 Chromebook Keyboard and Keypad
The keys on the keyboard are impressively soft to touch. It doesn't feel strong on the fingers when typing. This is a nice feature if you are using the keyboard for extended hours. The keys are large and nice. They fit the Chromebook perfectly. The laptop is designed with bezels around the body, which makes it very attractive and portable. If you are the fast type, the keys will guide you all the way, as you avoid many mistakes. The key travel is not too deep, which may not be too good. But that is what you need to sacrifice if you are looking for a very thin Chromebook. The keys feel too soft when typing. Some users may like this feature, while some other users would prefer something stronger. So, this feature is a matter of what you prefer and not necessarily a bad feature.
The trackpad is large and responsive. It is wide enough to use comfortably. You only need to tap lightly to get a swift response. However, you can adjust the feature if you don't want such a swift response. Thankfully, the Chromebook has a provision for windows 10 enthusiasts. On the right side of the system, there is a fingerprint scanner that allows you easily and quickly log into Windows. You can set up the Windows 10 feature immediately you log into the system. It's easy and straightforward to setup. The left side of the body comes with a SIM card tray and a USB-C port for data transfer and charging. At the right side of the system, there is another USB-C port, an audio jack, and a power button.
Overall, the Lenovo Yoga C630's design gives it a premium outlook you would only find with some of the best and premium quality Ultrabooks in the market. What makes it even a greater bargain is the fact that it's affordable.
Lenovo Yoga C630 Chromebook Mobile features
This is arguably the most interesting feature of the Lenovo Chromebook C360. It does not run on the AMD or Intel processor, but Qualcomm's Snapdragon 850 platform. With this feature, users can enjoy all the benefits of using features of tablets and Smartphones on the system. That means you are not only using a computer, but you can also turn that computer into a tablet or a Smartphone. The Qualcomm's hardware is gradually making its way into laptops, but these laptops are relatively more expensive than the Yoga C360 Chromebook. So, if you want to enjoy the features of a Smartphone and a tablet, you can avail yourself of the opportunity by opting for this model.
With this feature, you will also enjoy an impressive fast startup time. According to Lenovo, the "instant-on" feature is similar to the quick startup feature of Smartphones. This is what you will enjoy, compared to the Windows system that takes more time to start. Sometimes you may need to access your system quickly to get data or copy information. The "instant on" feature of the Lenovo Yoga C630 will give you the chance to do so. Before the windows 10 startup screen appears, you have already copied the data you need from Lenovo Yoga.
This benefit is because of the low powering option of the Lenovo system. You can leave it at low powered sleep mode, which will leave the system on to receive whatever email that comes in. The Snapdragon hardware makes this possible. It can stay a bit longer in this mode to receive any messages until you log in to reply to those messages. So, unlike a laptop or other Chromebooks, you don't necessarily need to log out whenever you are away to save battery.
As we have stated earlier, the Lenovo Yoga C360 comes with a customized Snapdragon modem you can use to easily connect to the internet when you have a 4G data plan. This means that you can always access your internet files or work via the internet since the system will always remain connected. Also, there is no need to keep reconnecting to hotspots.
With the windows 10 features, it is possible to recognize data connections to avoid large updates that would cripple your data. This is more convenient and easier, as it provides you with a steady and secure way of connecting to the internet.
Lenovo Yoga C630 Chromebook Versatility
Another reason why the Chromebook is a great bargain is the foldable features. It has a hinge that makes it easy to fold. You can turn it in 3600 and use it as a tablet. Yes, you can use it as a tablet or as a laptop. That offers a certain level of convenience. You could work with it on your desk, on your lap, or even on your bed. The choice is yours.
Lenovo Yoga C630 Chromebook Battery life
While other Chromebooks would offer better features but fail on battery life, this model still does well when it comes to battery life. The slim and portable features mean that it does not come with so many features.
Besides, it uses Snapdragon-powered hardware, which allows it to last a bit longer. Chromebooks are usually highly rated for their battery power. This model even does better. Apart from being a Chromebook, it is supported by a mechanism that doesn't eat up too much battery.
It offers an amazing 10-hour battery time on a full charge. That is enough to complete whatever program or activity you are running with the system. Lenovo says this model has a battery power that is 30% better than its previous Lenovo versions. Well, the company is not wrong. It may not be at par with the premium quality laptops with the latest Intel processors, but it is far better than the previous Lenovo model and most laptops within the same price range.
Lenovo Yoga C630 Chromebook Audio performance
The Lenovo Yoga C630 produces a moderate audio quality. It is one area where the brand needs to improve. The speakers are not as loud as some other Chromebook models. They are even far worse when you compare them with some laptop speakers. If one of your main criteria for buying a Chromebook is the audio feature, we strongly advise you to consider other Chromebook models. But if audio output is not too important for you, other features of this system are great. After all, you can connect the system to an external speaker if you want to enjoy the louder and rich audio output.
Conclusion of Lenovo C630 Yoga Chromebook Review
We have seen the overall features of the Lenovo Chromebook 2019. It is unique in the sense that it doesn't utilize any of the AMD or Intel Processors. With the Snapdragon component, it is a bit faster and can be customizable as a Tablet or a Smartphone. And with all these great features, it still manages to stay relatively affordable. If you are looking to buy the best Chromebook for superior performance, we recommend this product because of its top performance.
Frequently Asked Questions for Lenovo's Yoga Chromebook
The following are answers to some of the most common questions asked about Lenovo's Yoga Chromebook.
What is the best Chromebook to buy?
Some of the best Chromebooks to buy include Dell Chromebook 3189, Lenovo Yoga Chromebook, and Acer Spin 13. These Chromebooks will give you the best value for money.
Is the Lenovo C630 Yoga Chromebook TouchScreen?
Yes, the Chromebook has a touchscreen feature with good display features.
Can the Lenovo Yoga C630 Chromebook run windows?
Fortunately, yes. Unlike other Chromebooks, this model offers support where users can switch to Windows programs.
Can I watch TV with Lenovo Chromebook?
Yes, it's possible to watch TV using the Chrome browser at HBO GO, Direct TV, Netflix, and well as Hulu.
Can Lenovo Yoga C360 be used as a tablet?
Yes, C360 has a 360-degree rotational feature you can rotate to use the Chromebook as a tablet. It also comes with Smartphone features.
* If you buy through links on our site, we may earn an affiliate commission. For more details, please visit our Privacy policy page.